22 | Oct | '20
Bobby Stewart
Good mountain bikers are good trail stewards. And good trail stewards play a key part in keeping your favorite trails safe and ready to ride.
In Washington this couldn't be more true. We owe our world class trails here to thousands of trail builders, members, and stewards.
As the mountain bike community steadily grows, so does the importance of taking care of trails and public lands. More tires mean more maintenance. Luckily, it doesn't have to take all day to help out.
While attending a volunteer work party is great, some of the most important trail maintenance needs only take a few minutes– probably even less time than you already spend eating gummy bears at the top of that tough local climb of yours! Plus, you'll feel extra satisfaction knowing you've done your part to give back to the trail that gives you so much joy.
Check out the following guidelines to learn some simple trail maintenance tips. Try 'em out on your next ride and join the #DirtyPocketClub!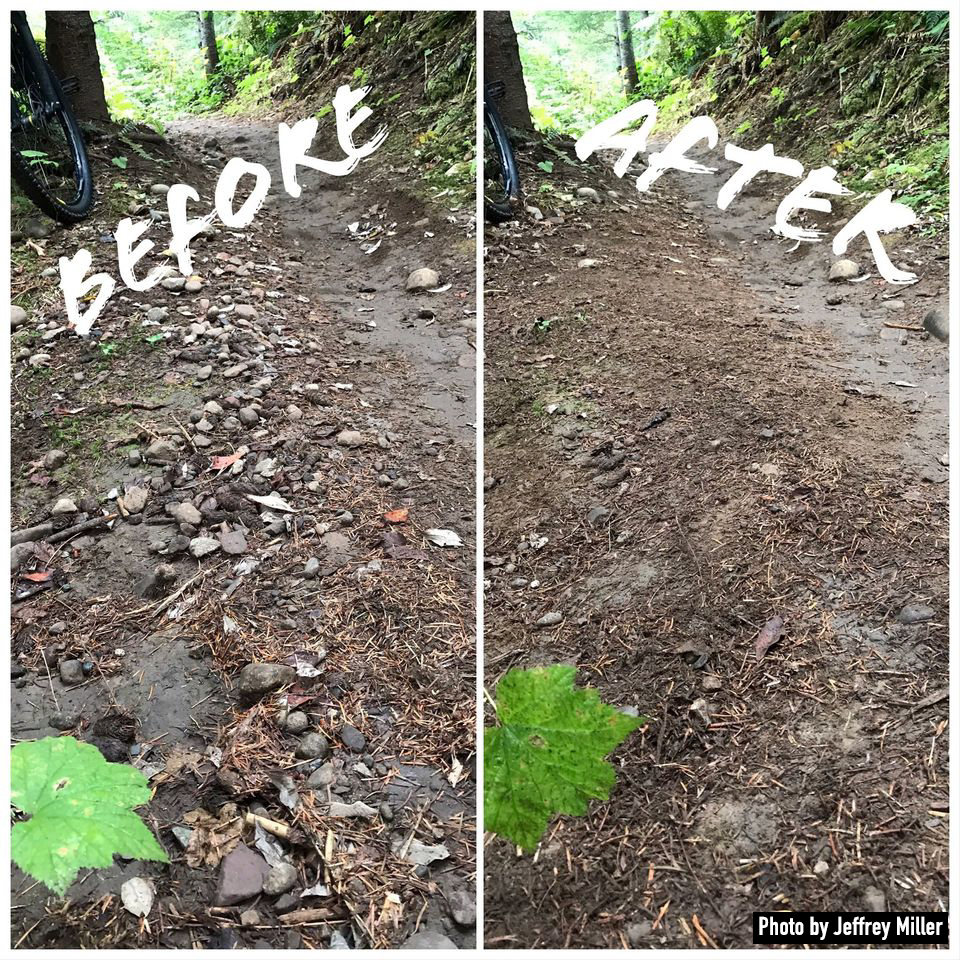 Clear Trail Drains
Here in the PNW, clearing trail drains is the most important thing you can do during the winter.
Trails are designed and built to shed water off to the side. Without proper drainage, water stays on the trail and can create puddles, ruts, and cause damage to the trail tread.
Drains often clog because they're full of organic material (like pine needles, leaves, or thick mud) that blocks water from flowing off the trail. If you're finding puddles, use your foot, tire, rock, or other handy tool to clear organic material for existing drains.
By clearing this out you get the satisfaction of watching a puddle drain off the trail before your eyes, and keep the trails in better condition into the winter.
If we all cleared just one drain on every ride, our trails would stay even better throughout the winter. Plus taking care of basic tasks leaves Evergreen's trail crew to focus on new trails for you to ride, and bigger maintenance issues.
Remove Downed Branches
Downed branches are common in the fall and winter, and not only interrupt the flow of a trail, but can be a safety hazard as well.
Next time you find a downed branch or log on a ride, take a minute to move it off the trail. Most branches only take a minute or two to move, so if you've got time for a water break, you've got time to move that branch!
Bigger branches are a good chance to show off to your friends how strong you are, and if you do happen to carry a small folding saw, you can impress your pals with your MacGyver-like skills.
Make sure any branches you move end up at least a few feet off the trail, leaving plenty of clearance so as not to clip a passing rider's pedal or handlebar.
Keep in mind that large branches, logs and snags can be dangerous when moving around. Leave any larger or potentially dangerous debris to be cleared by a trail crew or volunteer work party, and report the issues to Evergreen via Trailforks.
Snag Some Trash
Trash on the trails is more than just an eye sore, it can cause serious damage to the flora and fauna of a trail's ecosystem.
If you're finding trash on the trails, join the Dirty Pocket Club by picking it up and packing it out! Seriously, there's not much worse than folks who leave garbage out on a trail.
If you're finding major amounts of trash or a potentially dangerous item like a needle, don't touch it, and report it to Evergreen or the appropriate land manager.
Bonus points: Keep a roll of plastic doggie bags in your car and take a few minutes after your ride to walk around and pick up little bits of trash in the parking area at your trailhead.
Go Beyond the Trail
Evergreen employs a full time trail crew and hosts volunteer work parties to take care of major maintenance needs, in addition to building new trails.
If you find an issue that you can't safely take care of yourself like a downed tree, large drainage problems, or something else, report it to Evergreen.
Recording trail reports on Trailforks is a great way to give other users and Evergreen a heads up about any issues you encountered. You can also submit this form to notify Evergreen about any larger issues you noticed on the trail that may require a professional job.
Want To Do More?
While non-profits like Evergreen have volunteers and staff to help maintain the trails, everyday users like you can be the most important group in keeping the trails clean and in good shape.
Our trails are truly public goods, so it's up to all of us to leave the trail a little better than when we arrived. Plus, the less time we spend on fixing puddles, the more time we can spend on building new trails!
Evergreen is always looking for volunteers, and we have plenty of opportunities for you to join our volunteer team and learn more about trail work. Click here to learn more about volunteering for Evergreen.
Evergreen is proud to be a member of the Recreate Responsibly Coalition, which promotes stewardship, inclusivity, and responsible recreation during the COVID-19 pandemic.