2021 Volunteers of the Year
Each year we reach out to our chapters to find the outstanding volunteers who make Washington a great place to ride, and we honor them here.
Evergreen volunteers provide more than 25,000 hours of their time each year across the state.
Our volunteers build trails, maintain riding areas, cut trees, lead rides, serve on boards, coordinate chapter events and teach skills to hundreds of riders each year.
We wouldn't be where we are without our amazing volunteers, thank you all!
Across the state, Evergreen's #RiderPowered work is in the hands of volunteers, not just on the trails but also on chapter and statewide boards, in skills classes, at your local community event, and even in the code on our website. Evergreen's growth in our scope of work across the state with the ability to build, maintain, and advocate for trails and riders is only possible because of our volunteer teams.
The dedication, energy, and love of the mountain biking community that volunteers bring to the table are some of the most inspiring and rewarding aspects of our work. Evergreen volunteers show up and give it their all despite the challenges, ranging from unexpected snow and rain to sticky policy issues. We're so grateful for the work of all the volunteers across the state. Without your contributions, it's safe to say that mountain biking in Washington would not be the same.
Volunteers of the Year are selected by Evergreen's chapter and statewide boards, staff, and other volunteers and represent what makes Washington a great place to ride. We hope you enjoy getting to know Evergreen's 2021 Volunteers of the Year!

Alexey Florianovich
Chapter: East Focus: Trails
"Alexey is a truly awesome volunteer. Working tirelessly to build and maintain trails throughout the East chapter and entire region, he even devotes his time to trails that aren't bike-specific, which are not particularly fun or easy to work on.
As a volunteer with Evergreen, and with other groups like WTA and the Spokane Mountaineers, Alexey has developed a strong skill-set in a variety of areas of trail building and maintenance and has built a number of bridges (literally and metaphorically). Alexey has been a primary driver behind so many trail projects, like Flying L, and it's safe to say that mountain biking in the East chapter would just not be the same without him.
Perhaps most importantly, Alexey always brings a positive attitude and is willing to take the time to teach others, fostering community and bringing others into the fold of trail maintenance. He and his friends and family are constantly helping out with dig days and promoting mountain biking and Evergreen in the East chapter and throughout the state."
Thanks so much for your hard work, dedication, and community-focused attitude, Alexey!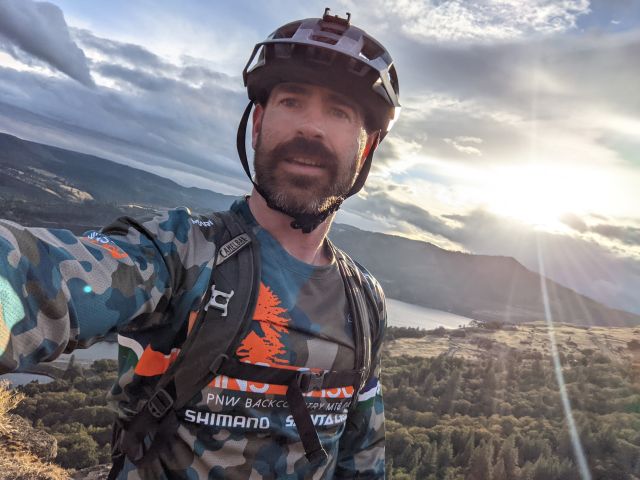 Ryan Kitchen
Chapter: Cascades to Sound Focus: Trails
"Ryan devotes immeasurable time, energy, and heart to our local mountain bike trails on behalf of EMBA's efforts. Immeasurable because if he logged all his volunteer hours, he might get into trouble at work! He builds and maintains Cascades to Sound local and not-so-local WA trails with the work ethic of a dedicated professional: scheduling his calendar around trail building and maintenance season, responding to trail needs with saw in hand, and boundless energy, as soon as the "tree down" Bat-Signal is flashed by anyone in the community.
The attitude and willingness to help others that Ryan brings are perhaps his most valuable assets to Evergreen and to the mountain biking community. Ryan multiplies his contributions on the trail with his kind demeanor and knack for recruiting and mentoring others. He's been a crucial part of Evergreen's sawyer program, stoking the fire that the organization bestows towards the existence of our bountiful trail systems.
Ryan, we are so thankful and lucky to have you as a steward of our trails and as a fellow rider! Thanks for all you do!"
Fun fact: Ryan raised his dog Tela (RIP) to participate in trail building, including digging on command, which proved tremendously useful when removing dirt around roots that snag trail tools. She contributed to the making and maintenance of many of the trails on Tiger Mountain and Raging River.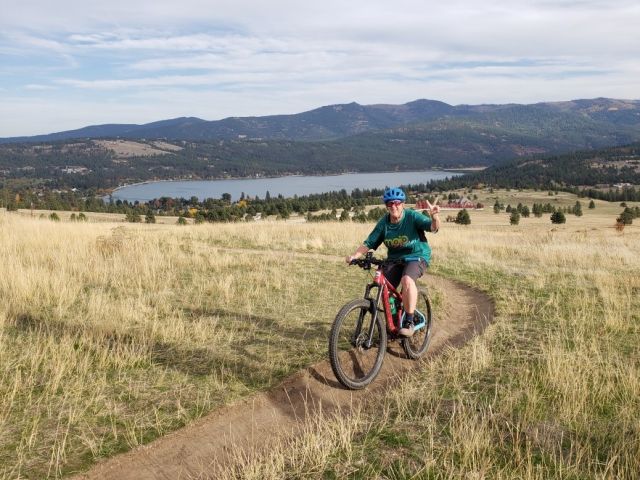 Sue Craigmile
Chapter: East Focus: Events and Marketing
"As East's new marketing coordinator, Sue started her new position in early 2020, just as the COVID-19 pandemic hit and shut down nearly all events. While disappointed, Sue turned her energy to alternative ways to engage the riding community. Sue is creative and energetic in her work, designing new, fun, and effective ways to communicate information about Evergreen and local trails, and found ways to do it safely during the thick of the pandemic.
Sue has a passion and a knack for outdoor adventure and sharing it with others. Thanks to Sue's hard work, creativity, and energy, she's helped Evergreen East bring on even more members despite the obvious hurdles of the past year and a half."
Sue, you have been an enormous asset to Evergreen and we are so grateful for the opportunity to honor you here! Thanks again and keep up the great work!
Fun fact: Sue is a great cook and brings the best homemade snacks on rides!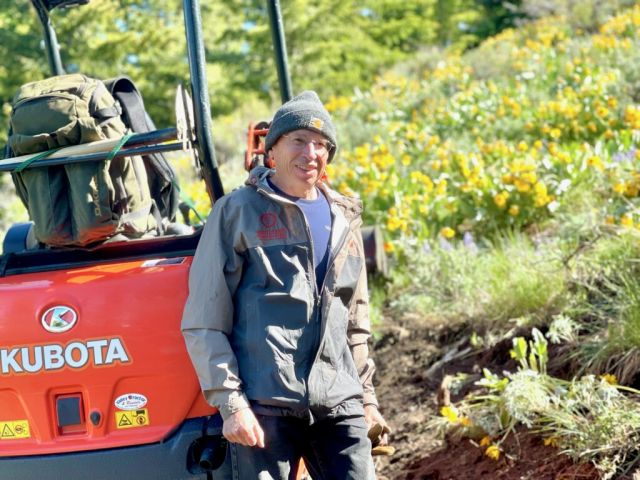 David Dunnell
Chapter: Central Focus: Trails, board, and everything in between
"When it comes to the dedication of time, effort, and passion for building amazing trails in the Wenatchee Community, there are few names known more than David "Double D" Dunnell. From Devil's Gulch to Devil's Backbone, and everything in between, Dave's trails and handy work have been an integral part of shaping our mountain biking community for nearly 40 years to what it is today.
Dave has been riding bikes, and building trails, longer than some Central members have been alive! Don't let Dave's experienced age bracket fool you, he has energy in him unmatched by those half his age. He is the hardest working guy out there and usually has the biggest smile, too.
Always ready to lend a helping hand, Dave spends the winter sharpening tools and maintaining equipment so that all the Central trail builders can get after it come spring. One of the earliest Central Board Members, Dave brings insight and vision each month and almost never misses a meeting. Once trail season starts, no one in the Central area puts in more volunteer hours than Dave. Stacking up over 500 volunteer hours in 2021, Dave spent over 3 months of 40 hour weeks from March through September helping make Washington the best place to ride. Whether it is building new trails at No. 2 Canyon, doing maintenance on Devil's Gulch, or helping rebuild jumps at Squilchuck, Dave lends his skill, knowledge, and high energy work ethic to almost every project we are involved in."
Thank you for the decades of hard work and dedication, Dave! We're so thankful for you and the contributions you've made to our community.
Fun fact: Besides mountain biking, Dave is an avid motorcyclist who enjoys the need for speed. Also, Double D's trail at No. 2 Canyon is named after Dave Dunnell (D.D.).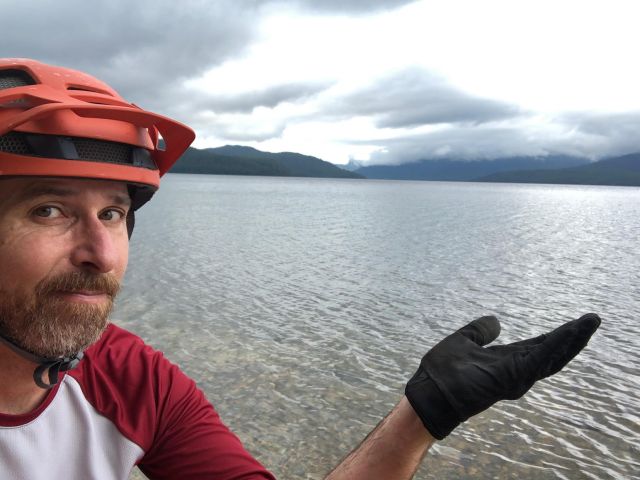 Rick Brown
Chapter: East Focus: Education
"Rick has been an integral part of the East chapter's education program and its amazing success. Rick has played a key role in offering advice, guidance, leading training whenever needed and offering helpful constructive feedback to instructors on managing classes. Rick really cares about the students and them having a good experience and we can always count on him to give constructive feedback about how to staff a class."
Rick, thanks so much for your expertise and hard work!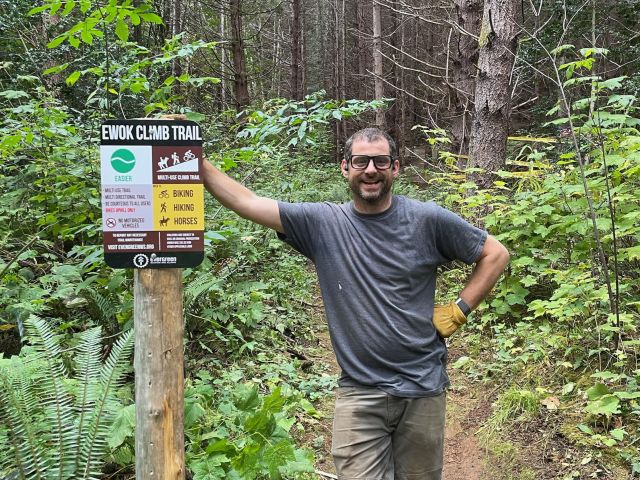 Kevin wise
Chapter: West Sound Focus: Trails, anything and everything else
"Kevin is a huge advocate for progressive and safe trails, and maybe more than anyone else, he shows up to help whenever and wherever he can. Rain or shine, you can count on Kevin helping out on the trails: digging and directing.
With West Sonds' Ranger Corridor rebuild, Kevin has played a huge role in bringing that to fruition, even stepping up as the project manager for the new Port Gamble Ride Park."
Kevin, you've been a huge asset to West Sound and to Washington's community of mountain bikers. We are so appreciative of the hard work you've put in thus far, and are grateful to be able to work alongside you!
Fun fact: Kevin is an elementary school PE teacher.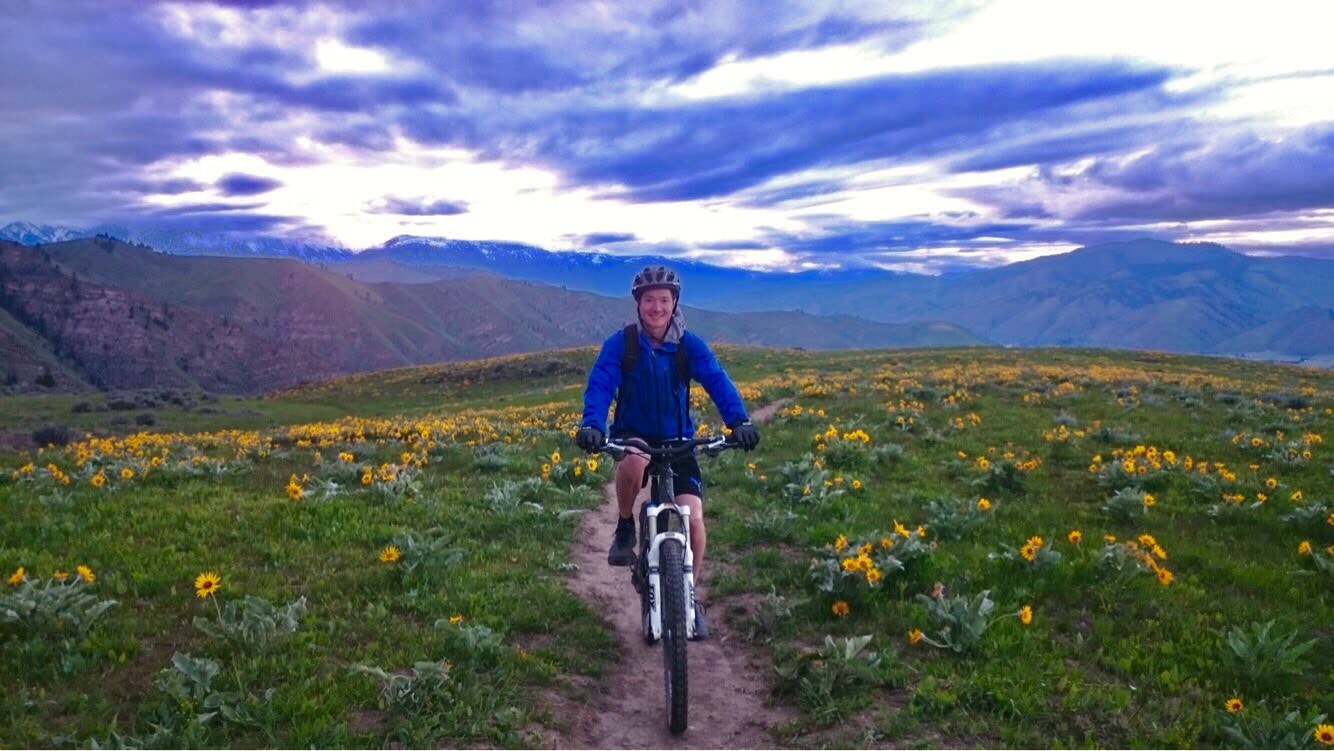 Ian Woodford
Chapter: Central and Statewide Focus: Board, education, and statewide merchandise
"Ian brings a kind, helpful, and fun demeanor to his work, helping Evergreen both behind the scenes, and as a familiar face in the Central chapter's education program.
He puts a ton of time and thought into volunteering for Evergreen. Whether he is teaching, serving as an executive member of the Central Board, or helping with the online store his contributions have made the organization better at both the chapter and statewide level. The details of online merchandising and sales can be a bear (inventory, shipping, tracking, ordering, and more), but Ian has been an enormous help to Evergreen in this respect, and always takes the time to answer even the most simple questions."
Ian, your assistance, experience and willingness to help have been invaluable to so many of us at Evergreen. Thanks for all you do!
Fun fact: Ian is a crazy cat dad, and has taken his cats all sorts of outdoor adventures. Ask him if you can see some of his cat photos!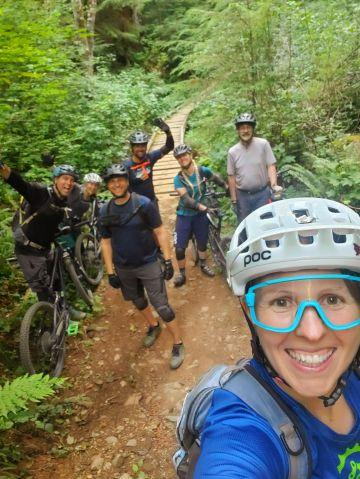 Kat Plakos
Chapter: Southwest Focus: Education
"In just a couple of years, Kat has built the Southwest Chapter education initiatives into a thriving and quickly growing program. Kat took initiative to add classes to Yacolt Burn, which turned out to be super popular, and a great way to help riders get comfortable with the network of trails here. Kat's warm energy, personality, and the thoughtfulness she applies to her teaching make for a fun, safe, and effective learning environment for her students.
When not instructing or coordinating Southwest's education program, you can find her supporting Evergreen's mission in a host of ways, including digging new trails and being a great ambassador for the sport of mountain biking."
Kat, your positive energy and dedication are so appreciated. Thank you on behalf of the mountain biking community!
Fun fact: Don't let her name fool ya, Kat has three Aussies trail dogs that join her on trail adventures!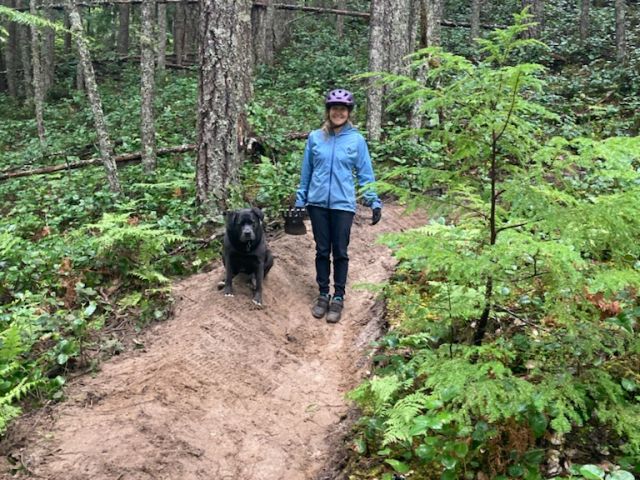 Hanna Jetter and Travis Adams
Chapter: Cowtliz-Naches Focus: Trails
"Hanna and Travis [not pictured] are a big part of the small but growing riding community in Packwood. Their hard work and friendliness go a long way in making the Cowlitz-Naches chapter an event better place to ride.
Much of the trail work in the Gifford Pinchot National Forest requires hitting a narrow window in the Spring between melt out and when people start showing up to ride. This year it was especially crucial to do some heavy drainage and tread work on Strawberry Ridge in the Fall, after rains hit but before winter set in. Getting the work done ultimately depends on having people who are willing to jump in when the conditions are right and make it happen; people like Trav and Hanna.
Hanna and Travis work hard, and they play hard, and they still find time for trail work. They don't brag about it or expect much in return, but they are integral to making it happen."
Travis and Hanna, we're so grateful to have you as local trail stewards and close friends. Looking forward to working alongside you many more times to come!
Fun fact: Travis is the terrain park builder at White Pass Ski Area and Hanna makes amazing bike tube jewelry (TiredTread).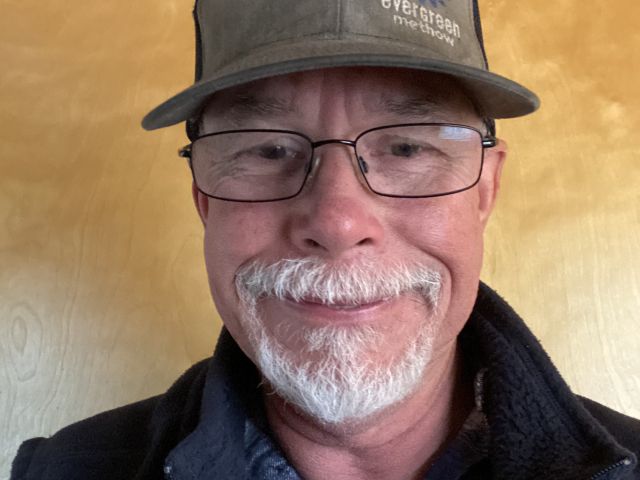 John Harter
Chapter: Methow Focus: Trails
"John has led almost all of the work parties in the Methow this summer and has proved himself to be an invaluable team member in the chapter. Leading numerous work parties each year, John is pivotal to the success of organized work parties in Methow, getting folks out together and building a community around trail maintenance in the valley.
Without John's commitment to Methow trails, we would not have been able to accomplish nearly as much trail work this year."
We really appreciate all of your hard work, John!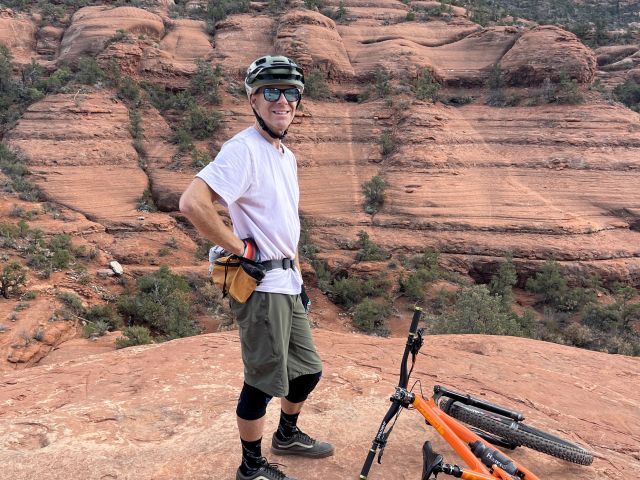 Bill Kinzel
Chapter: East Focus: Trails
"If you go riding in the East, chapter, you're likely to run into a plethora of people who will tell you they just saw Bill out on trail working away. Mountain biking and outdoor recreation are in his blood.
Bill volunteers over 500 hours each year, building and maintaining trails in Eastern Washington. Often working by himself, he'll pedal out deep into the backcountry with a chainsaw or brush cutter strapped to his back, then wasting no time clearing trails of blowdown and overgrown brush.
Bill is well known by all user groups as a true trail hero, and he does an amazing job cultivating relationships with other users.
As if Bill's impact as a volunteer wasn't enough, Bill actually just joined Evergreen's statewide administrative team this fall as Evergreen's Finance Director. His skill set in finances and his passion for giving back to the riding community make him an awesome addition to the staff, and you'll still find him volunteering on the trails."
Bill, thanks so much for all of your hard work on the trails over the years. We're so glad to have you!
Fun Fact: Bill is the true trail-crushing lizard!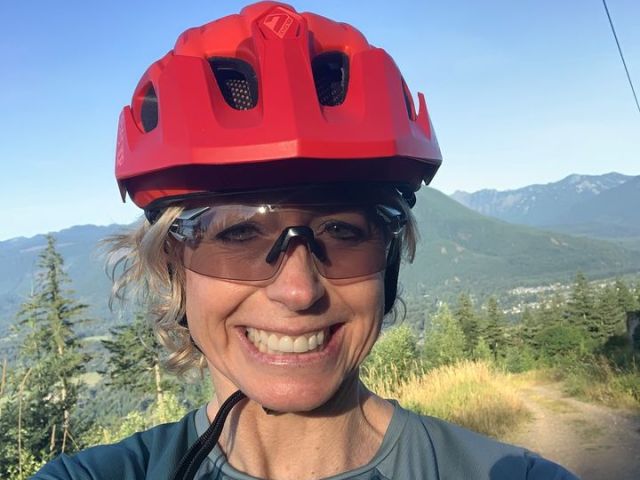 Bobbie Howard
Chapter: Cascades to Sound Focus: Crank Sisters
"Bobbie became a Crank Sisters ride leader in June of this year, and in her very short time as a ride leader, she's led 48 rides in the Cascades to Sound chapter with even more on the calendar as we go into the wet weather season.
While Bobbie trains for her own epic racing events, she also offers rides of all skill levels, matching her pace to her rider's needs so that they have a great experience as part of the Evergreen community. Riders consistently report "that was a blast!" after a ride with Bobbie.
She has been an inspiration to other ride leaders, sharing her wisdom and experience on the trails. She doesn't expect any kudos for all her dedication to volunteering which makes it all the more enjoyable to honor her as a volunteer of the year for Evergreen."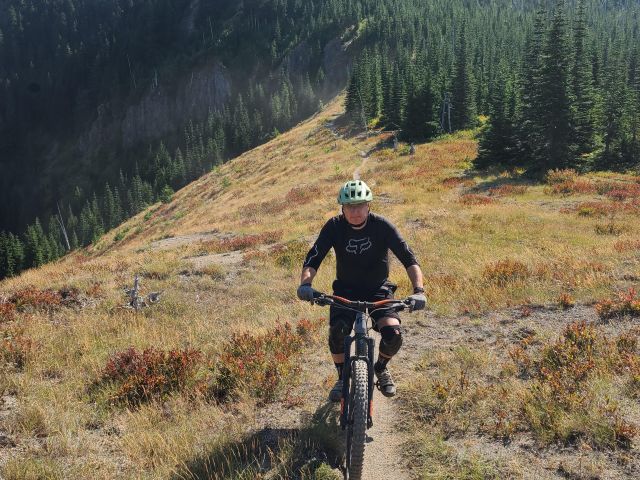 Greg Morris
Chapter: Southwest Focus: Board
"Greg serves on the Southwest chapter council and has also stepped up into a leadership role on the statewide board. A man with a variety of skills, you can count on Greg to show up for nearly every work party. Greg's humble attitude and willingness to lend a helping hand don't go unnoticed."
Greg, we're appreciative of your willingness to go the extra mile and are thankful to have you in not just one but two leadership roles at Evergreen!