The Good Dirt: Trying Something New in a New Country
"Be open-minded, don't fear the bad but embrace the good!" exclaimed Jocye Musafiri to a group of Congolese youth after she tried mountain biking for the first time.
On a sunny Tuesday afternoon at Duthie Bike Park, The Nature Project (TNP) collaborated with Musafiri to bring 11 students from The Congolese Integration Network Youth Program (CINYP) to join Evergreen staff and TNP professional athlete mentors for an afternoon of adventure, learning and fun. Brad Evans, a former Seattle Sounders player, and Cooper Helfet, a former Seattle Seahawks tight end, and Lofa Tatupu, a former Seahawks linebacker and coach, participated as representatives from The Nature Project. Cooper founded The Nature Project to empower young adults to cultivate intentional, healthy, and connected lives through impactful outdoor experiences with professional athlete mentors. The Youth Experiential Training Institute (Y.E.T.I.) provided a stellar bike fleet for the event so the youth could get acquainted with mountain bikes.
CINYP was developed in response to the need for a program that promotes healing and integration that empowers Congolese and sub-Saharan refugee youth. They were stoked for the opportunity to get outside on bikes and hang with TNP's professional athletes.
Cruising down the Bootcamp beginner trail, Musafiri said all she could see were smiles. "One of the instructors told me they could see joy and concentration in my face. I replied, 'And a little fear too.'"
A lot of the CINYP participants had ridden bikes but not mountain bikes. Some had never heard of mountain biking, it is not traditionally part of the Congolese culture. This was a new challenge that pushed them physically but also mentally. The group worked together to learn the basics of bike handling and navigating trails while identifying risks, managing their fears, and supporting each other.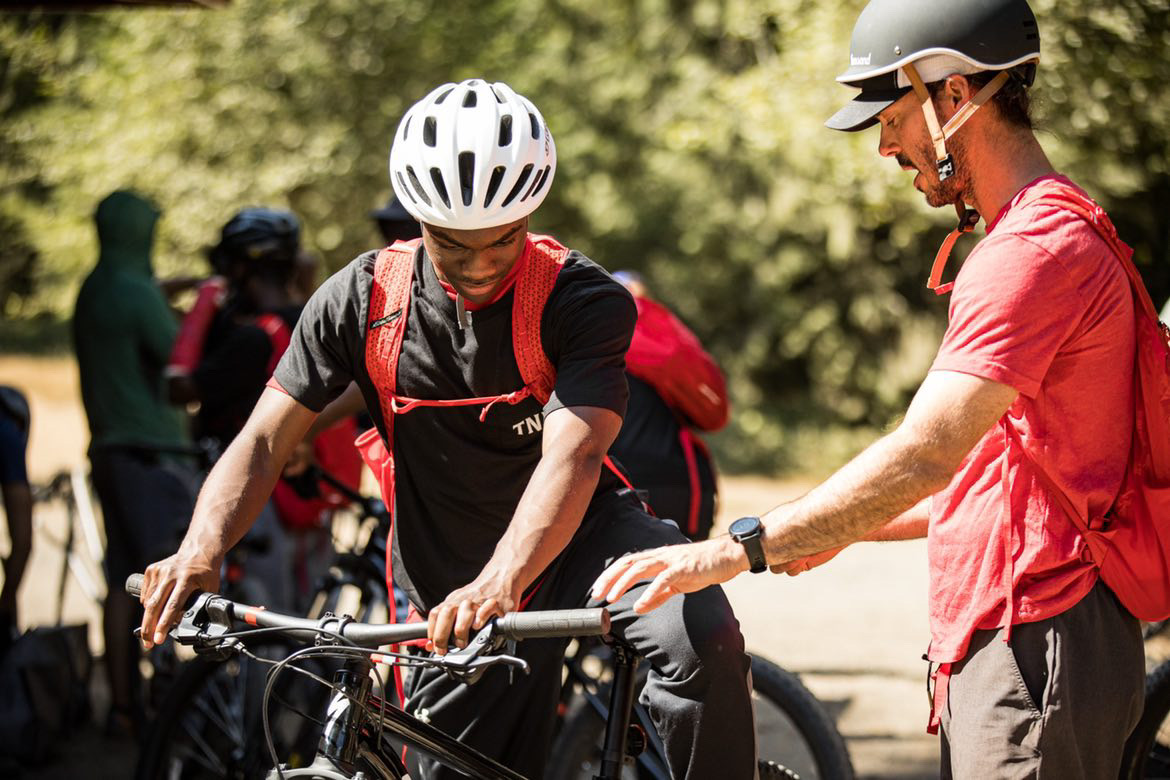 Though most kids were focused on biking, a lot didn't know who the athletes were. After quick social media research (as youth do), the kids were like, "OMG, they're famous athletes! Let's compete with them."
Neither Brad, Lofa or Cooper had much more experience on the trails than the kids. This may have been Brad's first time on a mountain bike. But in the spirit of competition, the kids challenged Evans and Helfet to test their mountain bike skills in a classic game of foot down. Although their energy and determination were high, Musafiri recalls that the kids stood no chance against the fitness and balance of the pros. Yet the encouragement of the athletes to try new things and learn alongside the teens was a powerful motivator.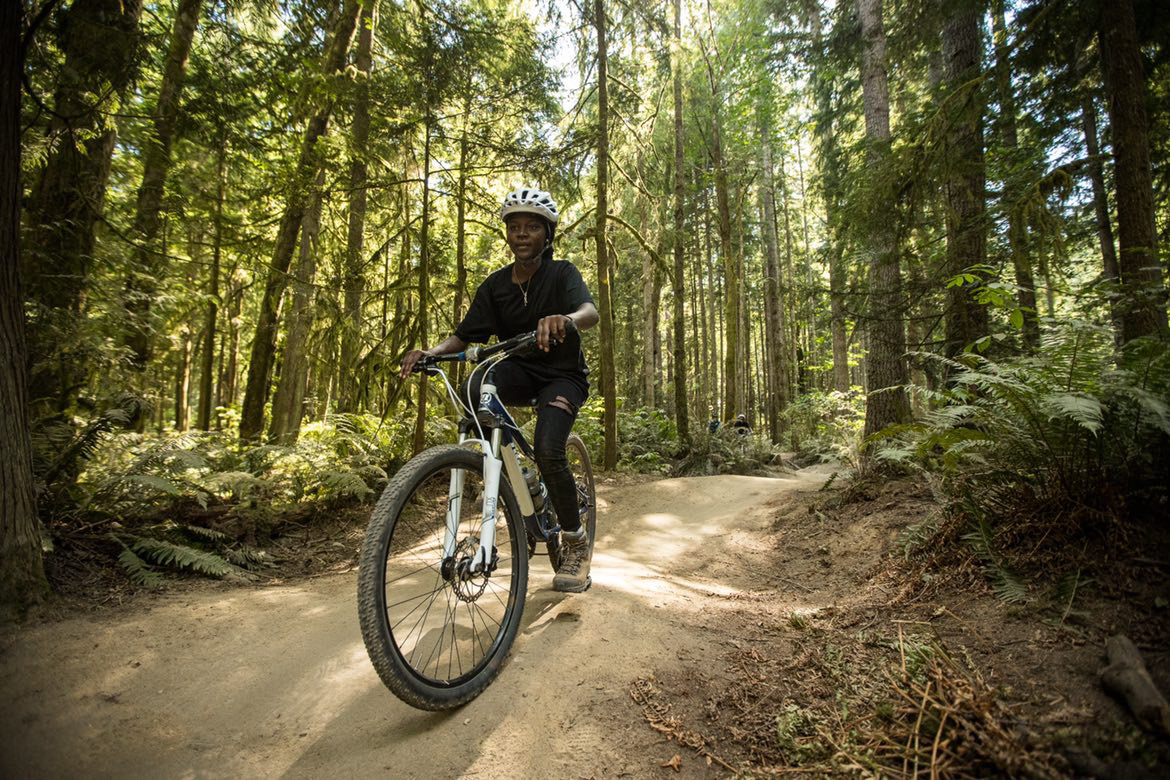 "Our community is very scared to try new things. I want to say: don't be scared because you don't know what you will learn. Take a chance in trying new things. We think, Oh, mountain biking isn't for us but it's an opportunity for something new and for you to broaden your activity level. You don't know if mountain biking is for [us] if you don't try it."
Musafiri continues to empower her community to try new things, including exploring mountain biking because the trails can feel like home.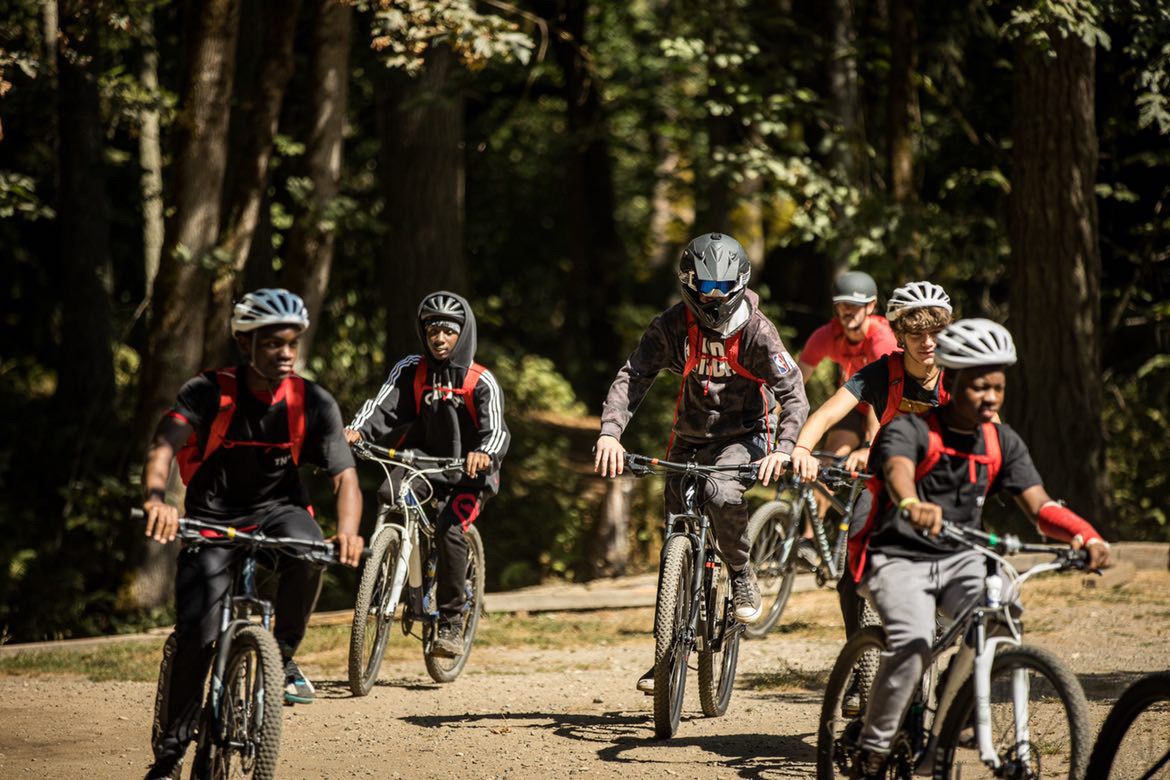 The Nature Project partners with local youth serving organizations and mentorship programs bringing to their teens the power of nature as a mechanism to connect with a stronger sense of self, community and to explore skills in adaptability in new or stressful situations.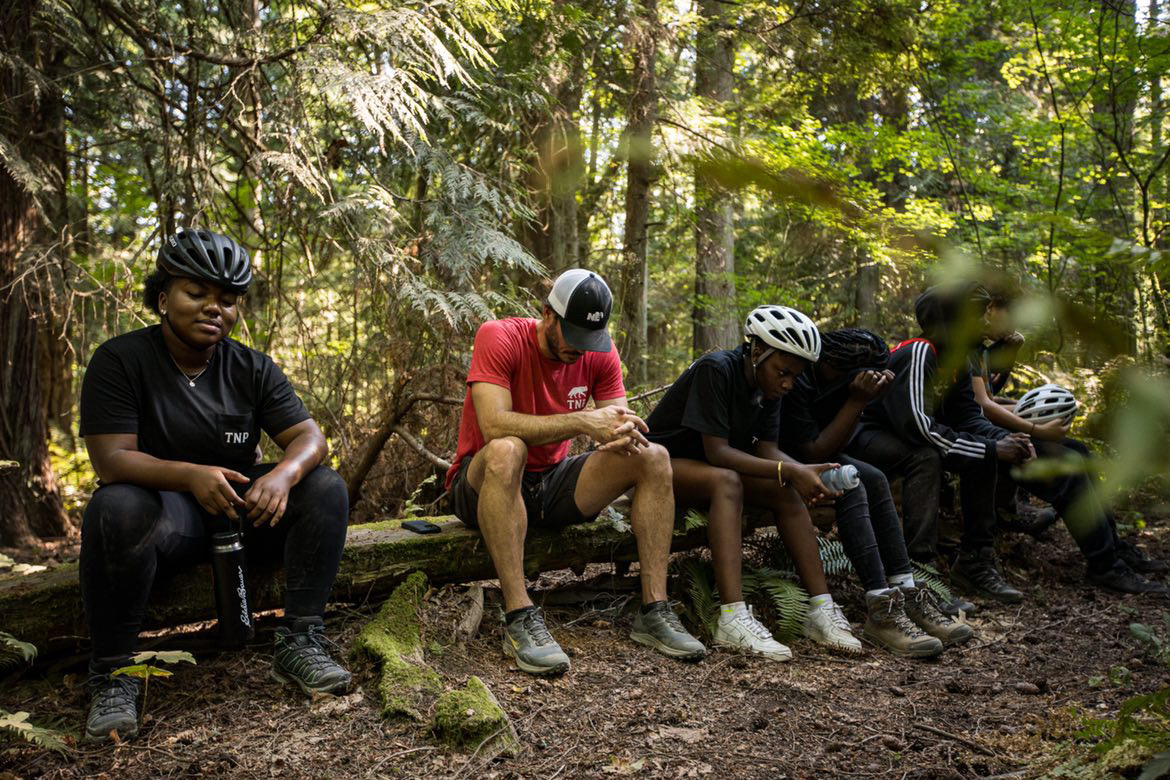 Evergreen builds trails and community. We are a resource to community groups who want an opportunity to try mountain biking. We provide expertise in teaching mountain bike skills, and developing stewards of the sport through trail building and advocacy work. If you or a community partner you know would like to work with us, please reach out to Kristen McCune, Education Director.
Photos provide by Riley Seebeck.