To Ride Or Not To Ride?
Thoughts On Mitigating Recreational Risk During COVID-19
Update 3/25/2020:
Governor Inslee's "Stay Home, Stay Healthy" order for Washingtonians that was issued on Monday, March 23, 2020 becomes effective today. The purpose of this order is to slow the spread of the deadly COVID-19 disease. As responsible stewards and members of Washington's vibrant outdoor community, it is absolutely critical that we, as mountain bikers, help in every way we can to curb the spread of this worldwide pandemic.
With that in mind, we implore you as Evergreen supporters to limit travel and only visit trailheads in your immediate neighborhood. It is not the time to be taking unnecessary recreational risks that have the potential to further burden our strained health care system. With the 2-week order to stay at home now in place, our governor is asking we stay put unless "pursuing an essential activity, like shopping for groceries or going to a medical appointment, getting takeout food, going to work at an essential business, and going outside for walks and exercise, as long as social distancing of six feet is maintained."
In Governor Inslee's Monday evening address, he mentioned "biking" as a viable and acceptable option for getting outside, but the intent was to encourage folks to get out close to their homes for some exercise and fresh air. If you do get out for a ride, please consider the points listed in our post, "Mountain Bikers Have A Responsibility To Help Flatten The Curve".
Update 3/22/2020:
We're hearing firsthand accounts from our trail crew that trails and trailheads have been crowded and congested over the past few days. This directly defies recommendations from health experts in regards to proper physical distancing. Whether you're outside or not, now is not the time to be hanging around other people!
Because of the solo and isolated nature of their work, our crew has been able to avoid project delays and continue working to build and maintain trail through this uncertain time. Recent reports of riders disregarding closed trail signs and encroaching on active work sites not only damages trailwork, but also exposes our crew to possible infection. We take the wellbeing of our crew seriously and are working diligently to keep them healthy, happy, and employed. Sick trailbuilders mean no more sick trails– and no one wants that...
Please, do your part by eliminating time spent in close proximity to others. If you ride, keep it local and stick close to home, do not carpool, leave if the trail is busy, keep it solo or limited to only those you live with, do not "hang out" at the trailhead before or after you ride, and ride well below your comfort level.
Better yet, stay home and do some bike maintenance, spring gear cleaning, or other activities around the house.
We'll get through this!
In recent weeks, the Pacific Northwest has emerged as the United States' hardest hit region in the growing COVID-19 pandemic.
The death toll has steadily ticked upward here in Washington and, as of Tuesday, March 17th, the Seattle Times reports 904 cases have been confirmed with 48 deaths. There's no doubt that this is a public health crisis worth taking seriously, and Governor Inslee has responded accordingly by shutting down restaurants and bars, limiting public gatherings to no more than 50 people, and closing all public schools.
On Friday, we announced here at Evergreen that we've suspended all our events, classes, volunteer work parties and board meetings through April 26th.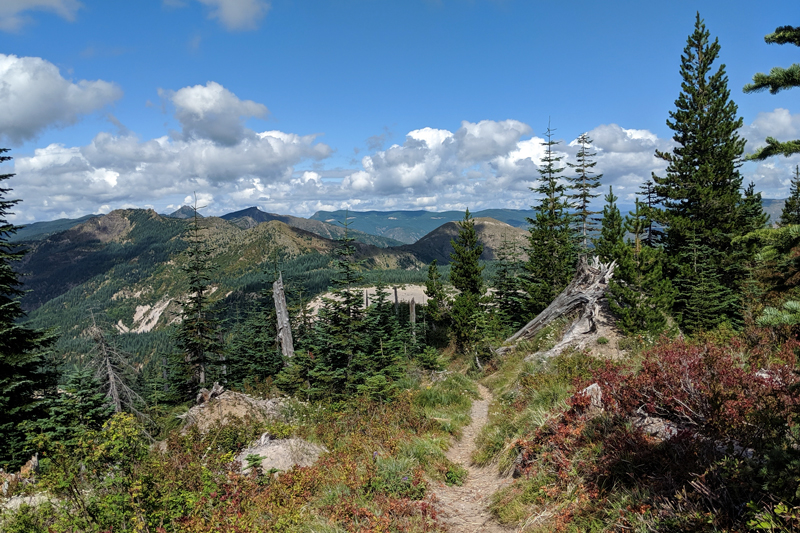 Want to get back to riding this? Practice responsible social distancing and we'll get there sooner rather than later...
Coincidentally, the spread of COVID-19 comes at a time when Washington's mountain bikers are itching to get outside. A dark and horrendously wet winter is finally starting to release its grip and endless miles of singletrack are firming up and reaching hero dirt status.
The perfect storm of mandatory work from home policies, a teasingly pleasant 10-day forecast, and literally having the Governor himself exclaiming the virtues of "social distancing"– a skill most mountain bikers have already mastered– all amidst the spread of a disease that carries with it relatively low risk for physically fit individuals is a cooped up rider's dream.
Or is it?
Josef Hoffman, an English and Special Education teacher at Camas High School in southwest Washington, is an avid rider who serves as a statewide board member for Evergreen. He readily admits that when he first heard news of school closures, one of the first thoughts to cross his mind was "how many places I was going to go mountain biking".
A conversation with a friend who works in medicine was enough to bring Josef back to earth.
"He told me that his entire floor has been converted into a triage unit," Josef says in a recent video he uploaded to his YouTube channel, "Voice Over Trail Reviews", where he shares trail reviews, tips and guides for finding the Pacific Northwest's best trails.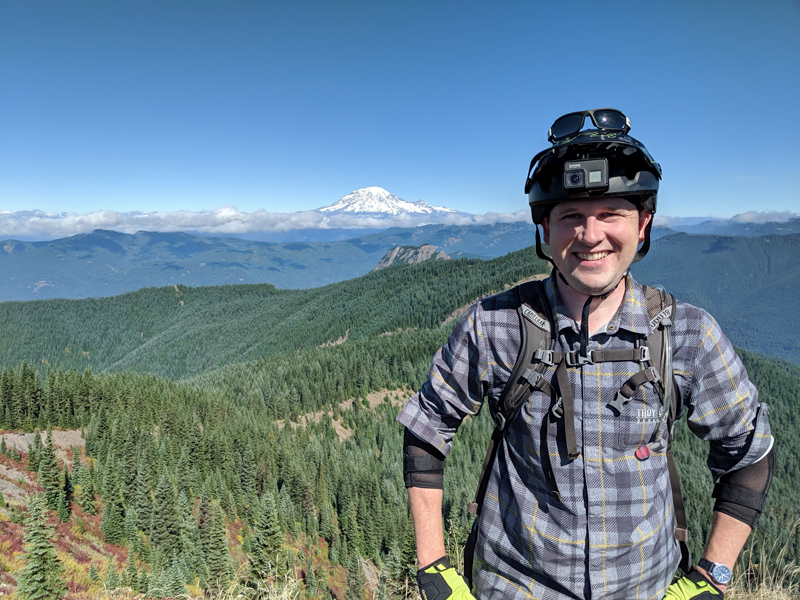 Josef Hoffman
And, no, those extra triage units aren't for treating an influx of broken collarbones and twisted ankles. They're for dealing with an expected influx of critically ill patients infected with the deadly COVID-19 virus.
"If I come into the ER with a broken ankle I got from a recreational injury, I'm potentially consuming medical resources during the peak of a pandemic," says Josef, "I know this makes me sound like a buzzkill, but this virus is a buzzkill."
With so few businesses and other amenities open and public gatherings highly discouraged by state officials, riding a mountain bike outside seems like one of the few fun and healthy things left to ethically do right now.
But Josef isn't calling for an outright break from two-wheel escapades, he's just urging us all to practice a little common sense.
"I think there's a balance that needs to be struck," says Josef, "Be thoughtful before you get out there and ride your bike."
So, watch Josef's full video, ride within your limits, and if you find yourself in the coming weeks ahead sizing up that steep chute that's been haunting your dreams since last summer, take a step back and remember: We're all in this together.
-
Josef Hoffman is an English and Special Education teacher at Camas High School in Camas, Washington. He serves on Evergreen's statewide and Southwest Chapter boards. Josef is planning to do some riding during the coming weeks but has created a general rule of thumb for himself: If he wouldn't do it on his hardtail, he's not going to risk doing it now.
Ian Terry works as Evergreen's Communications Manager. He plans on keeping his sanity in the weeks ahead by riding regularly, though mostly alone or in small groups of close friends also practicing responsible social distancing, and promises to "dial it back a notch" when out on the trails.