When a storm rolls through and reports for downed trees start popping up on social media, in emails, and in parking lot chatter, Evergreen sends the Bat-Signal to our dedicated Evergreen Volunteer Sawyer crew to come in and clear the way.
The chainsaw is a loud, hungry beast, and there is a serious risk involved with its use. Locating, assessing, and dispatching the blowdowns can take grueling hours of walking in the woods carrying saws, fuel, and gear. And usually not in the most favorable weather conditions. Properly deemed 'Riders of the Storm,' Evergreen sawyers are a unique and dedicated brigade; geared up with heavy equipment and hours of training to keep the trails we all ride cleared, smooth, and safe.
The program's founding member, the late Len Francies, was the key driver in creating a collaboration between the Evergreen Mountain Bike Alliance (EMBA) and the Backcountry Horsemen of Washington (BCHW). Evergreen sawyers are trained and certified by the USDA through the program led by the BCHW. "It's a cool collaboration between two organizations, and together we have trained people from all over," says Ryan Kitchen, Certified Evergreen Sawyer. "Evergreen and the BCHM have teamed up to train groups like the Washington Trails Association, King County, and Search and Rescue," Kitchen has a lot of respect for the work it's taken to get the program to this point. "We are standing on the shoulders of giants. Len Francies, Shawn Lorenz, and Bryan Connolly are some of the ones who blazed the trail for us to be here."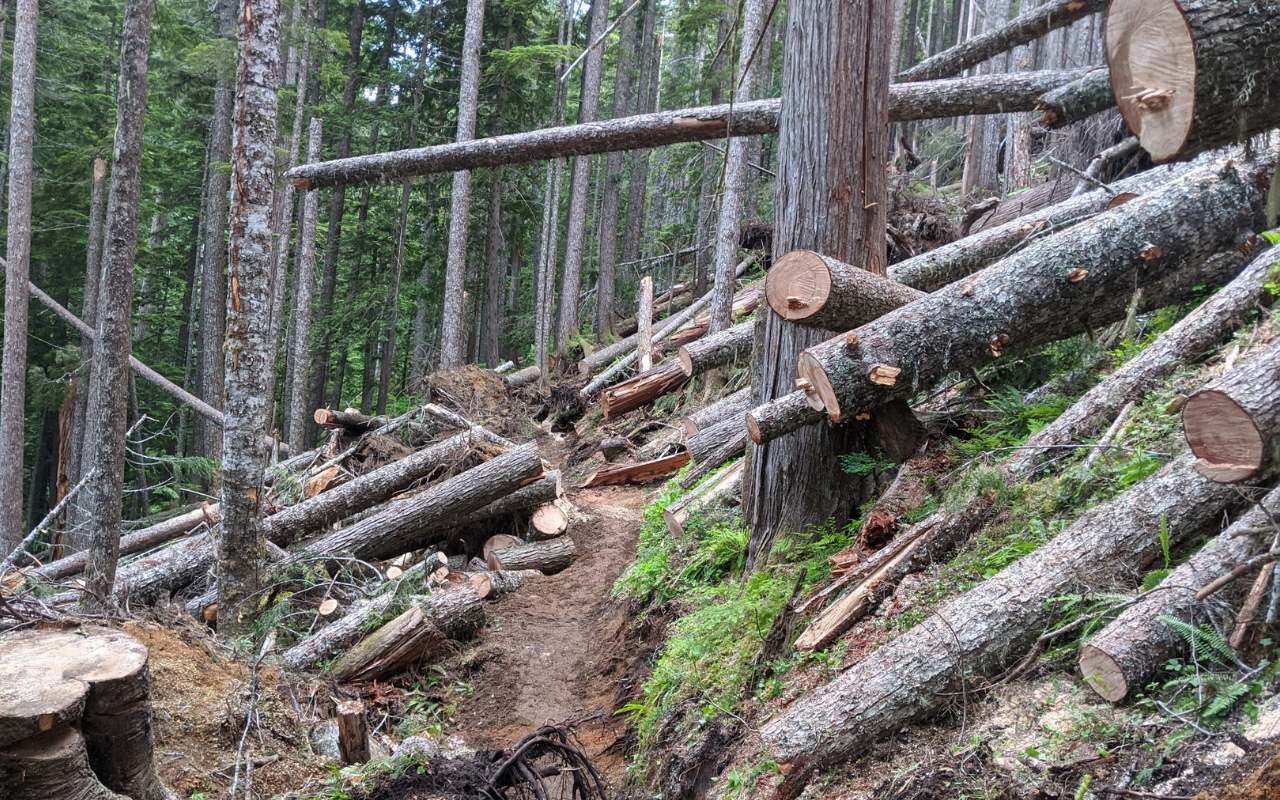 Evergreen serves over 2,000 miles of trails on National Forest, DNR, State Parks, WDFW, County and Municipal lands. Currently, there are 84 EMBA USDA-certified sawyers that help maintain these trails. "It is important to acknowledge the growth of Evergreen and the support at the State and local level, from the full-time employees to the volunteers, they make this happen," Ryan says. "Through RTP grants and the support and funding that is created by the Chapters, it is a reflection of the community that is contributing time and finances. All of that has created momentum to run a chainsaw program."
Evergreen Volunteer Sawyers take this process seriously. Being in the woods, operating chainsaws… There is a risk. There is a liability. It's serious business. Ryan talks about the specific requirements from land managers when sawing on DNR, US Forest Service, and state land, "You must wear appropriate PPE, carry your certification card and continuously assess your skill level. We want to have fun with our friends, but safety is always first and foremost. It can get sketchy real fast, and we can't afford to be without our sawyers or the program as a whole. It would definitely be ours to lose."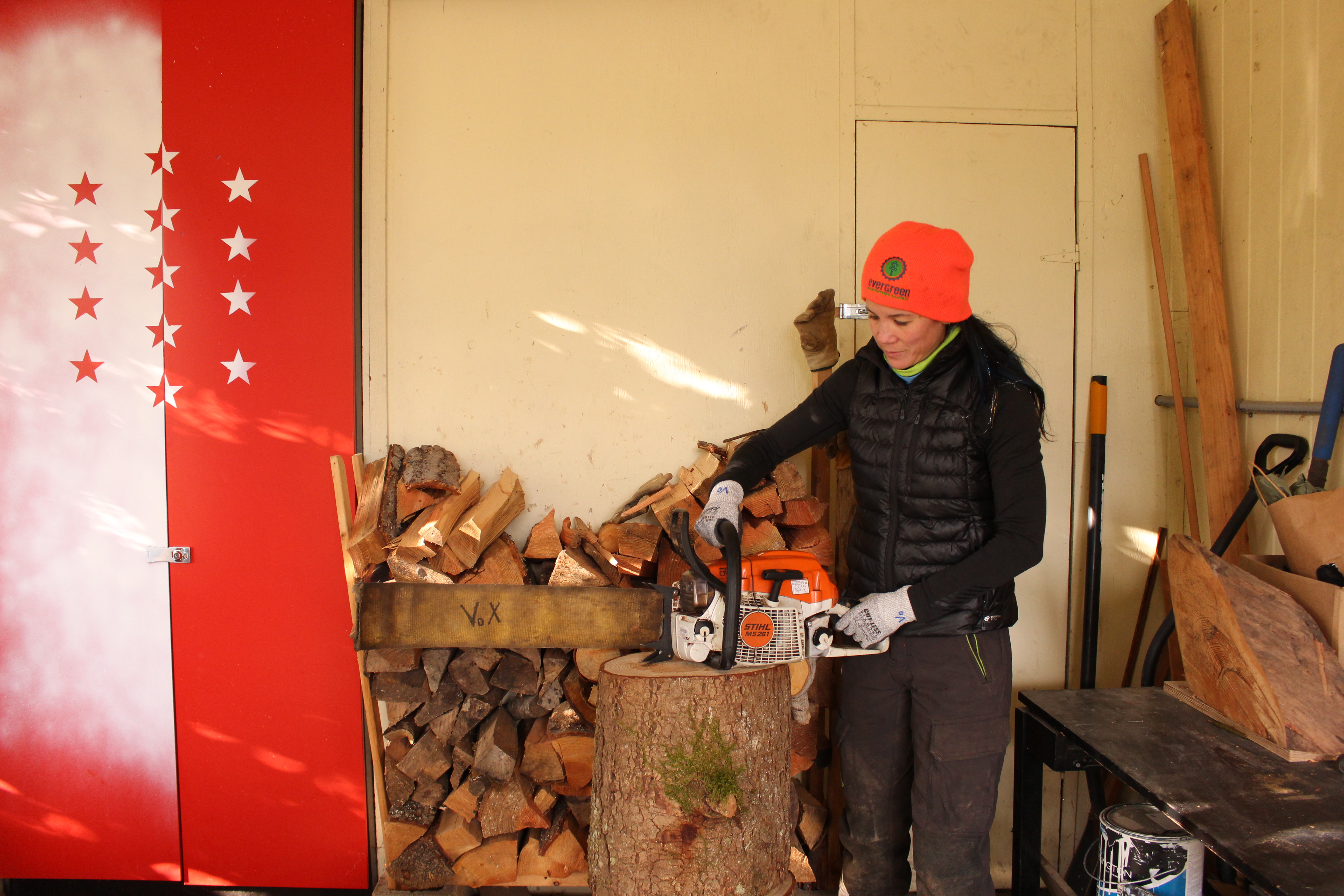 Xuân Mai Võ, preferring the nickname "X," is another certified USDA sawyer and an active Evergreen member. "Evergreen and its community feel like family, truthfully." X became involved with the sawyer program through time spent volunteering and working on the trails she loved to ride. The crew she worked alongside was supportive, fun, and engaging. Naturally, while trail building, X would see the crew sawing and bucking trees. They noticed her interest and commitment to the trails and invited her to train as a sawyer. She said it was not like, 'Oh, there's the girl!' "No, they were inclusive and called me in to learn." Those who are encouraged to join are those who show up on the trails regularly. X views it as a privilege to become certified.
X is a veterinarian by trade and is sensitive to sound, which is why she is a cat person. She found it funny that she loved the chainsaw, which is anything but quiet. But X is a problem solver, and this is all about that. "When you saw, it's like solving a math problem." She says.
One of the unique parts of the sawyer program is that it is built on mentorship. Before entering the program, trainees need first aid certification and approval through the EMBA team. Once admitted, they are assigned a current USDA-certified sawyer as a mentor because every tree is a different problem. Experienced sawyers have likely encountered those 'math problems' before and can pass along their knowledge to the trainee. X, Ryan Kitchen, Shawn Lorenz, Jeff Mix, Paris Gore, and Peter Partel, are the key players and mentors in the development of new sawyer volunteers.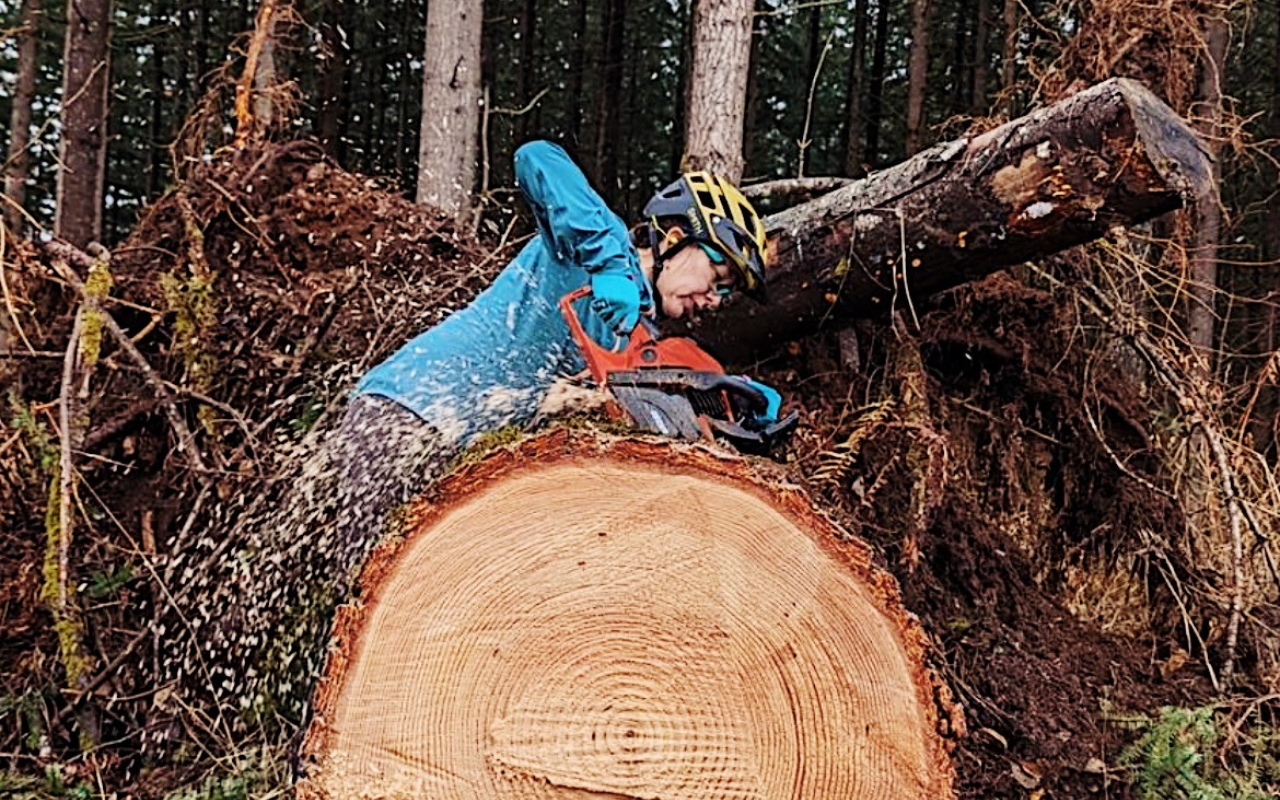 This process takes time, a lot of energy, and commitment. The volunteers must provide their equipment and safety gear with limited support from Evergreen. For most, it's not a job. It's a passion. Volunteers like X and others are the foundation for the next generations of sawyers and mentors building the EMBA sawyer brigade throughout Washington.
Ryan says, "It's unbelievably powerful, and almost no one else has the resources, the people, the funds, the mentorship EMBA provides," Reflecting on the program Ryan said. "Folks should be really proud of what they accomplished building the EMBA Sawyer Program, and, yeah, keep it up!"
There is an ongoing need for qualified volunteers in all of our chapters. If you are interested in joining the EMBA Sawyer Program, you can learn more here.