On February 22 mountain bikers from across Washington walked out of the woods and onto the Capitol campus in Olympia to meet with your legislators. Why? To ensure recreation continues to be funded across the state—particularly when it comes to mountain bike trails!
Morning coffee in hand, Evergreen members from Spokane, the Olympic Peninsula, Cold Creek, and Kittitas (to name just a few) met to get daily schedules, pick up handouts, and ask any questions before their meetings.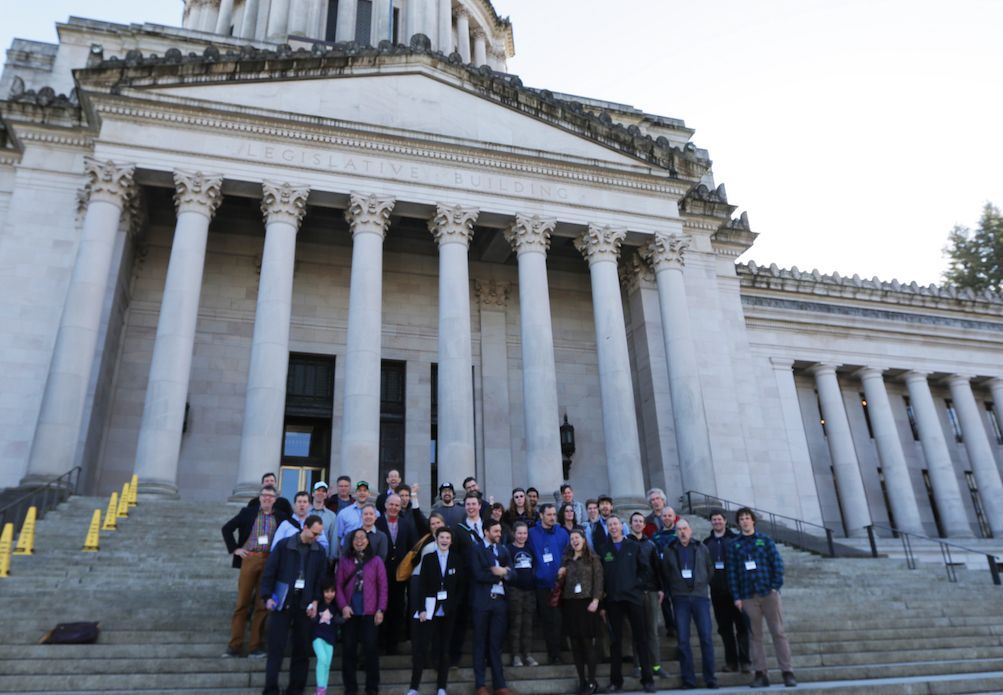 With over 75 legislative meetings on the books, participants busily criss-crossed the campus, but still found time to enjoy a short tour of the capital building, see a bill signed into law by Governor Jay Inslee, and take in lunch presentations from Outdoor Recreation and Economic Development Advisor Jon Snyder, DNR Project Manager Glenn Glover, and Senator Ranker from the 40th district.
This year Evergreen's asks are particularly important, specifically advocating for:
• Increased capital budget for the DNR Sustainable Rec Program to $8.1mil
• Support DNR's Natural Areas Program capital budget at $4.5mil
• Continue to fund the amazing work done by the Washington Recreation and Conservation Office
• Fund Washington State Parks $174.5mil Operating and $96mil Capital budgets, as well as the $2.2mil No Child Left Inside initiative
If you missed Legislative Rally Day, it's not too late!
Download our packet and look up your senator and two reps below; reading and making a three phone calls takes about 15 minutes and protects the next two years of mountain bike projects!
To learn more about Evergreen's asks, click here.
A huge thank you goes out to all the members who participated and to our legislators for agreeing to meet with us. If you'd like to support our asks and protect mountain biking statewide, look up your district and call your senator and representative—it's more powerful than an email.