Meet the Evergreen Crew: Cody Olsen
Meet the Crew
Originally hailing from Chelan, Cody Olsen is a full-time Evergreen builder who joined our staff in 2015. Read on to hear Cody's "enduro elk" story, learn about his family connection to Narvik, Norway, and more...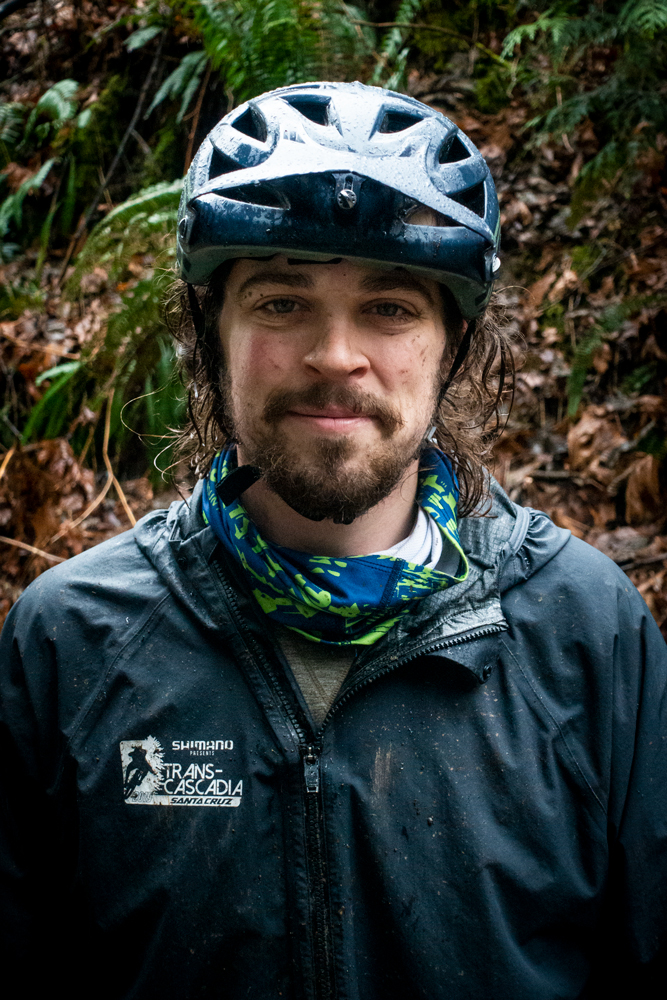 Photos by Ian Terry
Tell us about how you got into the sport… Where and when did you first start mountain biking?

I've always loved anything with two wheels. It started with BMX and building and riding dirt jumps around Chelan, WA where I grew up. BMX evolved to dirt bikes and motocross. I was always into mountain biking and thought it was cool but I was never able to afford a MTB and a motocross bike. About 10 years ago I sold my dirtbike and bought my first MTB (for the same price). I started riding at Echo Ridge in Chelan and was completely hooked. I quickly moved on to trails in Wenatchee, Leavenworth and the Methow Valley. An obsession was born!

How long have you been with Evergreen and what are some of the most rewarding projects you've worked on?

I've been with Evergreen since September 2015. I've watched Evergreen grow in so many ways in that time. The amount of trails, members, staff and overall impact has grown at an impressive rate in those five and a half years. I've seen the professionalism and skill of the Trail Crew develop into something truly special. We've got a crew of extremely talented, passionate and badass trail builders.

Some of my favorite projects have been Raging Phase 1, The Legend/Easy Tiger, and North Mountain (Darrington). Raging P1 and North Mountain were both huge undertakings for Evergreen and were bigger projects than anything we had done before. There were many learning opportunities and we were able to take that experience and refine our process along the way.

I also lead our Backcountry Trail Maintenance program and the two work parties we do at Moran State Park are my two favorite weekends of the year.

List some of your all-time favorite trails anywhere…

Strawberry Mountain, GPNF

Summit Prairie, GPNF

Devil's Backbone/Pot Peak, OWNF Chelan RD

Eagle Lakes Descent (Angel's Staircase), OWNF Methow RD

Dark Crystal, Whistler

Bob Gnarly, Pemberton (Best when moon dust and with a pack of 8 buddies)

Xanadu, (Doesn't actually exist)

The Whole Enchilada, Moab

Cody points it downhill for a photo-op on Strawberry Ridge's iconic rock formation in the Gifford Pinchot National Forest in August 2019.

Any memorable wildlife sightings or experiences while working? Tell us about it...

On the No Service Flow/Jump section, I was walking down to the excavator early one morning (about 1,500ft of this section had been built so far) and heard some rustling, and all of a sudden a massive bull elk came at me at full sprint. I dove headfirst into the brush and thick saplings on the side of the trail, my backpack swung over my shoulders and smashed my face into the ground giving me a pretty good bloody nose. I collected myself, made sure the enduro elk was gone and walked the rest of the way to the machine to see most of our progress from the last week or so demolished. Elk and deer love getting fresh tracks on our new trails but we typically don't see them or they run away from us when seen. This one took a different line that day.

Weirdest thing you've seen in the woods while digging or riding…

While building Raging Phase 1, we regularly saw a Buddhist Monk that would hike from the Monastery near exit 34. The first few times I saw his bright orange robe about 10 miles from anywhere someone without a gate key could drive I was certainly surprised and intrigued. Over the next few months he would walk closer and closer to us but would always keep his distance and be completely off trail. Eventually one day I caught his eye and waved. He waved back, and we continued to do this for many other crossings of our paths. He was always smiling ear to ear and looked completely at peace wandering through the dark woods, regardless of the weather.

Tell us about the hardest ride you've ever done...

My hardest ride was a failed attempt to ride to some far off peak on the Kettle Crest. The ride was Bryan Connolly's ambitious plan at KettleFest a few years ago. The mileage was somewhere over 30 and elevation gain had to have been somewhere between 6 to 8k. We turned around before the last 6 or 7 mile out and back with a few thousand feet of elevation gain. We were all out of food, mostly out of water and I was having debilitating leg cramps which I'm unfortunately prone to. This wasn't the biggest ride I've ever been on, but the combination of heat, dust, and horrible leg cramping far from camp made it one to remember. Backcountry rides with Bryan and Shawn are always a good time that require an open mind to suffering and a few frosty beers squirreled away inside your water bladder with ice– a technique developed by Bryan himself!

Cody (center) lays out plans for a day of trail work on the historic Kettle Crest trail with 2018 KettleFest attendees.

What interests/hobbies do you have beyond mountain biking?

The only thing I've done longer than ride bikes is Ski. I love the contrast between skiing and mountain biking. Many of the body movements are similar or the same but the terrain and ability to be creative and go anywhere on skis is something special. I think both sports complement each other incredibly well and allow you to apply skills learned in one sport to the other.

I bought a dirt bike this summer after not having one for about 10 years. I'm having a great time learning how to ride trails on a moto. I mainly rode and raced motocross when as a kid which is much different than riding trails. Combining a motor and singletrack has been a ton of fun.

I'm also rebuilding a 1975 Yamaha DT175 dirt bike that my Mom bought in 1981. It's been sitting around my parent's house my entire life but I'd only ridden it and seen it run once. It's been a super fun project with plenty of challenges. Sourcing parts on a 45 year old motorcycle demands patience and creativity.

What's one thing every rider can do to keep their local trail builders happy?

When you're on a trail and see a stick, big loose rock, or any other type of debris that's easy to move, hop off your bike and move it rather than ride over it. If every rider would stop 2-3 times per ride to throw something off trail instead of turning it to mulch on top of mineral soil, our drains would hold up longer and our trail crew wouldn't have to spend the time clearing easy debris and can focus our efforts on more difficult tasks.

Also, if you are going to cut a downed log, small tree or branch, cut them at least 4 feet off trail on both sides. Leaving a suspended tree at head height with only a 12in gap to ride through doesn't help anyone. Someone will have to go back out to re-cut the downed wood. You have to make 2 cuts typically to get a tree or limb out of the trail, make those two cuts 8 feet apart instead of 2.

Although normally seen with a chainsaw in hand, Cody makes quick work of a downed tree with a folding saw while completing trail maintenance at Moran State Park on Orcas Island in 2018.

Current bikes:

2020 Santa Cruz Hightower CC. This was my 30th Bday Dream Build present to myself.

2017 Ragley Blue Pig. I cannot recommend a steel hardtail enough. They make easy trails fun and do wonders for building bike skills.

Current rig:

2014 Chevy Express AWD Van. My dad and I built this van out to be the ultimate camper, trail building and MTB machine. I've dreamed of having a van for years. It's not a fancy Sprinter with all the bells and whistles, but it's rugged and I'm not afraid to get it dirty!

Favorite tire combo:

Maxxis Assegai 2.5 up front, 2.4 DHR II or Minion SS Rear.

Cody and his dog Hank squeeze in an early morning lap of CCDH before a full day of trail work at Raging River.

Clips or flats?

Both, I've been on clips for the last 2 years or so but switch back to flats occasionally so I don't lose the skills. I think it's super important to learn how to MTB on flats. Learning on clips can develop some really bad habits and lead to relying on the clips to keep your feet planted in chunder or on the pedals in the air.

Favorite hand tool:

Just a good ol' 8in Rogue Hoe. It can do pretty much everything and I appreciate the simplicity of it. Behind that is a really sturdy bow rake. Finding one that doesn't break after 2 hours of use is like finding a hidden treasure.

Best piece of gear you got in the past year:

Waterproof neoprene socks and Dakine Thrillium Pants.

What's your #1 bucketlist mountain bike destination?

Narvik, Norway. My dad's family is from Harstad which is about 30km from Narvik. It would be incredible to stay in my Great Grandmother's home that is still standing and occupied by distant family members and then going out and riding trails that I can only explain as miles long Squamish slabs.

If you weren't a full-time trail builder, what would you do for a living?

I studied Outdoor Recreation Management in college with a plan to be a General Manager at a Ski Resort. I imagine I'd be doing that. My dream is to have a large piece of land that I can build trails and small cabins for people to come stay, ride, and take guided trips/shuttles to stellar trails in the surrounding area.

Go-to camp meal:

Big ol' Ribeye in a cast iron pan over the fire.

Post ride beverage of choice:

A hazy or citrusy IPA or just a good ol' Rainier.
Keep an eye on the Evergreen Blog for more features, stories, and "Meet the Crew" articles highlighting our stellar professional trail builders.