Meet the Evergreen Crew: Brian Tustison
Meet the Crew
Brian Tustison is a full-time Evergreen builder who works primarily in the South Puget Sound region as well as on new trail construction projects across Washington. Read on to learn what prevented Brian from going "full roadie", hear about his BMX background and how he applies it to the Swan Creek trails he maintains, and more...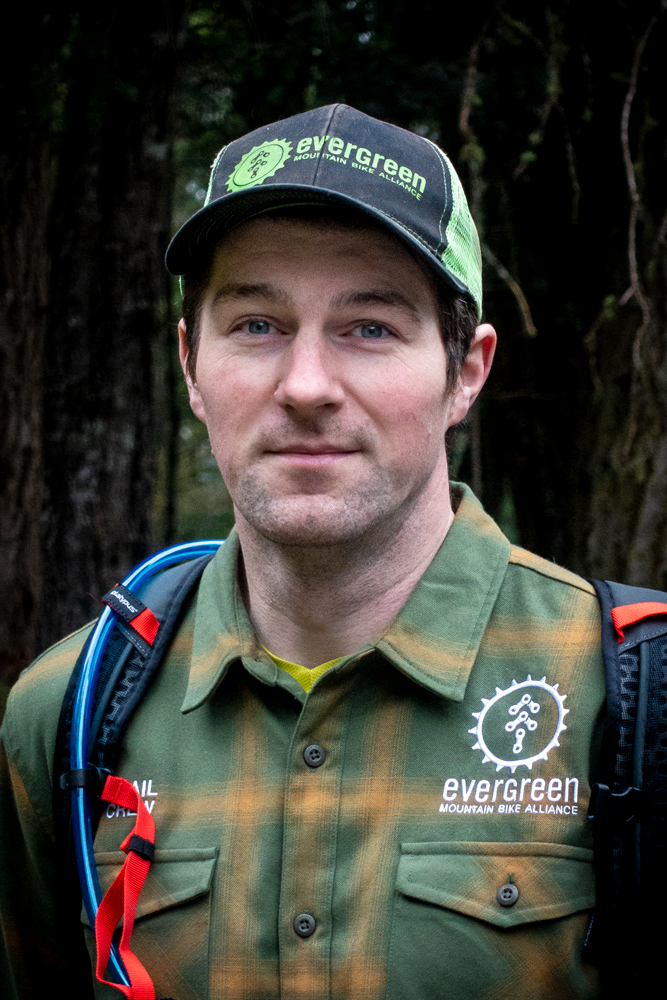 Photos by Ian Terry
Tell us about how you got into the sport… Where and when did you first start mountain biking?

I was a pretty die-hard BMX rider until my early 20s, I learned to build jumps on our property and spent most of my free time digging or riding until I got really into cars. The aftermarket car industry gave me the opportunity to move to Japan where I started riding bikes again, specially bike commuting. Once I came back to the States I stuck with bike commuting, but I have always loved dirt trails so when Evergreen started building mountain bike trails at my local park (Swan Creek), I got my hands on a beat up old mountain bike and instantly had a new hobby. I still remember the expression on Bryan Connolly's face when I charged into a set of doubles he had just built on my 07 Rockhopper with V brakes and a Dart fork. I folded the rear wheel shortly after that.

Mountain biking combines my favorite parts of BMX with my favorite aspects of road riding. If Swan Creek had never been built I would likely have gone full roadie.

How long have you been with Evergreen and what are some of the most rewarding projects you've worked on?

I have been with EMBA for just over 5 years now. The most rewarding projects for me have been Swan Creek in Tacoma, and Naneum in Ellensburg.

I was hired to build phase 2 at Swan Creek and it was a really fun and exciting experience to have a paid position building trails in my local neighborhood. I learned a ton during that first year, which included a lot of what not to do, but the community response was really positive and I made a lot of friends in the process so I will always remember it fondly.

Naneum is how I spent most of my summer in 2020. Evergreen's Kittitas Chapter brought me out to build a green flow loop to complement the growing trail system. This project was personally significant because I scouted, flagged, and built it in one season and mostly stayed within budget. Most of the scouting and flagging I have done has yet to be funded or permitted, and because I was the sole machine operator at Naneum I was able to learn a lot about my flag lines and problem solve on the fly. It was really validating. Also the volunteers there are awesome and were hand finishing everything so fast I had to stagger my schedule to make sure they didn't catch up with me. It was a great way to spend the summer of the worst year ever.

List some of your all-time favorite trails anywhere…

Nothing specific but I really enjoy getting out and exploring in the backcountry.

Any memorable wildlife sightings or experiences while working? Tell us about it...

Nearly all of my most memorable wildlife experiences involve wasps or hornets, in most cases while flagging trail and up to my waist in brush. Not many things get the adrenaline pumping like stepping in a nest of reactive stinging insects in an environment where you can barely walk, let alone run. I have been learning to identify more birds too. My mom is a really active birder so it's fun to tell her about the Night Hawks at my camp site, or a clear cut full of Anna's Hummingbirds.

Weirdest thing you've seen in the woods while digging or riding…

Humans.

Tell us about the hardest ride you've ever done...

KettleFest. Technically it was three days of riding and camping, so the fatigue adds up. The trails are worth all of the effort if you make it out that way though.

Evergreen staffers Brian Tustison (left) and Bobby Stewart ride an extra credit line at KettleFest in 2019.

What interests/hobbies do you have beyond mountain biking?

I'm still into cars. Someday I will get my hands on another Datsun 510.

I have been studying Japanese again in hope of going back and doing a bike tour there.

What's one thing every rider can do to keep their local trail builders happy?

Read and respect signage. Closed doesn't mean closed to everyone but the cool kids, it means we really need riders to stay off of the trail.

Also, bury your poop and pack your garbage out. That helps the whole community.

Current bike:

Guerilla Gravity Trail Pistol.

Current rig:

Toyota Tacoma or Prius depending on the day.

Favorite tire combo:

Specialized Butchers with black diamond casings, but I'm always trying new options.

Brian laces up before scouting future ride park plans for the Port Gamble Forest in 2019.

Clips or flats?

Flats

Favorite hand tool:

The right one for the job.

Best piece of gear you got in the past year:

OneUp EDC tool.

What's your #1 bucketlist mountain bike destination?

B.C., I still haven't made time to go.

If you weren't a full-time trail builder, what would you do for a living?

Sell stolen consumer electronics acquired through a fast and furious scheme of armed robbery and street racing. In reality, odds are pretty good I would be at the local water treatment plant.

Go-to camp meal:

Breakfast foods. Pancakes with peanut butter– fast, warm, and filling.

Post ride beverage of choice:

The water I forgot to bring on my ride.
Keep an eye on the Evergreen Blog for more features, stories, and "Meet the Crew" articles highlighting our stellar professional trail builders.