--
Evergreen is excited to announce the hiring of Patrick Walker, our new Senior Marketing Manager. Patrick, a full-time Leavenworth resident, brings to this role a wealth of experience from his previous non-profit work at the Wenatchee River Institute and the Chelan-Douglas Land Trust.
A lifelong outdoorsman, Patrick will also bring valuable marketing experience to the Evergreen Team from his time spent working at Stevens Pass.
We're stoked to bring Patrick on board and can't wait to see where his fundraising and marketing chops take us in 2019!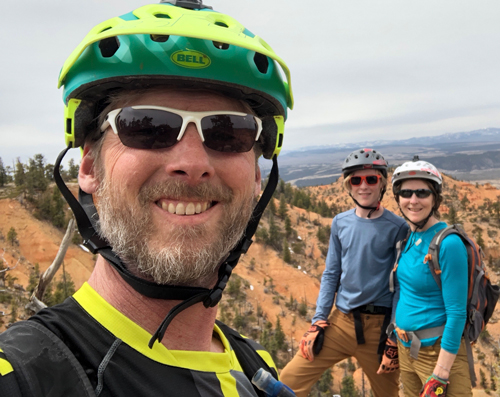 A note from Patrick:
It is such an awesome time for mountain biking and for this organization, and I am so stoked to be working with Evergreen Mountain Bike Alliance (all of you) to continue making mountain biking better in Washington.

I can remember a time when we didn't have it so good.

My earliest mountain bike memory of hitting the "trails" in the 80's, with my brothers, was somewhere near Novelty Hill on a very typical wet fall day. We spent most of the time out hitting jumps (aka big dirt humps) and smashing through puddles. The "trail" we rode was nothing more than an unused double-track road as far as I can recall.

I also remember my first trip east of the mountains to ride. My brother, our friend Santo and I came to the Leavenworth Area to ride for a weekend. We rode the best trails of the time, Chickamin Ridge and Devils Gulch. Both were big rides, and with the thumb shifters and fully rigid bikes of the time they were tough. But I loved it.

Now, my 14-year-old son is a more talented rider than I'll ever be, and he's had more bikes in his life than I've had in mine! I've been living in Leavenworth for most of the last 20 years and the trails– well they have evolved as much as the bikes.

I can ride the N.U.T., Rosy, and the Boys from my house and be home in an hour. Life is good. And it's good because of Evergreen, and the dedication of the people behind the chapters who make Evergreen great!

When I tell people that I'm working for Evergreen now they respond in a couple of ways; "Oh that is so cool" or "that is perfect for you". I couldn't agree more! A friend recently told me that he rode Rosy Boa 110 times last year and it's still his favorite trail. That says a lot about the quality work Evergreen does.

Another friend said, "my husband thinks you are working for the best company in the entire world." Wow! That is super cool to hear.

My family is stoked for this new ride of mine as well. You can be sure that we will be loading up and looking to connect with new friends, and experience new rides in all the chapters around the state in the coming year.

I hope you'll join us!

Patrick Walker

Senior Marketing Manager

Evergreen Mountain Bike Alliance