Legislative Priorities and Ways You Can Help
We're Speaking Up. Will You Join Us?
Join WWRC & Evergreen For a Day on the Hill to Support Trails
We're going back to Olympia on February 6th in partnership with the Washington Wildlife and Recreation Coalition and Washington Recreation & Park Association for a Parks and Great Outdoors Legislative Day in Olympia!
This year's legislative session is short and is supplemental to the State budget that was adopted in 2019, but there are important recreation bills and funding asks that need your voice.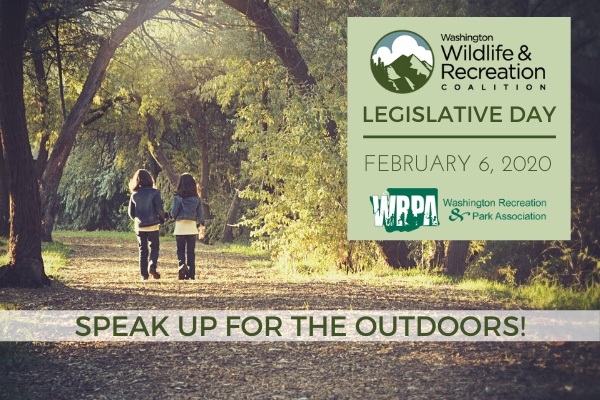 While Olympia is buzzing, there are also a number of other hot button recreation initiatives and surveys that need your input:
Want night riding access to King County's Parks? Got an opinion on E-bikes on King County Trails? These and other crucial trail design, use, and access initiatives need your input this month.
Thank you in advance for any time you can invest in voicing your support for trails and recreation. With your help, we will keep our collective dirt adventures going strong!
Evergreen's Priorities for the 2020 Legislative Session:
WA STATE LEGISLATURE BILLS & INITIATIVES:
House Bill 2413: WILDFIRE PREVENTION AND PREPAREDNESS ACTIVITIES
We support HB 2413 concerning funding for wildlife prevention and preparedness activities. The Department of Natural Resources' (DNR) ongoing leadership to prevent and combat increasingly devastating wildfires and improve forest health deserves our full endorsement! Wildfires affect trails, trail maintenance budgets, outdoor recreation and hiking resources and infrastructure, and of course impact our communities and our health. DNR is leading in preventative wildfire efforts for land managers across the state so let your lawmakers know you support HB 2413.
House Bill 2197: EXCEPTIONS TO LICENSE PLATE VISIBILITY
We support HB 2197, currently in committee review, to establish an exception to the requirement that vehicle license plates be visible at all times for vehicles using certain cargo carrying devices. This is important for hitch-mounted bike racks which may obstruct license plates when in use. We do not believe that this should be a violation of WA license plate laws and support the passing of this bill. Let your lawmakers know that you believe temporary obstruction of plates when bikes are in use should be allowed.
DEPARTMENT OF NATURAL RESOURCES
$560,000 Supplemental Operating Budget Request
DNR's role in providing and growing recreation resources continues to increase. We strongly support DNR's Operating Budget request of $560,000 for law enforcement capacity to provide safe and reliable public access to state trust lands. DNR lands provide substantial outdoor recreation opportunities and the agency needs additional staff capacity to set policy, manage, and oversee recreation on their lands.
WASHINGTON STATE PARKS
$4.8 million Supplemental Operating Budget Request for Deferred Maintenance and Youth Programming
State Parks has over $500 million in deferred maintenance backlogs. We support their $4.8 million operating budget request to meet demands of increasing park use and reduce their maintenance backlog while expanding programming for youth activities. We are working with State Parks to provide more mountain bike opportunities and trail infrastructure, as well as winter grooming activities. We fully support their ongoing recreation maintenance and investments!
$972,000 Supplemental Operating Budget Request for Community and Youth Engagement
We strongly support increasing investments in WA State Parks' efforts to grow and increase participation in Youth Engagement Programs. Help get more kids outside, in our parks, and become our future trail advocates by writing your lawmakers to endorse State Park's $972,000 supplemental Operating Budget request.
RECREATION AND CONSERVATION OFFICE
$750,000 Supplemental Operating Budget Request for No Child Left Inside
The No Child Left Inside Program enables grants uniquely tailored to outdoor education programs and experiences for youth. Jointly implemented by the State Parks and Recreation Commission and The Recreation and Conservation Office, No Child Left Inside is wildly popular and previous funding did not come close to meeting demand. We support increasing program funding by an additional $750,000 to better meet our State's youth recreation needs and demands.
How You Can Help:
Now is the perfect time to voice your support for recreation funding. Share your passion for trails and let your legislators and representatives know how much trails mean to you, your family, your community, and your local economy.
Other Issues That Need Your Voice:
Ok, so, what if legislative bills don't float your boat? That's ok! You can still help shape the future of the following hot button advocacy items with your input:
King County Parks wants feedback on night riding and e-bike access on their trails: Take this survey by February 14 to share your preferences on extending trail and park hours to allow trail use after dark and E-bike access to King County's Regional Trails.
The Upper Yakima Basin Project is seeking input via their mapping survey. There is still time to map your knowledge of the recreation resources in the Teanaway Community Forest and Upper Yakima Basin!
King County needs input on its 30-Year Forest Plan which seeks to expand forest cover and improve forest health. Take their forest survey to voice your opinion on how to best prioritize the use of our forests.
Thank you for sharing your opinion and helping keep Washington's outdoor voice strong!