Introducing New Evergreen West Sound President, Jon Phelps
Jon Phelps Steps Into West Sound Leading Role
Extensive community connections and a strong business acumen among new president's skillset
Jon Phelps takes the reins of West Sound as the western-most Evergreen chapter sits on the cusp of numerous breakthrough project and program opportunities.
Following previous president Matt Slaney's long and successful tenure, Jon is now tasked with guiding the development of the exciting new Port Gamble Ride Park, fostering a new mountain bike education program, and overseeing marquee events, like the annual fall Hucktoberfest, that West Sound is known for hosting.
With a professional background in banking and business partnerships, and with extensive volunteer experience, Jon is well-suited to navigate the challenges and put in the hard work needed to deliver success to the West Sound Chapter.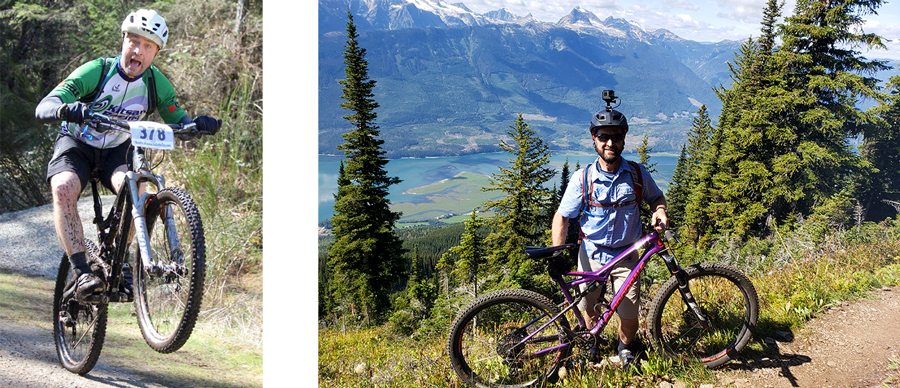 Read on for a conversation with Jon and to learn more about the West Sound Chapter:
What is your background in mountain biking?

"I started riding as a kid. I grew up on the Oregon Coast on a 600-acre timber farm. My intro to mountain biking was just riding all the logging roads and exploring the area.

We kind of lived out in the sticks, so to see my friends I needed to hop on my bike and ride the five or ten miles to go see them.

In the 90's I got my first real mountain bike– a 1990 hot pink Klein. From there I got into some amateur racing. About 10 years ago though I basically quit– it was just not fun anymore on the bike I was riding. A friend of mine convinced me to get a full suspension bike and then I had my first real ride on that bike in Moab. It totally changed my perspective and got me hooked again.

I do a lot of riding now in the Port Gamble trail system. I love Derailed out there, we've had a crew out there that's been working and refining it for years. It's one of the most popular trails in our area because it's designed for every level of rider to have fun on it. Once we get the new ride park going, Port Gamble will really be on the map as a destination ride spot."

What skills do you bring to the West Sound chapter?

"I think the two biggest skillsets I bring to the chapter are number one– I'm a long term planner and I look at the long game– you know, what do we need to do to prepare for 2021 right now?

And, number two, is my community contacts. For example, I know pretty much every single owner of every brewery here in Kitsap County. Through my work at Key Bank and other volunteer work I've done outside of Evergreen, I have a lot of contacts in the community. That really comes in handy when we're planning for events and getting the word out about what we're working on as a chapter.

Also, another thing is just having passion for what we do. You've gotta have passion for this because it's a ton of work! Everything from trail maintenance, education programs, community outreach– it takes a lot of dedicated volunteers."

What does success look like for the West Sound chapter?

"I definitely want to give thanks to past West Sound Chapter Presidents Matt Slaney and Brian Kilpatrick. We owe them a great deal of thanks for the success we're about to have as a chapter. Work they've done in getting the Port Gamble Ride Park going, expanding areas to ride within the PG system, working to create fun and inclusive community building events…

I've got two goals during my tenure: Expand and succeed with our education programming– I really want to hit a home run with those programs. And also a partnership with Parks and Rec to create a youth summer dirt camp program. I really want to see more kids have the opportunity to get out and ride and learn mountain biking. They're the future of our sport and also the future of Evergreen– future builders, treasurers, volunteers, you name it!

Overall, success for West Sound also means continued work to develop the Peninsula into a destination where folks can go and have a great multi-day riding experience."

If someone was taking a trip to go ride in your region, where would you tell them to go?

"I think the first question would be, "What's your riding style?". If they're into jump lines– I'd tell them to head to 360 down in Gig Harbor. If they're looking more for a family/cross-country trails type experience I'd tell them to hit Port Gamble. If they're looking for more elevation and a bigger, more hard core ride, I'd tell them to hit Green Mountain. Each of these areas will expand and get better over time."

Tell me about any specific challenges the West Sound Chapter is facing now...

"Honestly, the one thing that concerns me most is having too many projects going at the same time and just not having the bandwidth to handle everything at once.

At the chapter, we've been talking about whether we have enough volunteer bandwidth to meet demands when they arise. Another thing that goes along with that too is consistent communication. We know what's going on behind the scenes but we need to constantly remind ourselves that the public needs to know what's going on too."

Are there any specific needs the West Sound chapter has?

"You know, the first thing that comes to mind is finding Evergreen members who want to take ownership of a project. We had two members come to us recently with some project opportunities and we need more of that. We'd like to have riders and members take on some of that development work.

I try to tell people– we're nine people here at the chapter and we all have full time jobs so we really just need more help. You know, be our liaison and attend those community meetings, make those phone calls, be our eyes and ears on the ground."

Anything else you'd like to add?

"I am super excited about where West Sound is headed. My fellow council members see the momentum we have and I constantly thank them because we would not have the success we have without them. We're all volunteers and it takes a lot of dedication and passion.

Beyond that, I'm excited for Evergreen as a whole. Just to see us at over 7,000 members now and with so many projects online, what we're doing for the sport of mountain biking is so important."
Get Involved With Evergreen West Sound!
Do you love mountain biking and live in the greater West Sound/Kitsap Peninsula region? The Evergreen West Sound Chapter could use your help... Reach out via email or visit West Sound's website to learn more about how you can get involved with trails.