Jesse Cunningham To Lead Kittitas Chapter
An experienced educator and outdoor industry veteran, Jesse is well suited to lead Kittitas
In February, longtime Ellensburg resident and leader of the Evergreen Kittitas Chapter's education program, Jesse Cunningham, was voted in as their new president.
Jesse brings a wealth of experience to his new role including time spent teaching, working in the outdoor industry, and using his degrees in biology, environmental studies, and ecology to guide him as he works with land managers on trail development projects.
Jesse begins his tenure at an exciting time for the Kittitas Chapter. Last July, they broke ground on their first ever new trail construction project: Naneum Ridge. The project will create up to 34 miles of new trail of varying difficulty level with stacked loop options.
With an expanding member base and further projects in development, Jesse will certainly have his hands full!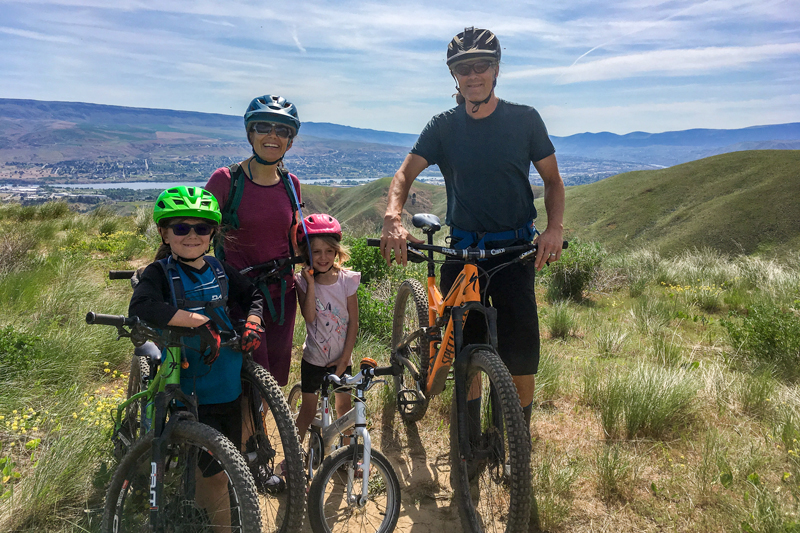 Jesse and his family enjoy a ride near Ellensburg
Read on for a conversation with Jesse and to learn more about the Kittitas Chapter:
What is your background in mountain biking?

"Like a lot of people, I started riding bikes as a kid. We had woods out behind my house, and I'd spend time riding out there. Back then, it wasn't even really referred to as "mountain biking", it was just what you did!

In my twenties I got a fully rigid bike that I'd bomb around the woods on. I also got really into climbing at that age and that was my main recreation focus until I moved to Ellensburg in 2009. At that time, my wife and I were starting a family and mountain biking was more flexible around my schedule than climbing. For me climbing became less of a priority and mountain biking became a great way for me to get outside."

What skills do you bring to the Kittitas chapter?

"I think I have a wide range of skills that I've brought from a variety of disciplines but working in the outdoor industry for years has given me a lot of insight into recreation and the issues surrounding it.

I've also done a lot of teaching and particularly in outdoor education and recreation, that was sort of my original role with our chapter– running the education program. That's a real love of mine.

I have a degree in biology and environmental studies and a masters in ecology and environmental science. I've worked for state and federal agencies and that experience has been helpful in understanding concerns and challenges that land managers face.

I think it's important too because other recreation groups or land managers see groups like Evergreen as being solely focused on new trails. It's more nuanced than that– there's an important conservation and environmental aspect to it too."

What does success look like for the Kittitas chapter?

"As a chapter, we've put in a lot of time in the last few years just getting projects going.

Our biggest struggle as a chapter is we have a smaller population to draw from when it comes to members and volunteers. Success for me is bringing more people in so that we can spread the work, build more mountain biking trails, and grow our mountain biking community. We really need to be engaging more of the community to help build trails and develop this further. Our first chapter project was a bike park in Ellensburg and it was amazing the support we got from community businesses and all of the people who came out to help. As we get more projects, I hope we will continue to grow the sport in our community and bring in more people."

What are the "must see" ride spots for people visiting the Kittitas area for the first time?

"I think the must-see trails are Rat Pac in Cle Elum and also new trails like Brass Monkey that drops into Ronald.

Roslyn is a good stop and you can drop over the backside into the Teanaway Community Forest. It's rougher terrain out there but there's really fun singletrack to be discovered.

We also have some really fun stuff up higher in the alpine like Kachess Ridge. Another great ride is doing Esmeralda Basin and making a loop out of that.

In Ellensburg we have our Manastash Ridge trails that are a bit more XC-oriented. Of course, we also have the new Naneum Ridge stuff too. In this region, we have a lot of public land but not a lot of purpose-built mountain bike trails.

What makes Kittitas a special place to live and ride in?

I love living here because it has a small town feel and you can walk around town and see people you know. We also have incredible access to outdoor recreation right out our doorsteps.

About two thirds of our land area is public– either state or federal and the climate is pretty nice too!"

Jesse riding the high alpine trails of Kittitas

What challenges does the Kittitas Chapter face?

"Part of it is just getting more people involved. We need more folks involved in our core group of people. When we first started, we had Evergreen Central visit us and give us some tips and share insight on what they've learned through becoming a chapter.

I remember them saying "you're going to have the same 5 people doing 90% of the work and you need to be careful of burnout." I'm cautious of that going forward which is why I want to keep the community engaged and participating in our chapter.

Our previous president Greg Parker put in a lot of work to get our chapter started and laid the foundation for the work in the Naneum. He's done a great job and we wouldn't be where we are today without him. We're entering a new phase now where we have built relationships with land managers and have projects where we can start building, and we need to mobilize more of our chapter members to help make these projects happen."

Any awesome upcoming Kittitas events we should know about?

"We don't have any big events planned right now. Our main focus for this season is on trail project development."

What about any specific needs the Kittitas chapter has right now?

"The Naneum is our biggest chapter priority project right now. We have a short 2-mile blue loop that was built last year, plus another 2+ miles of trail that will connect to the upper trails.

One of the priorities this year will be to get in a new green beginner loop at the bottom and attract newer riders. We don't have a lot of trails for beginners– we hear about that a lot and we're looking at ways we can help.

We built the new bike park here in Ellensburg a few years ago and every time I go out there, I see kids riding."

Anything else?

"We're excited– this is a new chapter for us. We know we have a lot of work ahead of us but it's awesome to see the things we've worked so hard at coming to fruition."
Get Involved with Evergreen Kittitas!
Do you love mountain biking and live in the greater Kittitas County region? The Evergreen Kittitas Chapter could use your help... Reach out via email or visit Evergreen Kittitas' Facebook Page to learn more about how you can get involved with trails.