Chris Conley Takes East Helm
Chris brings a fresh perspective and loads of experience to his new position as Evergreen East Chapter President
When Chris Conley first moved to Spokane, one of his biggest worries was that he wouldn't be able to find a good meal.
Chris, who relocated to the Lilac City a little over two years ago to be closer to his grandson, is accustomed to the wide array of cuisines found in his hometown of Portland, Oregon.
Though, as it turned out, he had nothing to worry about. "I think Spokane has about as many great restaurants as Portland now," he laughs.
On Monday, January 13th, Chris was voted in as the new Evergreen East Chapter President. And while Chris may be relatively new to Spokane, he's no stranger to digging in and tackling important trail advocacy work.
He previously served as the Evergreen Southwest Chapter Vice President, followed by a stint as President, and first started back when the group (formerly known as the Cold Creek Mountain Bikers) was organizing and building the legendary Thrillium trail near Yacolt.
Chris begins his new role at an exciting time for the East chapter– new build opportunities are popping up and a chapter led "Make Beacon Public" campaign is gaining traction in concert with Spokane's growing outdoor recreation scene.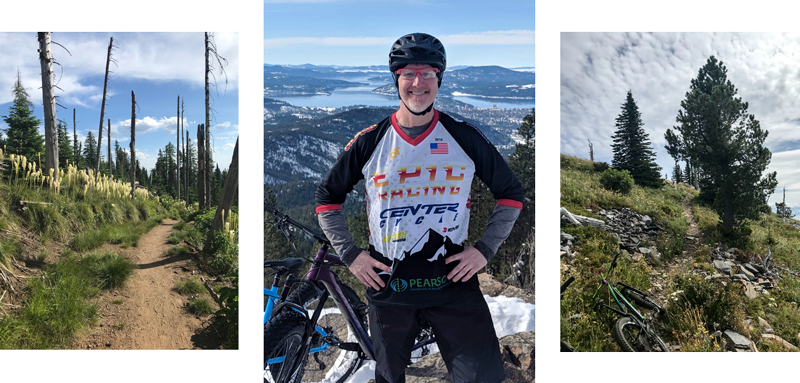 (Left to right) Mount Spokane Upper Trail #140 and the Abercrombie Trail in the Colville National Forest
Read on for a conversation with Chris:
What is your background in mountain biking?

"I grew up in Portland, my early riding was BMX racing. I went to college in Bellingham in the early 90's– I think I bought my first mountain bike in '89 or '90. Back then we were just bombing down steep fire road type stuff on our fully rigid bikes!

My experience in mountain biking from an advocacy and trail organization perspective started when I was living in Southwest Washington and was a part of the Cold Creek mountain biker group who built Thrillium. I served as the Southwest Chapter President, following Eric Albers, before I moved over to Spokane a little over 2 years to be closer to my grandson."

What skills do you bring to the East chapter?

"I was active with the Cold Creek mountain biker group (now Evergreen Southwest) and involved with really just about everything– working with land managers, advocacy, trail building, events, the works... Since I moved to Spokane, I've just been getting to know everyone and getting to know all the players in the local scene here. The timing felt right to step up into the chapter president role and I'm excited for this opportunity."

What does success look like for the East chapter?

"Right now, one of the biggest things we have going is the Make Beacon Public campaign. Beacon Hill is a combination of city parks, county parks and private land and there's a renewed push to prevent future development by making this land public. It's been in the works for about 15 years and Nate (former Evergreen East President) has been really involved with it and things are starting to come together now. That's probably the top thing on our list for the chapter right now.

Beyond that, we also have all this Conservation Futures land in Spokane. All the timber land is private here, but the County went and purchased these spaces and the most recent one we've started building trail on is Mica Peak. Our next goal is to work with the County and other user groups to begin building on other Conservation Futures land. It looks like there may be an opportunity for work on Antoine Peak and we're also going to be building a new trail at Mt Spokane. I'd love for us to be able to bring on some paid builders to help with these projects as they get rolling."

What are the "must see" ride spots for people visiting Spokane for the first time?

"Everybody should start at Beacon– it has everything from huge dirt jumps to flow trails and it's right in the heart of town. After that I'd check out Mica Peak and the Liberty Lake trails, there's such a big network of trails there. And then, Mount Spokane of course..."

Chris rides the trails at Liberty Lake outside Spokane.

What makes Spokane a special place to live and ride in?

"There's recreation in every direction, we have it all here. Everything is closeby and it's not crowded. Rarely do I pull up to a trailhead and see more than a few cars. Spokane just seems like it's becoming more and more recreation focused."

What challenges lie ahead for Evergreen East?

"Working with other trail users. We're working with them for general mountain bike access and the key is to be working together and not against. We do a lot of work with other hiker and horse groups just to keep a seat at the table and we've already made some good strides in that. We're trying to be as inclusive as we can in everything we do."

Any awesome upcoming Evergreen East events we should know about?

"Our spring kickoff is coming up. We have to raise $15k in matching funds for the Make Beacon Public campaign. We're hoping to have a good turnout for that. It'll be March 29th at the Washington Cracker Company building in downtown Spokane. We're doing a movie screening, silent auction– we usually have around 250 people come out.

Spokatopia is a big outdoor event on the weekend of July 11th. Pretty much any outdoor related activity is represented there– mountain biking, kayaking, paddleboarding, everything. Evergreen East does guided rides and hosts clinics throughout the weekend.

Also, it's our first year for this, on August 28-30th, we'll have the Mount Spokane Bikes, Hucks and Brews Festival. It's going to be a fundraiser benefiting EMBA but it also includes other user groups too. There will be tons of huckleberry picking, camping, riding and breweries there. We'll also be doing shuttles, bike demos, and setting up some day clinics with our education program for folks wanting to take classes."

What about any specific needs the East chapter has right now?

"We have a few trailboss openings! We need one for Mount Spokane and that's a big one. We have this new 290 trail going in and we need someone to help oversee that. We're also looking for a trailboss for Antoine Peak as well.

Our biggest need is really just volunteers who want to dig and help out with maintenance on our trails. If you're interested, get in touch!"
Get Involved with Evergreen East!
Do you love mountain biking and live in the greater Spokane region? The Evergreen East Chapter could use your help... Reach out via email to info@evergreeneast.org or visit evergreeneast.org to learn more about how you can get involved with trails.