"I See Shred People!"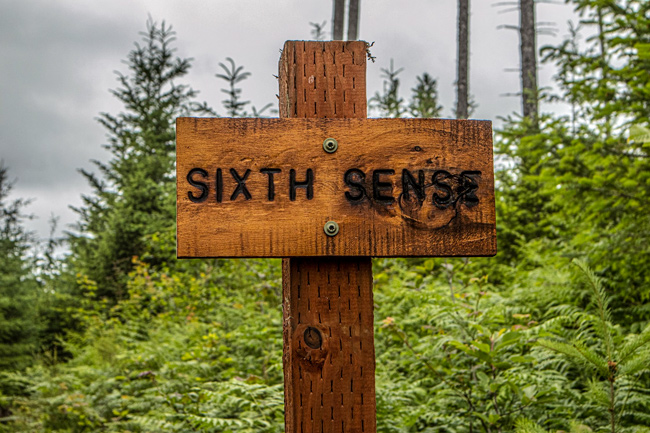 A quick scan of trail opportunities on TrailForks tells the story of riding in Vancouver, WA.
Compared to other regions in the state it looks fairly thin, and it's a good distance from home for most. There aren't a lot of places to ride nearby, but for those willing to make the commute (45 min) from Vancouver or Portland, the Yacolt Burn State Forest holds "epic views, leg burning grinds and hero dirt all year".
According to TrailForks, the trails will have you grinning so hard that "you'll need a plastic surgeon to remove it, and if you live in Vancouver, you can have it all after work any day of the week."
The Cold Creek system has about 20 trails providing about 50 miles of riding for all levels. You may recognize the Yacolt Burn as one of the race stops for the Race Cascadia Cascadia Dirt Cup Enduro series which is coming up on July 20th.
On June 22, 2019 yet another trail was added to the Cold Creek trail system: "Sixth Sense" (formerly trail 6). The trail opened with a celebration for the volunteers and trailbuilders who put a ton of hard work into building another sweet ribbon of fun for locals and visitors to rip!
The work was done by the former "Cold Creek MTB" group who incorporated as the Evergreen Southwest Chapter in 2018.

Eric Albers leads the Southwest Chapter and is stoked by the new trail and the celebration he coordinated for Evergreen volunteers and members.
"Our top builders were recognized, and everyone got their fair share of dust from the back of the shuttle rig," said Eric.
Sixth Sense is a multi-use trail nearly two miles in length, and offers a 1,200' vertical drop.
Next time you're heading south on I-5 to Portland or beyond, be sure to take your bike and check out the work being done by the Evergreen Southwest Chapter. There is more work to be done on Sixth Sense, and "Trail 7" is on the work plan this year too.
If you like what you see be sure to give them a high five, or better yet become a Southwest Chapter member!