30+ Miles of new trail gets the green light!
On May 8th, 2019 we asked you to Give Big to help build 31 new trail miles across the state.
We're happy to report that trail work has begun! You raised $62,000 for trails in four chapters.
Priority for Evergreen's GiveBig campaign is funding new trail.
We set an ambitious goal to raise $100,000 during this campaign, 60% was planned for five existing trail projects which needed #RiderPowered help, and the other 40% was to support our professional trailbuilders benefit program. All told we raised just over $60k, which met our needs for the trails. But we came up short on boosting our trail builder support budget.
Our statewide board of directors met in late June and discussed the value of the projects and needs of the chapters around the state. The five key projects that were highlighted during the campaign, received funds as promised. Additionally, because of some scope and funding changes in other projects, two more projects were identified and approved for Give Big funding during the meeting.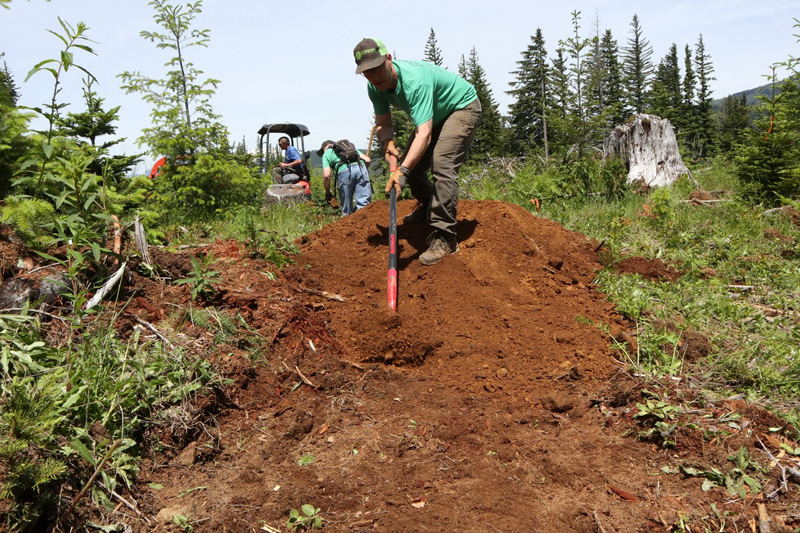 Trail work on Evergreen Southwest's brand new "Sixth Sense" Trail at the Yacolt Burn.
Seven trail projects will receive Give Big funds this year:

• Port Gamble Ride Park – West Sound Chapter, $17,000

• Buck Mountain – Methow Chapter, $10,000​ (was Chickadee)

• Ribbed Trail at Freund Canyon – Central Chapter, $10,000​

• Naneum MTB Trails – Kittitas Chapter, $9,000

• No. 2 Canyon – Central Chapter, $7,000​

• Yacolt Burn Trail #6 & 7 – Southwest Chapter, $4,500​ (added project)

• Camp Sekani Skills Park – East Chapter, $4,500​ (added project)
These projects are making Washington a true mountain bike destination! Project pages for each of these will be updated soon, please check out our Trail Projects page for the latest info about each of them. Check in with our chapters about work parties and get involved in these #RiderPowered trails that need your help to get the projects done!
Trail builders are the backbone of our team.
We came up short, but we won't leave the builders hanging. Evergreen has been so successful over the years in building hundreds of miles of new trail because we hire professional trail builders to lead the projects, layout the trails and coordinate the volunteer work. Although we came up short on our Give Big goal we are committed to the crew. Trail crew benefits and salaries all come from the Evergreen general fund which is funded by your membership dues and donations.
Help us keep this crew happy, healthy, and paying the rent by renewing your membership or with an additional donation to Evergreen today.