Hello Washington!
As some of you already know, I have taken a six-week work sabbatical to pursue an opportunity to build alpine trails in Switzerland.
This is a dream come true for me and I can't thank everyone at Evergreen enough for being so supportive. I am also very grateful to the management of The Summit at Snoqualmie, whose bike park project I had to hastily abandon, and to Shawn Lorenz for taking over to keep that going in my absence.
I'll admit to all selfish reasons for taking this trip, but I am also doing this for all of you.
This is a great opportunity to be challenged and up my game for machine building trails. The environment and construction processes here directly relate to the expansion of new trails at The Summit and other pending projects back home.
I'm over halfway through my stay in the Alps and it has been one hell of a time! I absolutely love it here, but I am eager to come home to the loam and bring this new wealth of experience back to work making Washington the best place to ride.
How did this come about, you ask?
Some of you will remember Craig Brickser. He led some of the BDOS construction for Evergreen a few years ago. I never worked directly with Craig, but always admired his professionalism and quality work. We have stayed in touch over the years.
Craig has worked several contracts with Allegra Tourismus developing bike parks and trails in Switzerland, Austria and Italy. I got a message from Craig the last week of August informing me that they were short an operator and on a tight schedule to complete work before winter shuts them down, and that he couldn't think of anyone better to fill the void. Long story short, ten days later I was on a plane to Zurich!
I was met at the airport by ALLEGRA General Manager Claud Balsiger (one of the nicest people I've ever met), handed a set of car keys and pointed toward Lenzerheide (sorry, too late for the WC) to help complete the first singletrack descent from the Rothorn summit all the way to the base.
It would not be all smooth sailing. My bike did not arrive with me at the airport, and my first day of digging was snowed out. This was starting to look like a really expensive vacation.
Fortunately, summer clawed its way back throughout the week and we were able to get to work. I was given a somewhat unfamiliar excavator with no ASE/ISO control switch (imagine writing with your other hand and being thrown off a cliff if you screw up), and an articulating bucket which is incompatible with the familiar "thumb" on the Evergreen machines. I surprised myself by warming to the ISO controls very quickly, and instantly fell in love with the articulating bucket. For reasons specific to our Western WA building environment we have resisted this aftermarket accessory. I now know that this has been a mistake (that I will take credit for). The articulated bucket is an absolute game changer. It requires some more advanced bucket-work skills to get by without the thumb but the efficiency, materials management, and level of finish achievable with this tool have left an immediate and lasting impression on me.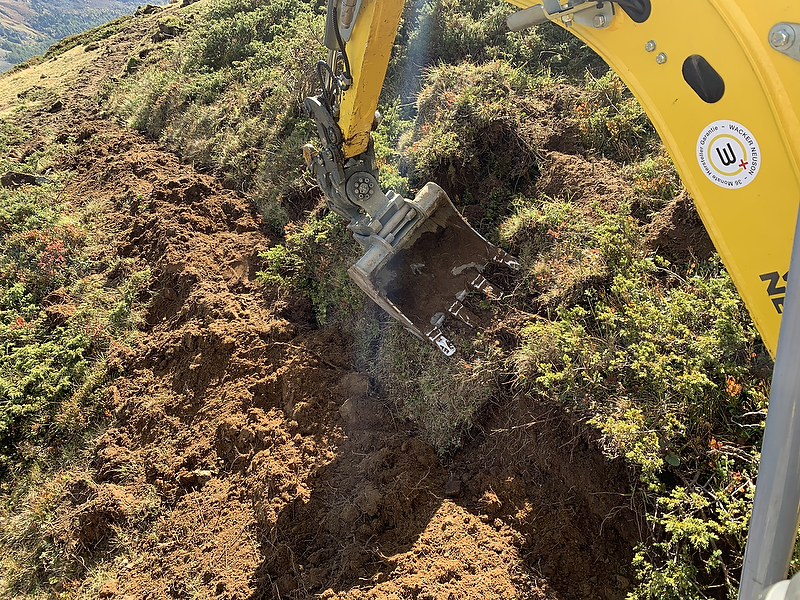 One my favorite things about this project has been that I am not sent out alone in a machine. Every day I have an amazing finish crew of 2-3 working behind me to bring everything up to 100% - shaped, raked, compacted and replanted every day. They do this not just to make me happy, but because the environmental regulations here require it. And one thing I can say about the regulations on trail building in CH is that they are sensible and affective, resulting in efficiency and desirable outcomes– no red tape, delays or excessive construction requirements. There are real lessons to be learned here. I'll just leave it at that...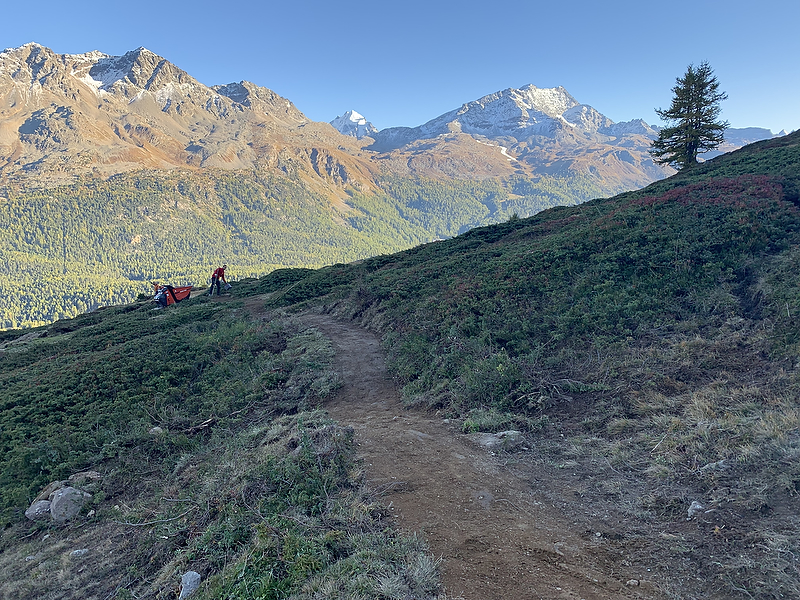 As much as I've been impressed with stereotypical Swiss precision and efficiency, I've been equally terrified by the terrain and building conditions. I came here for a challenge and the Alps delivered in spades.
My first week at Lenzerheide was dominated by building multiple steep, tight turns in a machine that constantly wanted to slide downhill on wet grass with a wide open view of tiny little rooftops below in the village. Even in the sections that appeared less steep, it was nearly impossible to dig a borrow pit without undercutting my position. We're no strangers to steep in the PNW, but everything changes in the absence of forest.
I quickly became acclimated to a necessity for laser focus and zero mistakes. I developed nerves of steel but I was not meeting my daily quota for meters of trail completed.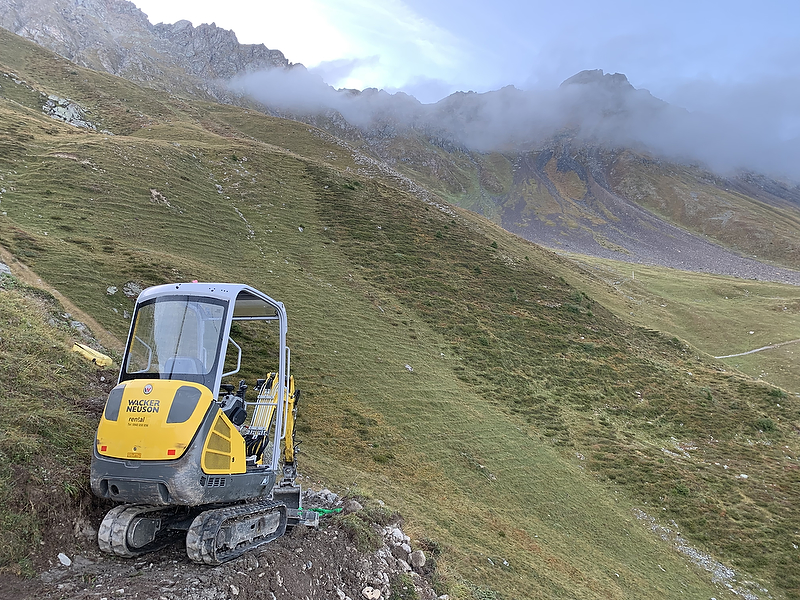 On the bright side, my bike arrived just in time for the weekend! As Kettle Fest regulars know, there is a special place in my heart for the alpine. That special place has now grown 1000%. I could go on for days but I'll let a few photos do the talking and direct you to my questionably appropriate Instagram account if you need more. You've been warned.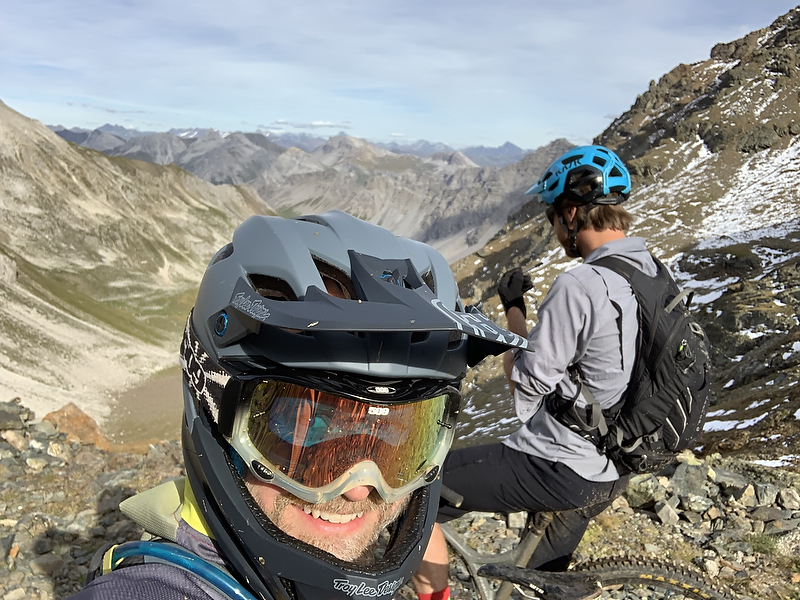 Back to work! Week Two would be no reprieve: Round the corner into a water protection zone that feeds the drinking water supply of Lenzerheide, then cross a waterfall and cut bench on an even steeper slope surrounded by off-camber bedrock and immovable boulders in the backslope– in a full tailswing excavator. I'd already begun to suspect that the machine I had been dealt was not up to this task, or even really safe, and that it might be affecting my productivity. Management was respectful and open to my concerns, but unfortunately a replacement zero-tailswing was simply not available at the time (not surprising in the height of construction season). So, I assured them I could handle it but it might be slow and off we went.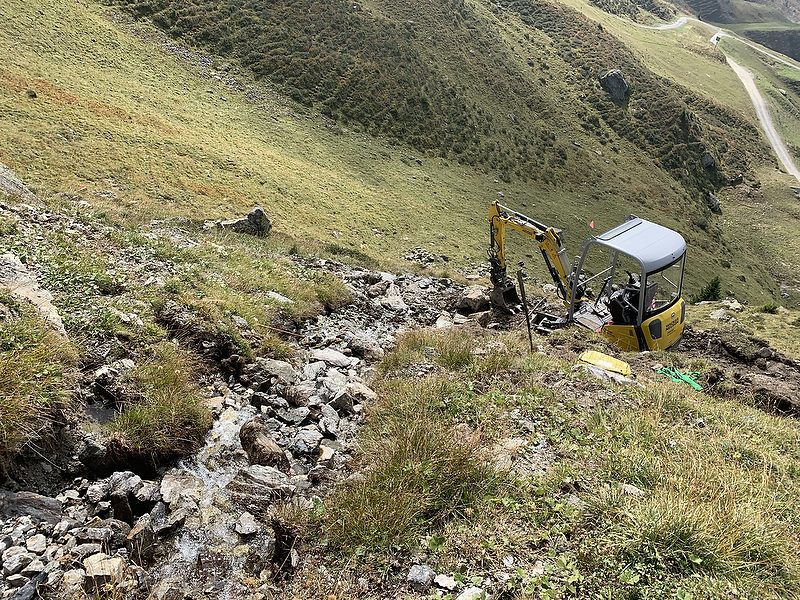 Building this segment was akin to walking the ledge of a skyscraper with a puppy in one hand while trying to extract bricks from the wall with the other– all without falling, or letting the wall collapse. Mission accomplished.
After a stressful few days of building, I had a lot of steam to blow off on the weekend. The Alps provide. The ease of access to epic high alpine riding here is unreal, and a model for what a modern, progressive transportation infrastructure can look like. It is a wonderful time for us in WA to be building a world class outdoor recreation infrastructure. I will say that it is time we all look to the future and consider what we will do with our urban planning and transportation to ensure that all those epic trails stay accessible to the public to whom they belong. If we believe outdoor recreation and access to nature to be a right and not a privilege, then we must take this seriously.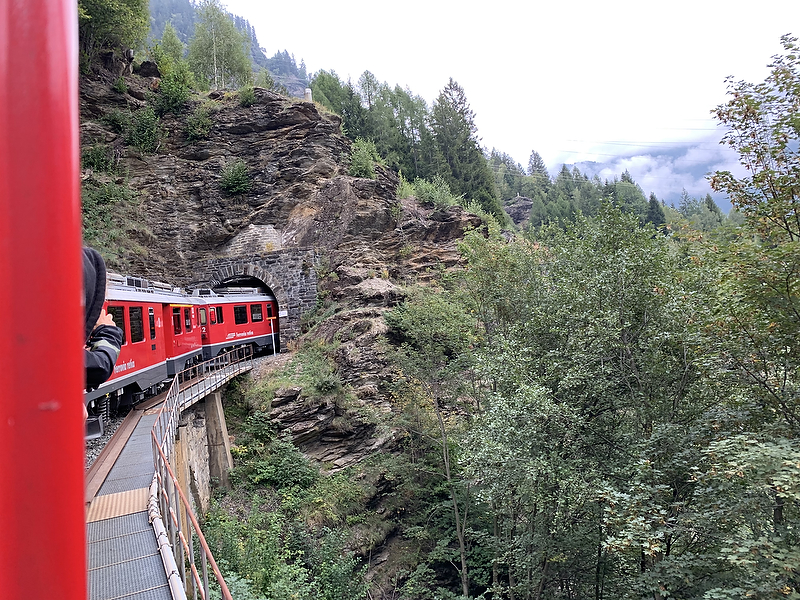 Anyhoo... 2-1/2 weeks at Lenzerheide, and they shipped me off to Engadin. I immediately fell in love with this place. Don't get me wrong, I love WA and am so proud to be a part of Evergreen making Washington the best place to ride, but the Engadin area of the Swiss Alps is the most beautiful place I have ever been, and at least my second favorite place to ride a mountain bike. I will be bringing this joy home to spread however I can.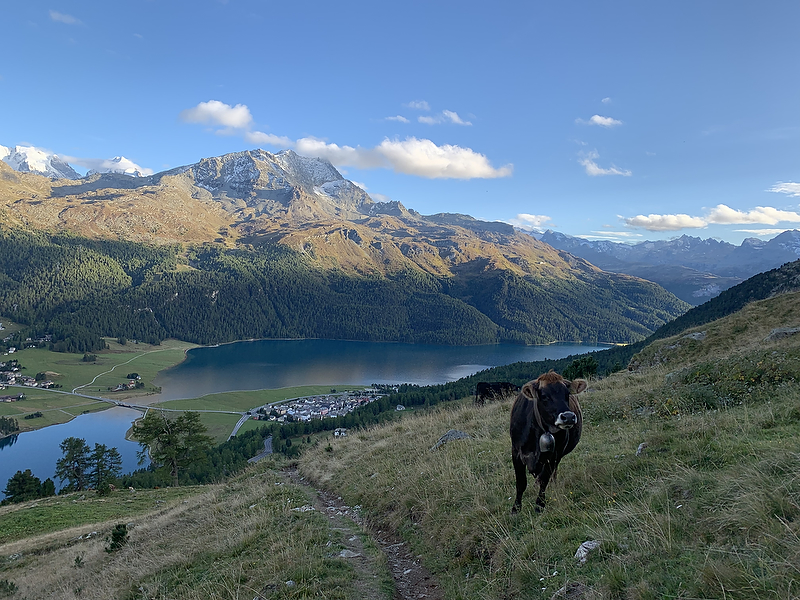 I've been here two weeks now, making friends, trying my damndest to disintegrate a bicycle, and doing sustainability reroutes on a popular local trail. The Panorama trail connects St. Moritz and the Corviglia bike park to Silvaplana where I am staying, and is popular with locals, tourists, hikers, and is a perfect finish for an epic tour from the top of Piz Nair almost directly to my door. The segment I'm working on is primarily ridden uphill and had become deeply trenched and eroded. We are improving the user experience by adding climbing turns and moving the line out of the trench. Naturally, not everyone is pleased (as with any change to anything, ever) but even early skeptics and regulars are coming around. It appears to be a win! No one really likes getting off of their bike to push up a half meter deep trench.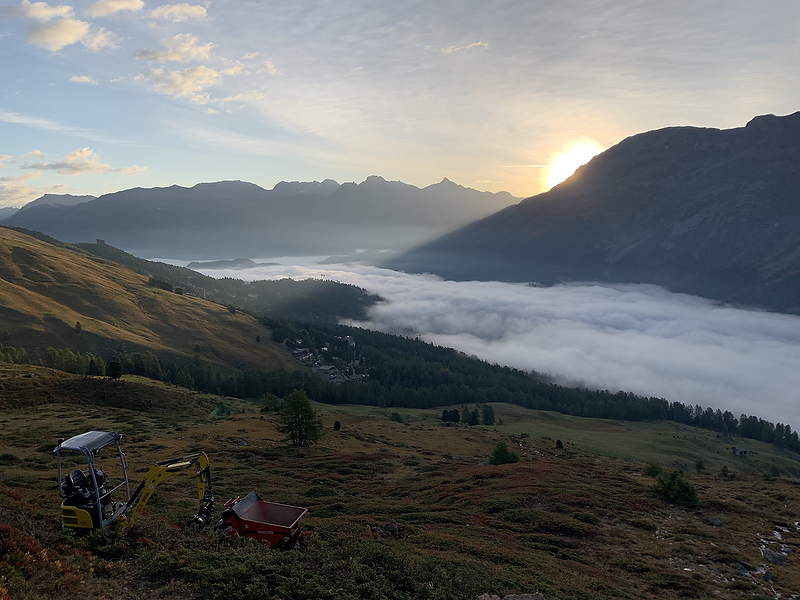 We get a lot of questions about what we intend to do to the technical traverse and descent beyond this point– some of which dates back to WWI, and I am happy to say "nothing at all!" If it ain't broke, don't fix it.
The digging here has also been challenging– a great learning experience, and not without a good scare or two. I got a sweet new zero-tailswing excavator that is strong and nimble, and the terrain is a bit more forgiving though much rockier. I've really come into my own with the construction process here the past week or so and the project is going great. I'm just about finished, and just in time. Winter is breathing down our necks here and the digging season will be over very soon. I may be off to yet another location for my final week.
I look forward to seeing you all again in the woods very soon. Come out, throw some dirt, and I'll be happy to share some stories.
-Bryan Connolly, Evergreen Mountain Bike Alliance Trail Crew