Evergreen MTB Festival 2022

We can't wait to see you at the Evergreen Mountain Bike Festival, presented by NORCO!
In partnership with Kitsap County Parks, our professional build staff and West Sound Chapter volunteers have outdone themselves to create a brand new Port Gamble ride park located in the Port Gamble Heritage Forest. And you'll be some of the first to ride it!
We've had two years since our last Fest, and this year we wanted to bring it back in a bigger and better way. Port Gamble is the perfect host location with great trails and a much better venue to access for everyone! We have to thank our amazing sponsors who have stepped up this year to make sure the fest is better than ever! Our presenting sponsor NORCO Bicycles has put a ton of effort into the ride park and the event! Be sure to try out their bikes as they will be donating cash back to the trails for every demo you ride!
Read on to see what's on the docket and make your plans for June 18-19th
Check out the lineup for Demos and vendors
Wy'East Mountain Academy
Kirkland Bicycle
Sketchy Trails
Washington Student Cycling League
Night Owl Cycling
Troy Lee Designs
Maxxis
REI
Evo
Fasthouse
Smith
Lolo Racks USA
SRAM/Rockshox
Trail Boss Tools
Tenent Components
Hayes Components
Leatt
ReRack Seattle/Renton
Ground Keeper Fenders
Trek Bikes Tukwilla
Pac Westy Vans
Full Speed Ahead Components
Cascadia Wheel Co.
Stevens Pass Bike Park
Orbiter Timing
2nd Cycle Community Bike Shop
Sender Ramps
There will be MTBs, eMTB and Gravel bikes available for demo. All demos require the purchase of a demo pass and are first-come, first-serve. Passes are limited so don't delay! Volunteer to help and get a free demo pass!

Our West Sound chapter is fired up to host two races this weekend sponsored by REI. We'll have the West Sound Gravel Grinder with 20 & 40-mile options for beginner to expert grinders on Saturday. On Sunday, the West Sound Enduro will kick off in the morning for a great day of rallying the trails around the venue. Space is running out for both events so don't delay!
Become an Evergreen Member (or renew) and get a discount on registration for races and the demos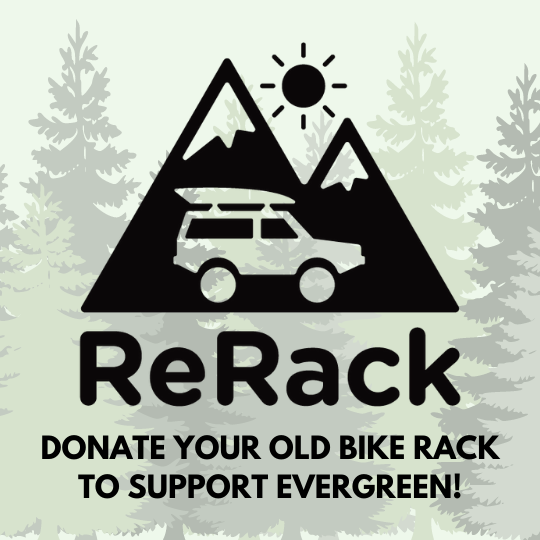 ReRack will donate $$ to trails for your old racks!
Bring your un-needed Thule and Yakima racks and rack parts to ReRack Seattle/Renton and they will pass the donation value on to Evergreen!
Bring your old bike rack to the festival or drop it off at the Renton store and tell them it's for the Evergreen Mountain Bike Alliance.Everyone who donates through the end of June will get a credit for 25% of the value of their donation for use at ReRack. Contact ReRack for more info
Group rides
We have a couple of great hosts for some special group rides at the festival. All group rides take off at 1 pm from the festival main stage and all participants must sign a waiver to participate.
BIPOC & Allies Ride, hosted by 2nd Cycle Community Bike Shop--2nd Cycle envisions a world where the joy of bike riding is accessible to everybody. This ride welcomes all people of color to come and experience the fun, comradery and community of mountain biking on a beginner-friendly ride through the trails of Port Gamble with a unique opportunity to engage with each other, the heritage and the land while on the ride.

Womxn's Ride, hosted by the Ms.Fit MTB Brigade--The Ms.Fit MTB Brigade provides an encouraging and supportive environment for women of all ability levels to progress while keeping the ride vibe fully stoked. This is a no-drop, all-inclusive social ride at your own pace! We love to talk bikes, gear, and trails and to spread the lady stoke! The plan is to return to the fest just as the evening party starts!
Music, Food, Fun
The riding is only one part of the greatness planned for the weekend. We all know that half the fun of a good day riding with friends is the hang time after the ride. We'll have a DJ, the Sender Skills Zone, three food trucks, beer from local breweries, and a great lineup of live music playing into the evening. Many of our vendors have some more fun planned for you and we'll be raffling off some great prizes to support the trails you ride!
Getting There
We know this location has some challenges, but we promise the effort will be worth it! There are a couple of ways to go, depending on where you are.
By Ferry: The Bainbridge Island Ferry leaving from Seattle is a good option for those south of Edmonds, or for those traveling from i-90. The Edmonds Ferry is the best option for those north of Edmonds or traveling over Hwy 2. Check schedules and plan for wait times.
By Land: From the south, you may drive north from Tacoma. This is a scenic route and the time is relatively similar to most ferry waits and sailing times. The benefit of driving is having more control over your travel time and eta's for arrival at the fest.
Camping and Ferry Shuttles
We know this location has some challenges, but we promise the effort will be worth it! We've done our best to eliminate a couple of hurdles by providing limited camping onsite and shuttles from the Kingston Ferry so you can walk or ride onto the boat instead of driving.
Camping and Shuttle space are extremely limited and reservations are required. We are sold out on Van/RV camp spots but still have several walk-in tent spots left. Check out Poulsbo for other options to stay and play.
See you there!