We ALL benefit from great trails in communities across the state, and we ALL need to contribute to get the Chickadee Trail Project moving.
A generous Methow donor is offering $15,000 in matching funds if you give today for the All in For Trails Campaign!
The Methow Chapter is quickly approaching their April first deadline to raise $80,000 to fund the Chickadee Trails Project. This project aims to build 22 miles of new single-track trail surrounding the Sun Mountain trail system above Winthrop. They have been doing a great job, and now it's up to you to get them across the finish line!
The Methow Chapter is only $10,000 away from their April 1st goal! No Joke!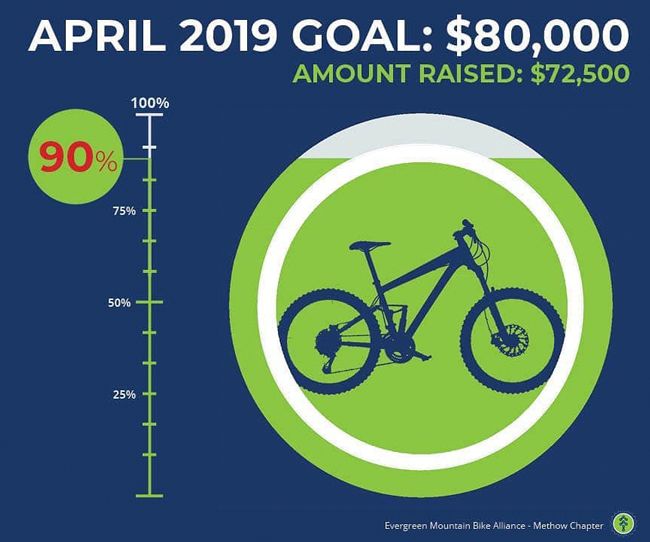 The Chickadee Trails Project will make connections between existing trails, improve climbing routes, add new fun and exciting descents and build more trails for new riders to build their skills on! A highlight of the project is an 11-mile ridge trail, offering sweeping views of the Sawtooth and North Cascade Mountain Ranges and over 6 miles of amazing descent!
Trails don't just happen…permitting is done…the build crew is ready…all we need is you!
Mountain biking is increasing in popularity and so is the demand on these trails. To meet this demand and keep the this go-to spot in the Methow at the top of the destination riding list.
Success builds success, and you can help!
The Methow chapter built more than 8 miles of brand new single-track at Sun Mountain in 2018! They can get this work done with your help. The Methow team is up to the task and motivated to get to work, and they want to have the ridge trail done by Fall of 2019.
Donate to the Chickadee Project Now!
Your gift could be doubled by a generous donor, give today! Help Winthrop take another step towards becoming a world class riding destination by going to their Facebook Fundraising Page.
Thank you!
-Josh
Joshua Gewirtz

Methow Chapter President