Essential Trails Series: Niqi Galasso
Throughout December, Evergreen is featuring essays, personal anecdotes, and portraits of Washington workers who have used mountain biking and access to trails as a tool for coping with the stresses of 2020.
Help us reach our goal of raising $125k by December 31st by making a gift today. Your donation directly supports the Washington mountain bike community through world-class trails, professional rider education, and continued advocacy for sustainable recreation.
Read on for Niqi's story and to learn why trails are important to her:
Niqi Galasso
RN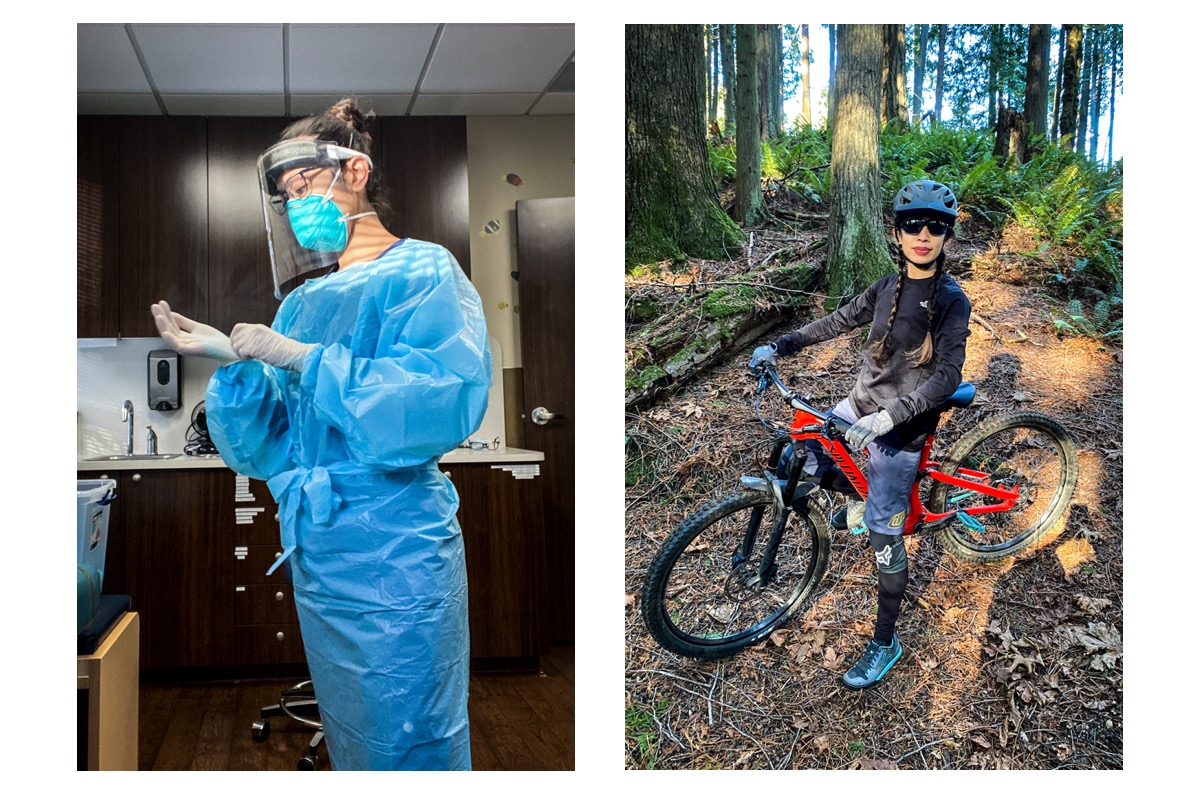 Photos courtesy of Niqi Galasso
These days, mother and nurse go hand in hand as my top roles to play.

I feel lucky and very grateful to be living minutes away from trails. It has been one of my healthy ways to escape and rejuvenate from a stressful day. Back in March when Covid-19 first hit, Allegro Pediatrics had to reconfigure its operations to better serve patients and their families and help prevent the spread of any kind of illness. The trails for two weeks were my saving grace as I navigated through the sudden change. To this day, being on the trails has given me the chance to focus outwards rather than focus on the stressors I face every day, a time to reflect on my achievements and areas that need improvement, and a chance to breathe.

Our whole family mountain bikes. On my days off, we try to take advantage and do something together, even if it means a low key ride up the pipeline in Soaring Eagle just to keep our bodies moving. Riding together is our family's way of team building. I am not as fast as my two daughters, so I get to sweep most of the time. I am glad I get to yell from behind and let them know when they are doing a great job tackling switchbacks on Grand Ridge. Riding and hiking the trails has given me countless hours of mindfulness. As a nurse, it is important to have a sound mind to take care of others efficiently and with great compassion.

Mountain biking has also given me the chance to connect with my pediatric patients who ride. It has given my patients dealing with possible injuries some sense of familiarity and eases up the tension within those white walls. It is rewarding to encourage our young riders to keep riding and to stay safe and healthy.

-Niqi Galasso
To see more of Evergreen's Essential Trails Series, keep an eye on the Evergreen Blog throughout the month of December.
You can directly support the many benefits of trails by making a donation today. Your gift helps us get closer to our goal of raising $125k by December 31st.