Essential Trails Series: Mike Cheney
Throughout December, Evergreen will feature essays, personal anecdotes, and portraits of Washington workers who have used mountain biking and access to trails as a tool for coping with the stresses of 2020.
Help us reach our goal of raising $125k by December 31st by making a gift today. Your donation directly supports the Washington mountain bike community through world-class trails, professional rider education, and continued advocacy for sustainable recreation.
Read on for Mike's story and to learn why trails are important to him:
Mike Cheney
Chief Engineer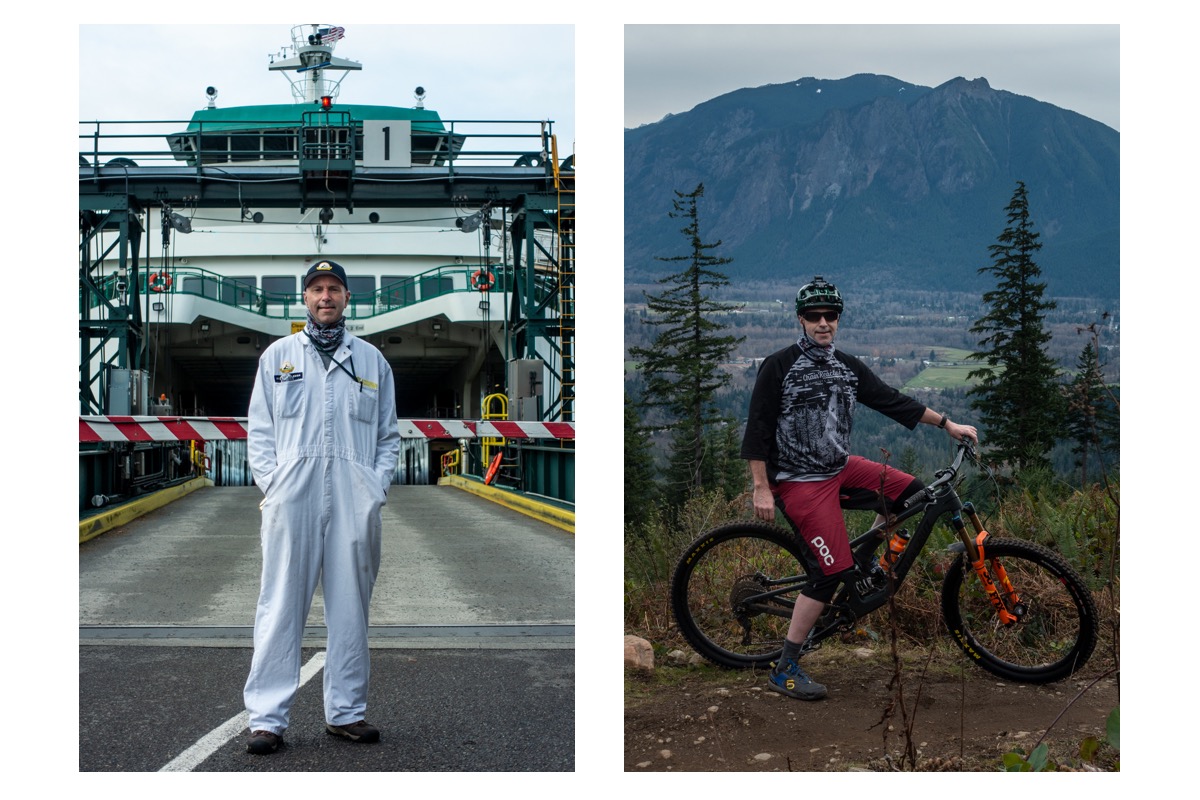 Photos by Ian Terry
When Covid first started making world news I was out of the country in a place called Gulmarg, Kashmir on the border of India and Pakistan to ride my splitboard.

In the 14 months that led up to that I had sold my house and was traveling outside North America to splitboard and mountain bike as much as possible. I'd been away from North America four times in the preceding year– my 50th– so I joked it was my mid life crisis card and I was playing it to the fullest possible extent.

When I got back to Washington my resources for housing that I would use when I wasn't working had slowly become non-viable due to the pandemic. I made the decision to buy a house east of the Cascades because I needed some place that I could maintain as absolutely Covid-free, store my gear, vehicles, etc.

As Covid unfolded when I returned to work, the ferry boat was in and out of shipyards for about seven months. The requirements for vessel inspections were in flux due to Covid. In the spring and into summer we were down to a skeleton crew. In the shipyard usually there's 7 to 10 people working on the dayshift. For the most part we had four, then at times we had three, then we had two. One good part of the early shipyard experience is that we could limit only engine department crew to the engine department spaces and limit potential exposure to Covid. For about 4 to 6 weeks we were the only ones on the tied up ship.

Adapting to the new Covid work environment was tough on ferry staff. In my experience, it seems that any troubles people have had in life have been amplified by Covid– myself included. My life has been far from perfect and I've known many interesting and eccentric people over the years. Some had character and some were characters. I must say, though, the crew of Washington State ferries has gone above and beyond and given 110% in their efforts. I've seen coworkers really push themselves and perform well.

When the boat was tied up in the shipyard on the other side of the Sound I started riding places that I used to ride years ago. What I found was that, after years away, the trails had evolved and flourished. The trail builders have done great things to improve some of these places that I hadn't ridden in years...

Mountain biking has given me a chance to clear my head and focus. When you're riding and in the moment, you have to have complete concentration– it's almost like a form of meditation. When I'm climbing, I listen to the sounds of the weather, the trees, the wildlife, other cyclists, hikers, sometimes equestrians, and it helps me clear my mind and stay calm. At the shipyard, I would work 8 to 11 hours, then take off to ride my bike for 2 to 3 hours, and then sometimes I would come back and work anywhere from 1 to 6 hours. I'd wash my riding gear, take a shower, make something to eat and work more.

At times, I would think of solutions for work while pedaling down fire roads between trails. In fact, a lot of how I've dealt with Covid has come about on the trail. I did my longest consecutive riding streak between March and July. I've climbed about 200,000 vertical feet this year, more than I've ever climbed before. I have not used a chairlift, shuttle, bus, helicopter, or train– it's all been under my own power on a mountain or road bike. Time on the bike has helped me keep a sound mind, kept my body aligned (former injuries), and functioning better overall. I notice too that when I'm able to ride a few times during the week, I recover from work better than if I don't ride. It can even be the difference between waking up feeling inspired versus feeling beat down and not wanting to get up and out of bed.

-Mike Cheney
To see more of Evergreen's Essential Trails Series, keep an eye on the Evergreen Blog throughout the month of December.
You can directly support the many benefits of trails by making a donation today. Your gift helps us get closer to our goal of raising $125k by December 31st.