Essential Trails Series: Elaine Irons
Throughout December, Evergreen is featuring essays, personal anecdotes, and portraits of Washington workers who have used mountain biking and access to trails as a tool for coping with the stresses of 2020.
Help us reach our goal of raising $125k by December 31st by making a gift today. Your donation directly supports the Washington mountain bike community through world-class trails, professional rider education, and continued advocacy for sustainable recreation.
Read on for Elaine's story and to learn why trails are important to her:
Elaine Irons
Medical Laboratory Scientist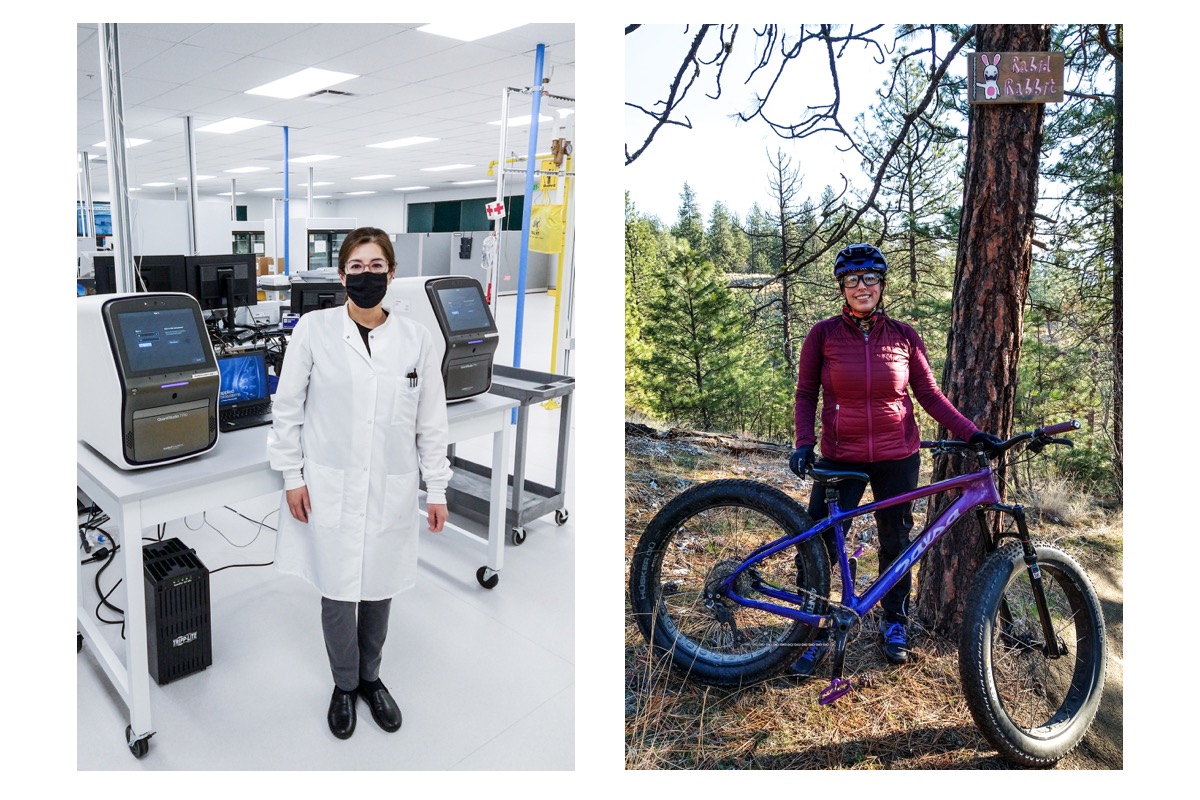 Photos courtesy of Elaine Irons
I'm a certified Medical Laboratory Scientist that performs clinical laboratory testing for a pathology group in the Spokane Valley. COVID hit right during the opening of our new clinical lab. At the time we didn't have the infrastructure for a molecular department. I was designated to validate a PCR assay for the detection of SARS-CoV-2. I never stopped working and put in a lot of hours trying to order equipment and supplies, run validation studies, and train other technologists on the test.

Doctors and nurses don't run these high-complexity PCR tests (or most of the other laboratory tests that are used for diagnoses)– members of the laboratory do (Medical Laboratory Scientists/Medical Technologists; Molecular Biology Technologists; and Medical Laboratory Technicians)! It's an unrecognized profession because we are behind the scenes of healthcare.

The severity of this pandemic really hit home when my elderly mother passed away in August from complications of COVID-19 (there was an outbreak at her nursing home). Every week the number of positive samples increase in our lab. We are now entering flu season and I am in the process of validating another test to differentiate Influenza A and B from SARS-CoV-2. I hope over the holiday season we are able to prevent the spread and protect those who are most vulnerable.

Mountain biking was definitely my outlet for stress and an attempt at normalcy this year. My husband also mountain bikes and is an essential worker for a global delivery service. Both of us have worked throughout this pandemic, and feel lucky that we have been able to do so (although some extra time on the trails would have been nice!).

There definitely has been more people out on the trails! I hope that those new to the sport reap all the physical and mental benefits that mountain biking has to offer. More importantly, I hope that the riders who use our wonderful trails in the Spokane/North Idaho area pay it forward by contributing to organizations that help maintain them (like Evergreen East) with donations and/or actually working on the trails they are fortunate enough to ride.

I love this area and I love mountain biking! Through both good and challenging times, mountain biking provides me with some of the most beautiful and joyous moments of my life.

-Elaine Irons
To see more of Evergreen's Essential Trails Series, keep an eye on the Evergreen Blog throughout the month of December.
You can directly support the many benefits of trails by making a donation today. Your gift helps us get closer to our goal of raising $125k by December 31st.