Essential Trails Series: Ed Rickert
Throughout December, Evergreen is featuring essays, personal anecdotes, and portraits of Washington workers who have used mountain biking and access to trails as a tool for coping with the stresses of 2020.
Help us reach our goal of raising $125k by December 31st by making a gift today. Your donation directly supports the Washington mountain bike community through world-class trails, professional rider education, and continued advocacy for sustainable recreation.
Read on for Ed's story and to learn why trails are important to him:
Ed Rickert
Firefighter/EMT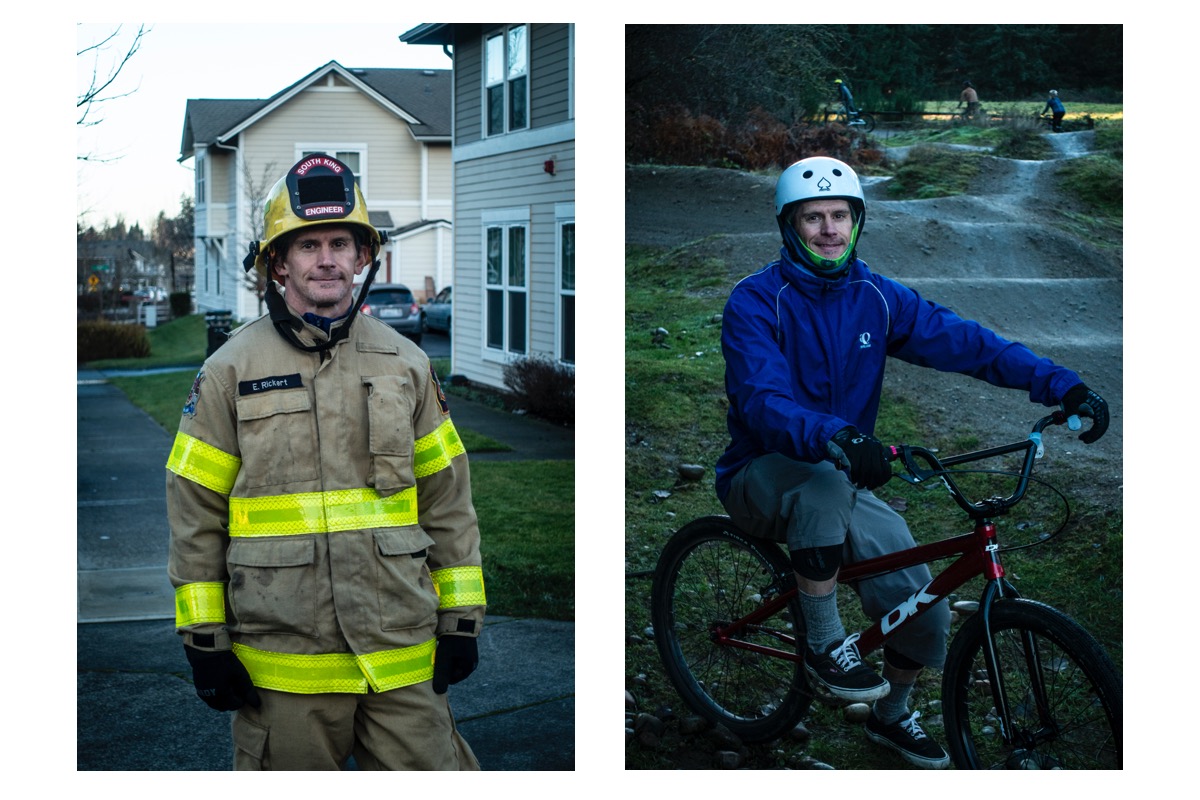 Photos by Ian Terry
My name is Ed Rickert and I'm a Firefighter with South King Fire and Rescue. Trail access has been important for me during the pandemic because it has allowed me to get some important stress relieving exercise.

As a Firefighter I am committed to serving my community, and in this case that commitment means following proper protocols to keep myself from contracting the virus. As an emergency responder this is important for a number of reasons. If I get sick, I cannot be of service. If I get infected, or even contaminated, I could possibly put a vulnerable person that I am trying to help at risk. Most importantly, if I get sick, it would likely have a significant impact on our organization's ability to respond due to required quarantines. It would only take a few first responders coming up positive to create a staffing crisis.

All of these things are stacked on top of the basic risk of contracting the disease, getting sick, and having to deal with the personal health risks. Meanwhile, due to prevention protocols, our daily process, approach, and even our normal interactions with each other, which help relieve stress, have changed significantly. Needless to say, it has made a stressful job much more stressful.

One thing my wife and I have been doing to relax besides taking our normal daily walks around Tacoma and Point Defiance Park (she is also an essential worker as a teacher in Clover Park) is loading up our bikes and riding our local pump track at Swan Creek. It's been really fun, and a great way to get some fresh air, exercise, and blow off steam. It only takes an hour or so to get a killer full body workout, and the focus it requires provides a great escape from all your worries.

I've found this pandemic proof that physical activity is such a positive experience that I am underway now working with Tacoma Metro Parks to get a flagship pump track built that would be centrally located in a densely populated area with a strong community presence. My vision is that this type of facility would also provide a free bicycle corral and youth programming. I'm really excited to see what we can do for our community, and in some ways this has allowed me to recognize that even a pandemic can have positive impacts.

For now, I'm just trying to stay safe and healthy. I'm glad I'm able to stay at work and serve my community, and my sympathies go out to all those directly affected by the pandemic, especially those who are most vulnerable.

-Ed Rickert
To see more of Evergreen's Essential Trails Series, keep an eye on the Evergreen Blog throughout the month of December.
You can directly support the many benefits of trails by making a donation today. Your gift helps us get closer to our goal of raising $125k by December 31st.