Empowering Women on the Trail
Building Resilience on Two Wheels
The new YKA (you kick ass) Ride Series is introducing mountain biking to women who have experienced abuse.
The idea came almost immediately.
As part of a class, Angela Bohren was tasked with finding a new way to connect with and empower her local community. Right away, she knew she wanted to focus her project on mountain biking and share the healing benefits of riding with women who may not otherwise have a chance to experience the sport.
After a little brainstorming, the YKA (You Kick Ass) Support Rides for Women series was born.
Angela credits mountain biking with carrying her through difficult times in her own life. "It's been my emotional outlet– my survival," she said on a recent ride at Tiger Mountain, "There are so many positive things mountain biking can bring– the feeling of being supported by other people on a ride, the empowerment of learning new skills and overcoming obstacles on the trail."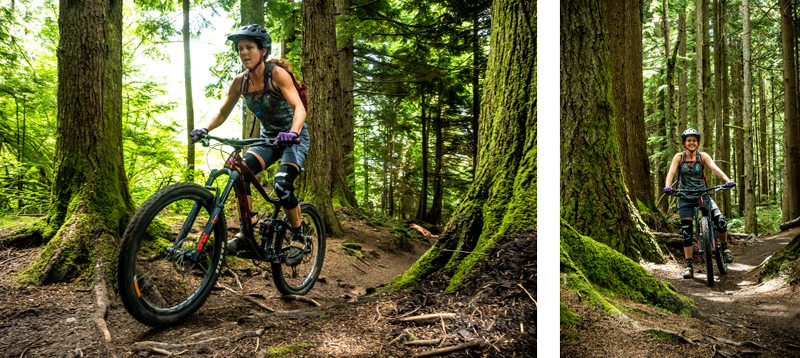 Angela encourages any woman who has experienced abuse or is "feeling alone" to join her on a YKA group ride.
(Photos by Ian Terry)
Specifically, the YKA Ride Series aims to share the sport of mountain biking with women working to overcome trauma from abuse. Whether someone has experienced emotional, physical, or sexual abuse, Angela hopes to break down barriers that often make it difficult to get started as a new mountain biker.
And thanks to a few key sponsors, Angela has been able to provide free high-end loaner bikes via Seattle Mountain Bike Tours as well as professional coaching from Evergreen Mountain Bike Alliance Crank Sisters ride leaders.
These partnerships have led to a unique experience. On June 15th, the first YKA ride took place at Duthie Hill Park with a small crew of eager new mountain bikers. Evergreen instructors helped with trail tips and technique and those in attendance walked away with a truly positive first impression of trail riding.
"One rider was so excited that she emailed Seattle Mountain Bike Tours afterward to thank them for providing a bike for her to ride," Angela said.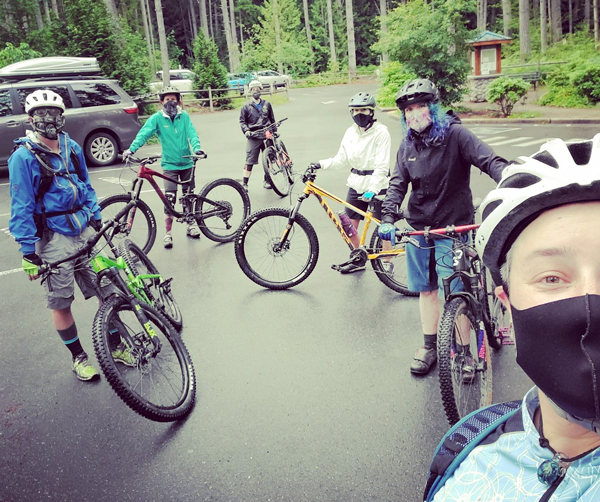 The first YKA ride took place June 15th at Duthie Hill Park.
(Photo courtesy of Angela Bohren)
Angela plans to keep the stoke rolling as she gears up to host the next YKA ride on July 14th at Paradise Valley near Woodinville. With one ride already under her belt, she's looking forward to growing the series and fostering memorable experiences out on the trail for women who may be struggling.
"My main goal is that I want people to come out and enjoy themselves," Angela said. "I want women to have a chance to just be in the moment and forget about any other stuff they have going on in their lives."
YKA rides will continue monthly throughout the summer on trails in the greater Seattle region. For more information, and to learn more about upcoming events, please visit the Evergreen Calendar.