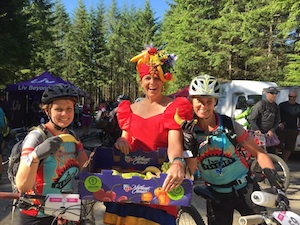 Crankin' it Up!
Wow, June has been a very busy month for the Evergreen Crank Sisters! Since our launch at the end of May, we have been crankin' out some amazing events, rides and volunteer support:
Led two kickoff rides at the Evergreen Mountain Bike Alliance (EMBA) Festival at Duthie Hill Park
Led ten rides, including one "Moms and Minis" ride, with 43 riders at 5 different locations
Sold 50 Crank Sisters branded tech T's
Increased our Facebook group to 347 members and growing
Hosted an aid station and shade tent at the Sturdy Dirty Enduro at Tiger Mountain
Partnered with Kat Sweet to host a Hot Diggity Series - Sweetlines and Crank Sisters Dig Day at Duthie to help prepare the trails for the Sugar Showdown
Provided volunteer help at the Sugar Showdown
Sturdy Dirty Enduro
If you were unable to attend or participate in this year's Sturdy Dirty Enduro, it is definitely something you should check out next year. This event is put on by the Sturdy B racing team which is made up of 5 ladies who created the event to promote women's racing and to grow the sport of mountain biking. In their second year of hosting this event, they succeeded in putting on one of the most fun and well run races around.
To read more about the Sturdy Dirty Enduro, check out this great article on Pinkbike. The Crank Sisters were thrilled to be able to host a Mexican Themed aid station at the end of Stage 3 complete with a limbo contest and yummy treats. A special thanks to our Crank Sisters; Rachel Robinson, Renee Trail, Stefanie Robinson, for making this happen. We also hosted a shade tent at pre and post-race festivities which would not have been possible without the help of Crank Sisters; Carolyn Hope and Michelle Arney.
"Your support not only made our event possible but also allowed riders from far and near to connect with each other over special moments (like limbo contests!) and strengthen our community in the process." 
– The Sturdy B's
Upcoming Crank Sisters events:
Weekly Rides - 1 beginner & 1 intermediate ride each week – check the Evergreen events calendar or Facebook for ride dates, times, and locations.
August 30 - CDC Capital Forest Enduro'
Pre-rides for women planning to race (Dates TBD)
Host an aid station
September 19 – CDC Tiger Mountain Enduro
Pre-rides for women planning to race (Dates TBD)
Host an aid station
TBD – End of Year Ride and BBQ
We are stoked about the support and enthusiasm you've shown for women's mountain biking since our launch in May. Now let's get out and ride!
The Evergreen CS
"Photos courtesy of Chris McFarland Photography — www.chrismcfarlandphotog.smugmug.com"