Be heard: The Darrington Mountain Bike Park Open House and Survey
You might not guess much would be happening in a Public Works building late on a Tuesday evening—unless you were in Arlington last night. What did happen was an energized community came together to shared thoughts on the new Darrington Mountain Bike Park proposal—a project that aims to provide 20 miles of epic mountain bike trail straight from downtown Darrington.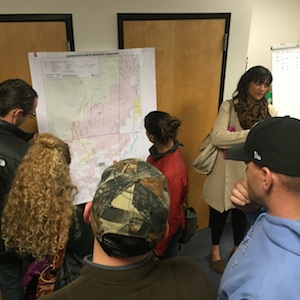 Following the first open house in Darrington on Nov. 16th, this recent gathering of mountain bikers, equestrians, and local government officials focused on highlighting not only youth recreation and economic benefits, but also the chance to showcase the cultural highlights of the region and inspire visitors to explore what the surrounding area has to offer.
Spearheaded by DNR with input from Evergreen Mountain Bike Alliance, the trail system project aims to connect downtown Darrington with a skills park, 20 miles of trail, (including access to the North Mountain Lookout), and a progressive riding experience for a variety of riding styles and skill levels. The project is scheduled for completion June 30, 2017.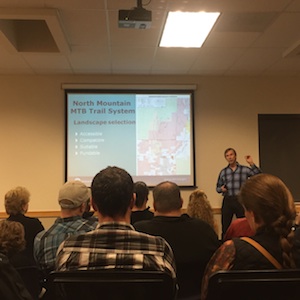 If you would like to participate in the discussion or have an opinion, please take a moment to review the DNR Darrington Page and participate in the DNR Online Survey—your input is extremely important, so please comment today!