10 years of awesomeness continues!
The 10th annual Evergreen Mountain Bike Festival is done and dusted and we're still riding high! The weather was amazing, the bikes were awesome and the trails were perfect!
On the weekend of June 8-9, 2019 more than 3,500 riders made their way to the Duthie Hill mountain bike park outside of Issaquah to hit the trails and try out the best new bikes for 2019.
Music, food trucks, bike gear, bike guides, raffles, jump contests, women's rides, mini clinics, pump track races, bikes, bikes and more bikes shared the venue with riders of all ages and abilities to celebrate mountain biking and the radness of Duthie Hill mountain bike park.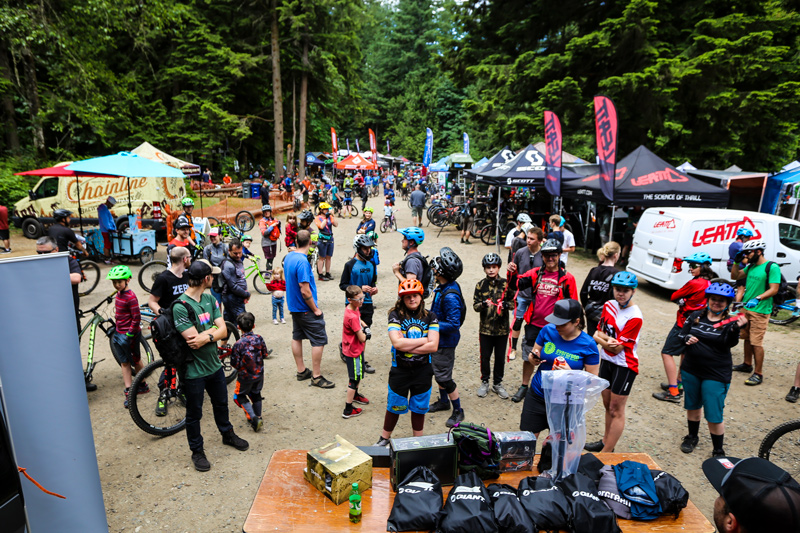 Photo by Andrew Highet
Originally created as a celebration of the grand opening of the King County Park built by Evergreen Mountain Bike Alliance in 2009, the event has become known as the mountain bike community kick off event for the state. The event draws riders from all over Washington and beyond to ride the great variety of trails at the park while trying the latest bikes.
The festival is an annual fundraiser for Evergreen and relies on its sponsors to reduce cost and maximize the return for trails.
Sponsors for this year included Clif Bar, Cush Core, the Center for Diagnostic Imaging, Specialized, Chainline Brewing and Diamondback Bikes. Our sponsors are super important to the success of the event and we couldn't do this without them, be sure to thank them if you get the chance! With the support of our sponsors and participants we were able to raise almost $60,000 to support building trails, advocating for public lands, and taking riders of all ages out to build skills and confidence on the trails.
Over 50 vendors signed up to get their product in front of the festival participants. Some lines were long as folks patiently waited to get a ride on a new Evil, Santa Cruz or Yeti. Smiles were big though! With so many bikes and manufacturers everyone was able to get on the bike they wanted to at some point during the weekend.

Photos by Andrew Highet
Notable newcomers to the event– Revel Bikes, Abit Gear and Swift Industries/Oveja Negra.
Revel Bikes, out of Colorado, sent local Port Townsend shredder Flynn George to show off their new whips. And Justin Vander Pol (O.G. Evergreen ED, now clothing brand creator) had a great showing with his new Abit Gear MTB shorts. Abit Gear shorts were a hit with the crowd who had the chance to win a free pair by spinning the 26" wheel of fun (he offered to make one of these for anyone who has no need for 26" wheels anymore). Swift Industries brought a mountain bike fully equipped with bike camping gear from their own line as well as Oveja Negra. Super cool stuff for those looking to get out and adventure!
These companies represent the small guy in the bike business world looking for a unique new way to improve the ride for you. Whether it's a tough and comfortable pair of shorts designed to fit you better, innovative suspension and geometry in a handbuilt bike that rips, or cleverly designed gear for overnight excursions... these brands are making waves and we were happy to have them there!
A few new elements were added to the event this year. Most importantly was the implementation of an early online registration. Evergreen members were able to get a 50% discount on their festival pass if they registered online prior to the event. Although there were a few of you who didn't get the memo on this one, nearly 500 of you did which made the check-in registration process super smooth and easy. Next year will be the same so plan to register as soon as possible to get your member benefit!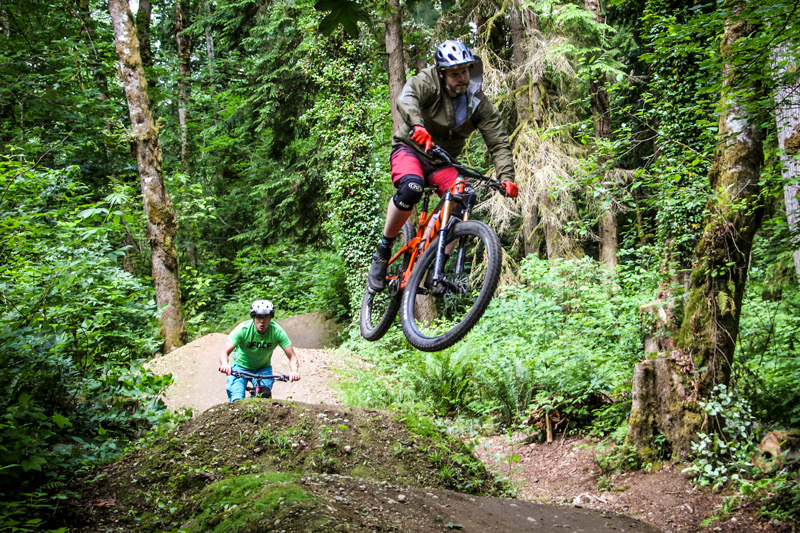 Photo by Hunter Theriault
Another new part of the festival was the Bike Valet hosted by the awesome Crank Sisters! Riders could leave their bike with the sisters while they rode their next new favorite. The popularity of the service was huge and we will be sure to make improvements next year to accommodate more bikes.
We've been doing this festival for awhile now. To make sure it is still awesome for our members and our vendors, we asked pre-registered participants to tell us why they came and how they felt about the event. Here is what we heard:
64% indicated it was their first time at the event

59% indicated they were "in the market for a new bike"

70% brought at least one other person to the event

40% self indicated as middle of the road skill level (between novice/expert)

65% indicated "Enduro" as their style of riding

70% felt the trails were not too crowded

95% would participate in the event again
Evil & Yeti were the most popular bike demos, more people visited the Clif Bar booth than any other, Flying Mug Coffee sold 235 cups of coffee and the Issaquah Ice Cream Trike sold 318 frozen treats.
We asked– "What was the best thing about the festival?" And we think this one summed it up pretty well:
"The vibe is really great. Lots of energy from the people doing raffles and announcements. The bike valet was awesome. Raising lots of money for evergreen was terrific. Was that one thing? :)"
Overall we thought it was a great, great success! A huge thanks to all the vendors, instructors and volunteers who helped us make such a great event. We can't wait to do it again next year!