David Fleischhauer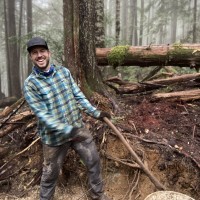 A Washington native, David is back home in the Northwest after spending a few years in Colorado where he earned a Master's Degree in Natural Resource Management from the University of Denver, focusing on responsible trail development.
David's background in cycling includes international level racing, coaching, and exercise physiology testing, and he's excited to work with Evergreen to manage building and maintenance of trails throughout the state.
At Evergreen, David works to manage the organization's increasing portfolio of trail projects and contracts across Washington.