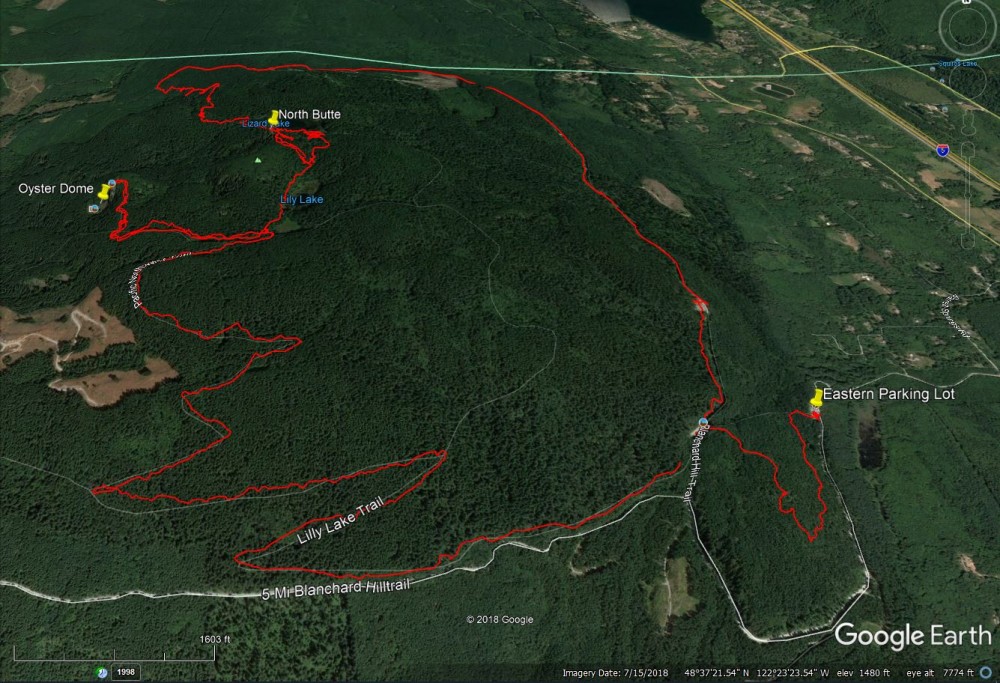 Blanchard State Forest Tour
Started this ride at the lower Blanchard Forest trailhead lot and climbed the Lower Lily Lizard trail to the upper lot. I then took road 1000 north around Blanchard Mountain to the British Army Trail where I began the climb to the lakes and summits. About 5 miles into the ride and halfway up the British Army Trail, I lost the linkage between cassette and hub and now had a 29" Razor scooter. It was a little bit of a hassle for sure but the forest is beautiful and I still had the bike for the glides and downhills. The soils are well drained and the tread was a little bit of everything. As you'd expect, it is similar to the Anacortes and Galbraith terrain. I stashed the bike at the base of each of the summit spurs and summitted both the North Butte and Oyster Dome (hike only trails) and then continued back to the car. The views from up there over the Sound and San Juans are gorgeous. The GPS track and pictures are here.
There are several single track trails North of North Butte that empty out onto the road on the North side of Blanchard that I didn't explore. They look like they get a lot of moto use from the looks of their entry points.
DNR has a Geo pdf of this forest here and with that, and the Avenza App, you can find your way around the forest real well. I was here in 2017 and made a much larger loop around the forest but this time, there was much less pavement and I recommend this tour versus the one in 2017 if you come ride this Forest.
Submitted by tomvale on 12/27/2019