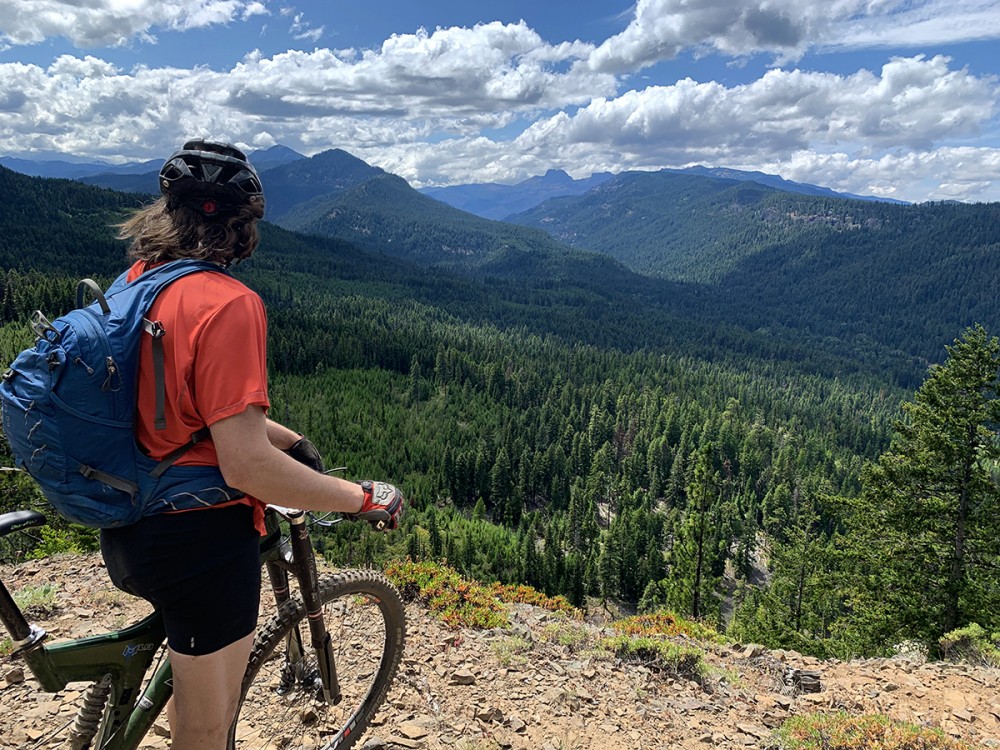 Tough, Technical, Rewarding
This ride is physically and technically demanding—but so worth it. On technical trails I'm an intermediate rider but this trail pushed my limits at times. And while I'm in good riding shape overall, I ended up hike-a-biking much of the final push to the summit—as well as some of the dicey descent sections.
We rode NF1706 to the summit. It's not a difficult ascent—until the last 3 miles when you're dealing with rutted roads and very large, loose rock.
The summit is glorious with great views of the valley below and, on a clear day, spectacular views of Mt. Rainier.
From the summit you can descend on the path heading NE or go back down the road and catch the trail. If you descend on the path, know that it is probably the most technical of many technical sections you'll be riding. It's steep with large (baseball to baby's head sized) rocks and very sketchy in places. You are basically doing a controlled slide through much of it. It would be very easy to endo (I wished I had a dropper post!) and stopping in the section (like to rest for a minute) proved very, very difficult due to the pitch of the trail and the loose rocks which were inescapable. I regretted my choice of riding this—but made it through by walking my bike a few times. My riding partner made it through but agreed it was 100% sketch.
Once you hit the trail, you quickly arrive at a large skree field. There's some exposure here and the trail narrows. My riding partner made it through without walking—I did not.
Shortly after the skree field you will understand why the EMBA trail descriptions suggests not burning yourself out on the ascent and saving some for the descent. There is a series of several steep climbs with little recovery time between them. It's a bit demoralizing since this is supposed to be the downhill part of the ride. But get through it and you are rewarded with several sections of the most amazing backcountry downhill!
The reward comes in the form of sometimes flowy, sometimes technical and rocky, but always fast and fun descending. There are sections where I was wondering if the trail was specifically made for mountain bikers as it flowed and wove through the forest right on the edge of a massive cliff. The views and geology will make you want to stop and take it all in—you're well rewarded if you do. There are a few other short climbs peppered here and there, but the last 1/3 to 1/4 of the descent is mostly amazing.
Our descent ended at Halfway Flat campground, but our car was parked near Boulder Cave, just at the base of NF 1706. We could have caught Hwy 410 back to our car (there are only 2 bridges to cross the river in this general area) but we elected to ride Old River Road (aka NF 1704) which is a great road, until it's not. It becomes a trail and the trail is treacherous in places. We had to hand bikes to one another on some very washed out sections. I would not recommend going this direction—suck it up and ride 410 with the cars!
I've mountain biked throughout WA in the Cascades and Olympics—including Devil's Gulch, Gold Creek, etc.—and made a half dozen trips to ride in Bend and I'd rate the fun downhill stretches of Little Bald Mountain at least as good as anything I've ridden—better at times. It's not bermed, groomed trails, but for backcountry trails you don't get much flowier or more fun than some sections on LBM. It was a very tough, long day, but one I'll long remember!
Submitted by rickvans on 07/14/2019