YKA (you kick ass) Support Rides for Women
---
06/15/2020, 5:30 pm - 8:30 pm

Rides
kreichardt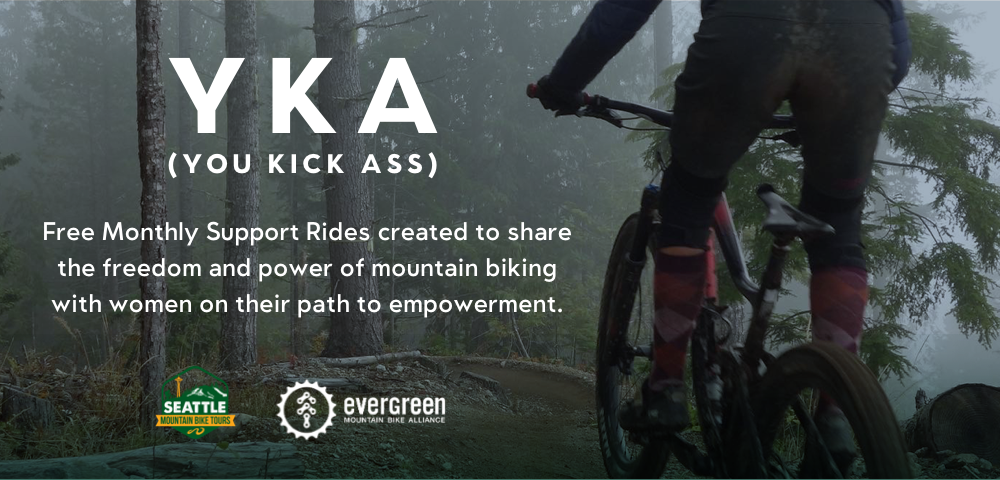 Evergreen Mountain Bike Alliance and Seattle Mountain Bike tours are partnering up to offer a series of FREE monthly beginner mountain bike rides to support women overcoming the trauma of abuse. Abuse can take many forms whether it be emotional, mental, physical or sexual and the damage can be not only difficult to overcome, but debilitating.
As avid riders, we know well the therapeutic and healing power of mountain biking and just how amazing and free it can make you feel. We want to share that and provide access to women on their path to healing. Get outside and feel alive while learning something new and feeling the community and support of other women!
Rides, Bikes and Instruction are all FREE!
You will be guided by certified instructors/guides. We will go over basic safety, instruction and body position as well as some skill building focusing on a different skill with each ride.
Locations will vary from month to month so that you can enjoy and discover new trails
We are providing a limited number of bikes and safety equipment
We are going to have fun!! You will be smiling at the end of these rides!
Please note that space is limited to the first 5 riders who sign up
If you need a bike and/or transportation email ride organizer: Angela Bohren at bohrena@gmail.com
What to bring and wear:
comfortable clothing for riding a bike and appropriate for weather conditions
tennis shoes or biking shoes if you have them
helmet and gloves if you have them
cash/money for just-in-case situations (and for possible after-ride snacks and drinks!)
charged phone
Insurance card (and/or emergency contact info)
Photo ID
bar, trail snack
water bottle or camel bak
Want to go? Log in
to sign up for this event and to see, or contact, the attendees.