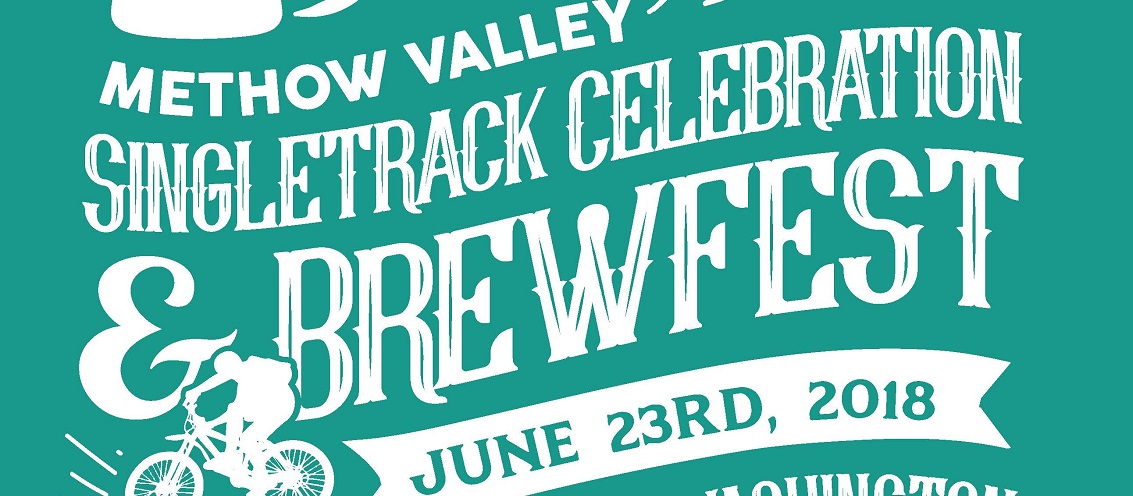 Click image for full poster
The 2019 Methow Singletrack Celebration will take place in and around Winthrop, Washington on the weekend of June 22nd and 23rd. Participants will experience great riding, socializing, raffle drawings, and other mountain biking fun. Most importantly though, all proceeds from this event support the Methow Chapter's mission and efforts to improve mountain biking and trails in the Methow Valley. This event is a main fundraiser for the chapter.
Back for its fourth year is the option to take part in a two-day, women only mountain biking skills camp taught by Angi Weston and Shanna Powell, both are certified mountain bike instructors and long-time mountain bikers. These women know their stuff and will help riders improve their skills and get more enjoyment out of mountain biking. Your skills camp registration includes morning skills teaching sessions each day, lunch each day, afternoon rides with on-trail coaching, and entry to the Methow Valley Brewfest Saturday night. The camp is limited to just 15 participants so be sure to register early.
Any mountain biker, male or female, can register for the shuttle day at the Sun Mountain Trails taking place on Saturday, June 22nd. Riders will be shuttled from the Chickadee Trailhead to Thompson Pass where they can select from a variety of trails to enjoy the descent back to the trailhead. Riders may make as many runs as they like while the shuttles are running. The shuttle day at Sun Mountain is limited to 50 riders so register early.
Questions? Email Doug Krumpelman at and for more information visit the Methow Valley Event page on Facebook.
Itinerary
Saturday, June 22 (Women's Skills Camp Day 1, Shuttle Day, Brewfest)
Registration:
8:00 am–9:00 pm: Registration packet pick-up and check-in at The Red Barn located near the west town limits on State Route 20 for Women's Skills Camp, Singletrack Celebration Shuttle, and Brewfest participants
Women's Skills Camp:
8:30–9:30 am: Gather at Methow Cycle & Sport for introductions and an overview of the day
9:30 am–12:00 pm: Morning skills and drills in the Winthrop Park
12:00–1:30 pm: Lunch and travel to afternoon trail ride locations
1:30–4:30 pm: On-trail skill sessions – various locations at Sun Mountain
4:30–5:30 pm: Travel/ride back to Methow Cycle & Sport, beverages and snacks provided at Methow Cycle & Sport
Singletrack Celebration Shuttle Day:
10:00 am–2:00 pm: Singletrack Celebration Shuttles will run from Chickadee Trailhead on Thompson Road to access many Sun Mountain trails (participants must provide transportation to and from the Chickadee trailhead and The Red Barn)
Brewfest:
5:00 pm: Brewfest start at The Red Barn
7:00 pm: Singletrack Celebration specific events outside of The Barn (drag races, bunny hop contest, photo contest, etc.)
8:00 pm–10:00pm: Brewfest music, live music.
Attending breweries:
Brewfest contact:
SATURDAY LOCATIONS:
Sunday, June 23 (Women's Skills Camp Day 2):
Women's Skills Camp:
9:00–9:30 am: Registration packet pick-up at Chickadee Trailhead
10:00 am–12:00 pm: Morning skills and drills at the Chickadee Trailhead
12:00–1:00 pm: Brown bag lunch and group photo
1:00–3:30 pm: On-trail skill sessions – various locations at Sun Mountain
3:30–4:30 pm: Travel back to Methow Cycle & Sport for goodbyes