Join Evergreen Mountain Bike Alliance, Evergreen East and the Whatcom Mountain Bike Coalition from July 11th-15th for 5 days of epic riding and camping at Kettle Crest in Colville National Forest! If you can't join for the entire time, come for as long as works for you. Folks with kids, the campground is a great spot for the little ones to ride around.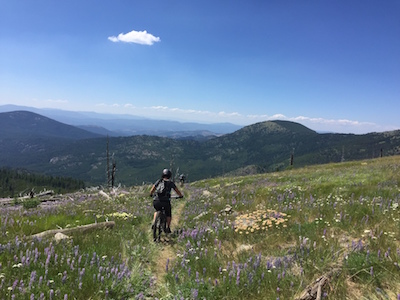 Enjoy some of Washington's best singletrack in a remote, alpine setting. In an annual tradition, riders from all across the region including Seattle, Spokane, Coeur d'Alene, Bellingham, and B.C. converge to hang out, experience awesome trails and give back to the area with a day devoted to trail work. Most of the rides have a healthy dose of climbing, but there are lots of great ride options, so come join us for another awesome year at Kettle Crest!
More details to follow, but we'll plan to do one full day of trail work on Friday, swimming in the Kettle River, swapping stories around the campfire over a cold beer and, of course, riding some epic alpine singletrack.
Please note there is no cell phone service at the campground or where we will be riding. Group rides will be leaving around 9 am each morning.
Directions:
In between the small towns of Republic and Kettle Falls, less than 2 miles NE of Sherman Pass on Highway 20. Head North on Albian Hill Rd #2030. Follow the road for 0.6 miles to the sign at the edge of the gravel pit. From there stay left and go 0.2 miles to the campsite area. The campground provides a single bathroom, fire pits, and tables. Water is accessible from a creek but requires treatment.
What to bring:
A willingness to get dirty!
Camping Equipment -
Tent, pad, sleeping bag, light, chair, warm clothing, and water filter
Water, food, snacks and a pack to haul it in.
Work boots or tough hiking boots (sturdy footwear)
Rain gear, layers, work attire aka: clothes that look superb when dirty!
Safety glasses and work gloves if you have them
A warm change of clothes after a fun filled day
Evergreen will provide:
All the tools
Work gloves if you would like them
Water and a few snacks if you need them
Schedule:
This is a loose schedule that might be altered if necessary.
Wednesday, July 11: Jungle Hill
Easy Option: 10 miles, 1300 ft. climbing, 2500 ft. descending
Medium Option: 14 miles, 2300 ft. climbing, 3300 ft. descending
Hard Option: 18 miles, 3600 ft. climbing/descending
For the easy and medium options, we shuttle up to the top of Sherman Pass and start up the Kettle Crest trail. The hard option starts from the campground with about 1300ft of climbing to get up to Sherman Pass. After climbing on the Kettle Crest there is an optional detour to Columbia Mountain which has an awesome 360-degree view. For the easy option, riders can turn around after Columbia Mountain and descend all the way back to the campground. Otherwise, riders will continue climbing and descending along the Kettle Crest until the top of Jungle Hill where the payoff awaits….
Thursday, July 12: Old Stage to Jungle Hill
Up Old Stage to the Crest for a climb of 640+ feet in 2 miles on the first road in the area. Up and over Copper Butte (elev. ~7100') around Scar Mountain and then up to Wapaloosie and a fun descent to Jungle Hill and the Campground. Total length is about 20miles. Views go for miles when up on Crest.
Friday, July 13: South Kettle Crest/Snow Peak Cabin/White Mountain
Easy Option: 16 miles, 2200 ft. climbing, 3400 ft. descending
Hard Option: 26 miles, 4800 ft. climbing, 6000 ft. descending
For the easier ride, we will shuttle up to Sherman pass to begin the ride on the Kettle Crest South trail. The trail climbs up and around Sherman Peak and then continues south to Snow Peak Cabin, a cool spot for lunch. From Snow Peak Cabin, most riders choose to head back to Sherman Pass and then down the Sherman Tie Trail for another great descent to the campground. For those riders who are looking for a longer ride, there is an option to continue South from Snow Peak Cabin and climb up to the junction at Barnaby Buttes and then up to White Mountain before turning around.
Saturday, July 14: Trail work day and Dinner in Kettle Falls
Like past years, we will partner with the Forest Service to give the trails some much-needed care. In solid Kettle Fest tradition, we will carpool into Kettle Falls for drinks and dinner after we work at Northern Ales (and swim).
Sunday, July 15: Abercrombie (Trail Condition permitting)
About an hour and 40 min drive from camp: BUT; point to point shuttle, then it's 2300ft of climbing (in 3.4miles), topping out on 7300ft Abercrombie Mtn.....then a 4200ft descent! This will be a long day, but should be an EPIC ride!
NF-2030




Kettle Falls

,

WA

99141




United States