Evergreen's Advocacy and Policy Work: Charting the Next Decade of Mountain Bike Success.
–
Do you ever wonder what Evergreen's advocacy program is all about? Do you wonder what it REALLY takes to get a trail project approved?
Here's your insider peek behind the curtain of our 2018 Advocacy, Policy, and Project Development work.
So, grab a coffee, buckle up, and read on to find out how your donations today empower future ribbons of dirt tomorrow.
Advocacy is the most important work we do. Why? Because you're currently riding the fruits of Evergreen's advocacy and policy efforts dating back nearly 30 years. New projects take a lot of foresight. And patience. And dedication. And a lot of banging our heads against the wall…
The average trail project on public lands has taken us 7 years from concept to completion. Did I mention banging heads against walls?

Protecting Recreation Resources for Future Generations
Our work today directly impacts trails for the next generation of mountain bikers. While we like to focus on trails today, our advocacy work addresses recreation policy and public land protection and management decisions that have long term impacts on recreation. What we do now affects how our kids, and their kids, will access and experience the outdoors.
It's hard to take the long-term lens. But we understand that Natural Resource Protection and Stewardship are fundamental to your continued enjoyment of trails.
Give Today for Tomorrow's Trails!
Charting a Steadfast Line Through Rocky Trail
Advocacy is about relationships, partnerships, and effectively combining recreation, conservation, and economic interests to both protect public lands and develop truly sustainable recreation resources. Our limited recreation resources are under continuous pressure from increased use, reduced funding, and ecological changes.
We're also seeing the introduction of several new technologies to local trails including drones, e-bikes, one-wheels and timbersleds among others.
Many of these developments have created tension within MTB advocacy over the past few years. But with your help, we've had a steadfast course and strengthened our seat at the table in recreation policy and project development initiatives.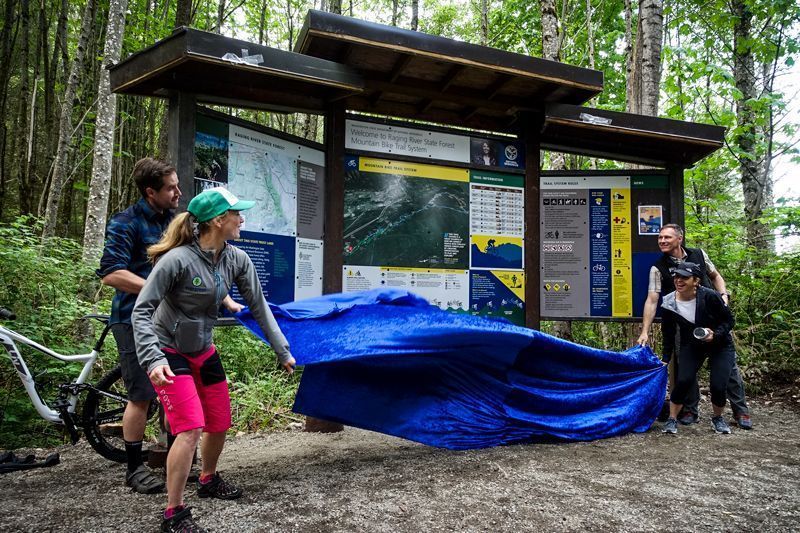 So What Did We Do in 2018?
1)

We Engaged in Public Land Protection and Land Management Planning
Evergreen submitted letters of support and/or listed areas of concern related to recreation impact for the following land management projects, plans and initiatives:
• Colville National Forest Management Plan Revision – Colville, WA

• Stemilt-Squilchuck Recreation Plan – Wenatchee, WA

• Mountain to Sound Greenway National Heritage Site Designation – Seattle, WA

• King County Land Conservation Initiative – Seattle, WA

• Beacon Hill Housing Development Plan – Spokane, WA

• Mount Baker Roadless Area Protection – Bellingham, WA

• Methow Headwaters Protection Campaign – Winthrop, WA

• Dept. of Natural Resources Marbled Murrelet Habitat Conservation Strategy – Olympia, WA

• Blanchard Mountain Core Protection Plan – Bellingham, WA

• Mission Creek Restoration Plan – Wenatchee, WA

• The Return of TransCascadia to Washington in 2019 (!)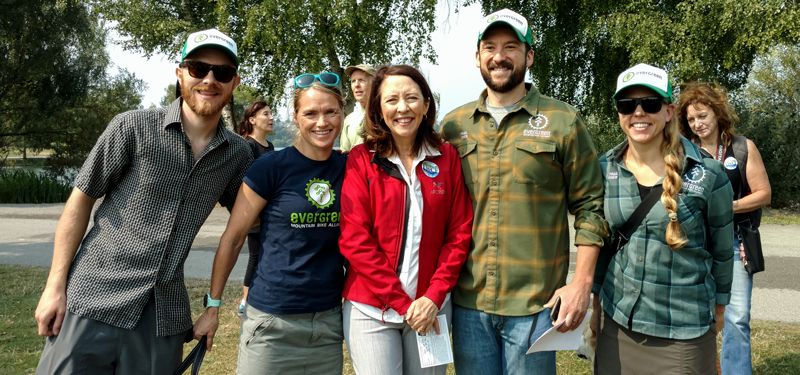 2)

We Engaged in New Recreation Policy Development/Refinement
Evergreen helped develop and/or inform the following policy efforts:
• Protecting the Land and Water Conservation Fund – Seattle, WA

• WA State E-bike Policy – Olympia, WA

• WA State Recreational Immunity Statute Amicus Brief

• King County Parks Levy Review – Seattle, WA

• Teanaway Community Forest Recreation Plan, Cle Elum, WA

• Recreation and Conservation Office Grant Criteria Review and Revisions – Olympia, WA

• King County Programmatic Backcountry Trail Permit Update – Seattle, WA

• Snoqualmie Valley Outdoor Recreation Action Team – North Bend, WA

• Evergreen Lobby Day: Advocating for pro-recreation bills and capital budget asks – Olympia, WA
3)

We Engaged in New Trail Planning Initiatives.
As part of advisory committees or stakeholders, we helped to inform the following new recreational trail plans/planning efforts:
• Towns to Teanaway Trail Plan – Cle Elum, WA

• Manastash Ridge Trail Plan – Ellensburg, WA

• Cheasty Green Space Mountain Bike Trail Pilot – Seattle, WA

• Summit at Snoqualmie Trail Plan – Snoqualmie, WA

• Maloney Ridge Trail Network – Skykomish, WA

• Lord Hill Trail Plan – Monroe, WA

• Middle Fork Recreation Planning Committee – Seattle, WA

• Beacon Hill Fire Damage Trail Restoration – Spokane, WA

• Black Diamond Stewardship Plan and Herbrand Trail Proposal – Black Diamond, WA
4)

And

We Turned our Advocacy Work into Tangible NEW PROJECTS!
This is why years of dedication, patience, and banging heads against walls is worth it: Our successful advocacy work has led to the following potential NEW PROJECTS in 2019!
• Olympia Bike Park Design, in partnership with FOCF – City of Olympia

• Port Gamble Ride Park – Port Gamble, WA

• Bainbridge Island Grand Park MTB Trails Design – Bainbridge Island, WA

• Chickadee Trail Project Construction (Thompson Ridge Trail) – Twisp, WA

• Raging River Phase 2 – North Bend/Snoqualmie, WA

• Tiger Mountain Phase 4 – Issaquah/Preston, WA

• Tehaleh MTB Trail Network Design – Puyallup, WA

• Tennant Trailhead Bike Trail Design – North Bend, WA

• Summit at Snoqualmie Bike Park (fingers crossed we can start this year!)

• Dockton Forest Trails Phase 2 – Vashon Island, WA

• Naneum Ridge MTB Trails – Ellensburg, WA

• Wenatchee Pump Track – Wenatchee, WA

• Ski Hill Trails, Ribbed Trail – Leavenworth, WA

• Alpine Baldy Phase 2 – Skykomish, WA

• Trail Network Expansion at Yacolt Burn – Battle Ground, WA

• Little Mountain MTB Trails – Mount Vernon, WA

• Green Mountain Trail Network – Bremerton, WA

• Duthie Hill Park Adaptive Trail Proposal – Issaquah, WA
And more... Please come to our December 8th Member Meeting at REI-Seattle to get the full list of 2019 projects!
With your support, we'll continue our momentum and continue to make things happen on our path to making WA the best place to ride!
Each Evergreen Membership Strengthens MTB Advocacy.
Each Evergreen Donation Enables New Recreation Policy and Projects.
I'm looking forward to exploring our future new trails with you!
-Yvonne
Yvonne Kraus
Executive Director