Members like you make Washington MTB awesome.
You're part of a passionate community supporting epic trails through stunning terrain—wherever you are in the state.
Here's a virtual high five from our team and Board for your GiveBig donation to open new trails!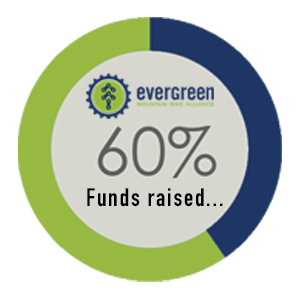 And once in a while we aim high but don't quite make it. And this time we've funded an amazing 60% of our historic goal—but we've still got 40% to go! I know this is a big ask, but with hundreds of thousands of riders in our state we know this is doable.
So why stop at 30 miles when we could be delivering you 65? Did you miss the opportunity to give? Or would you like to give more? Help us meet our goal and get ALL 65 trail miles and projects going THIS year.
You've encouraged us to continue because one thing is clear—our community STILL funded the biggest GiveBig ever. That's an amazing accomplishment.
But as mountain bikers, we're nothing if not stubborn. Come be stubborn too and help finish what we've started. Can you help make our last 56K happen by midnight Wednesday? I wouldn't sleep well if I didn't at least try!
A big year calls for a big ask. Self-funding at this level is new territory for all of us—and this is a rare opportunity.
If you missed the GiveBig, want to push us further, or want to encourage your friends—come make your impact now! All donations received by midnight Wednesday, May 16th go toward closing the funding gap and help meet our historic goal.
From all of us at Evergreen—thank you continuing to make our state such an incredible place to ride!
Let's build and ride more miles than ever before!