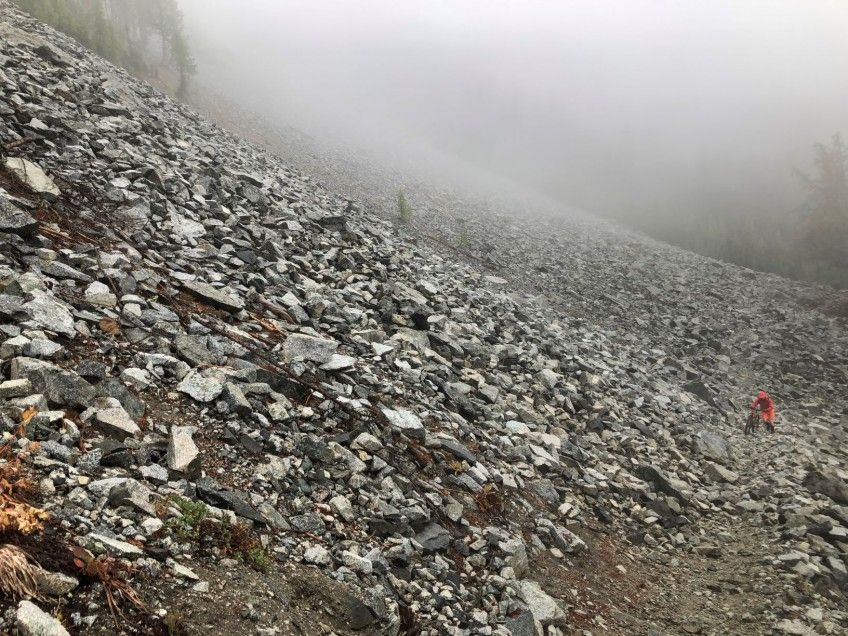 Chickamin Tie-Mad River-Alder Ridge
"Dropped one car at the bottom of Alder Ridge and shuttled up to the top of road 6210 in hopes of adding an OAB to Klone Peak and concerns about fickle weather so didn't want to spend time and energy capital climbing Minnow Ridge.
Road 6210 was completely clear and had been recently brushed; Througout the ride were signs that a lot of work has been done in the area recently.
However, 6210 is blocked about a half mile before the upper trail head due to a washout, but big turnaround area and lots of parking.
Pedaled 6210 to where Chickamin Tie crosses and started the long climb up Chickamin Tie to Mad River. Very nice advanced climbing trail, very little hike a bike (longest stretch was maybe 5 minutes of pushing up a boulder field). Trail was 100% clear.
Rode Mad River to Alder Ridge Trail foregoing Klone peak due to the propper soaking received on the way up Chickamin, cold temps (it was snowing at the top of Chickamin Tie) and more precip likely. Mad River also 100% clear and beautiful trail that wonders along an incredible meadow.
Climbed Alder Ridge to the top - another great climbing trail, 100% clear - and descended the looooong fast fun desecent to the bottom, which was 99.7% clear.
Highly recommended ride."
Submitted by pawnshopjoshua on 09/17/2018