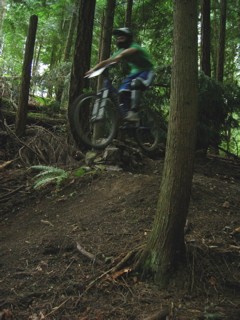 Info
Trail system near Gibbs Lake in Jefferson County on the Olympic Peninsula consisting of technical singletrack. Maintained by local Quimper Trails Association. Also ride nearby Anderson Lake when in the area.
To pan/move the map: click/tap on it once, wait a moment, then pan/move as needed
The park used to be a Boy Scouts camp. It was acquired by County around 1995 to save it from logging. Quimper Trails Association was formed around this time by a group of hikers, bikers and horse riders, with the goal of building and maintaining trail in the park. QTA has worked closely with the Jefferson County Parks to this day. The County believes that there is little room for new trail, so mostly the volunteers keep trails clear and repair storm damage.