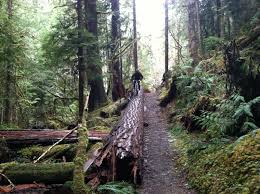 Ever wondered about the trails on the Olympic Peninsula? Ever wanted to check those trails out?
Good News! We'll be teaming up with the Grey Wolves Trail Crew and the US Forest Service to tackle a large washed out section of the Lower Big Quilcene Trail.
The washout is a little over a mile up from the trailhead, so be prepared to hike in carrying a tool or two.
The Lower Big Quilcene is a beautiful 6.2 mile climb above the Big Quilcene River up to the Wilderness boundary and a super fun descent back to the trailhead.
https://www.evergreenmtb.org/trails/lower-big-quilcene
After you sign up on the Evergreen Calendar, please sign up on the Grey Wolf Trail Crew's Calendar as well: http://signupschedule.com/graywolf
Where Will We Meet?
We'll be meeting at the Quilcene Ranger Station in Quilcene, WA at 7:40am sharp to set up carpools. Parking at the Lower Big Quilcene Trailhead is very limited so we'll need to carpool as much as possible.
At 8:00am we'll be leaving the Quilcene Ranger Station and heading to the Lower Big Quilcene Trailhead.
Google Maps Link for:
Quilcene Ranger Station: https://goo.gl/maps/hG6UKQQy3QH2
Lower Big Quilcene Trailhead: https://goo.gl/maps/fxFkVz53GKU2
Please be on time. With the limited parking at the trailhead, there may not be parking space for anyone that shows up late.
If you think you'll be late, call Cody at (509) 630 0702 and he can come up with a plan.
What should I bring?
Water, lunch, snack and a pack to haul it in

Work boots or tough hiking boots (sturdy footwear if you do not want to work in your bike shoes)

Rain gear, layers, work attire

Safety glasses and work gloves if you have them

Maybe a change of clothes after a fun filled day!
Evergreen will provide:
All the tools

Work gloves if you would like them

Water and a few snacks if you need them
Minor Information:
· This is an all ages event. If you plan on bringing a minor please make sure they have a Minor Release filled out beforehand!
Evergreen_Minors_Waiver_Form_-_Rev_1_1.pdf
For more information or any questions, email Cody Olsen at or call at (509) 630 0702.