How To Pump Track! with Arc'teryx Seattle and Si View Parks
10/12/2021, 5:30 pm - 8:00 pm

Work Parties
bobste1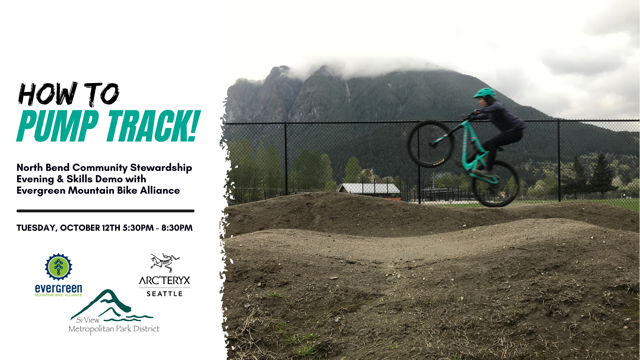 How to Pump Track!
North Bend Community Stewardship Evening & Skills Demo with Evergreen Mountain Bike Alliance
Presented by: Evergreen Mountain Bike Alliance with Arc'teryx Seattle and Si View Parks
Tuesday, October 12th / 5:30-830PM
Join Evergreen, Arc'teryx Seattle, and Si View Parks for an evening at the North Bend Pump Track! Wether you're an expert BMXer or just getting started in the mountain bike world, we'd love to have you join us for an evening of community building and riding.
Schedule:
5:00pm = Meet & great and social time with bike community folks, sign up to be a part of the Torguson Pump Track Stewardship Team!
5:30-6:30pm = Evergreer trail builders: how to maintain a pump track, trail maintenance demo and work party, how to turn on the pump track lights
6:30-7:00pm = How to ride a pump track and what to wear/what bike to use, demo with local riders

7:00-8:30pm = Ride the pump track!
Event Date: Tuesday, October 12th
Event Time: 5:30pm-8:30pm
Event Location: Torguson Park Pump Track, 750 E North Bend Way, North Bend, WA 98045
Who can join: All ages and anyone interested in the world of bikes!
We'd like to give a big shoutout to Arc'teryx Seattle for sponsoring this event with Evergreen and Si View Parks, bringing the community together around a great cause and helping build a community of pump track riders and builders in and around the Snoqualmie Valley.