Tokul Trail Update
Lots of work is getting done, including new trails, and we need your help!
The local trail gnomes have been busy at Tokul East with the creation of 2 new descending trails, Between 2 Ferns and PNWheel. Be sure to thank any folks you see working on them as you ride!
New or rerouted trails are getting worked on, especially at Tokul West:
Kamikaze has been given some much needed refreshing.
Bypass is being moved into the trees. This one should be done by mid-February.
Pink Ribbon, Pink Beaver, Beaver Pond, Jerry Springer and Clear Cut are all getting some much needed attention, either by getting brushed or getting rerouted.
Finally, a new connector trail is being built that will make accessing Beaver Pond much easier.
As a reminder, Tokul is a private logging forest, owned by Campbell Global, and a permit is required.
Logging Update
Sadly the Safety First trail is getting actively logged. This means Tetherball, SF, and Lost World are off limits while logging is going on. This usually means Monday - Friday only, but if you hear/see logging going on then stay out.
The good news is the Outback area has gotten a reprieve from logging for now. I was told that area won't get logged until 'next year'. Please stay away from the area when you hear and see logging going on. CG could close off the entire forest during logging activity if we are not recreating safely. We will clean them up once CG is finished logging.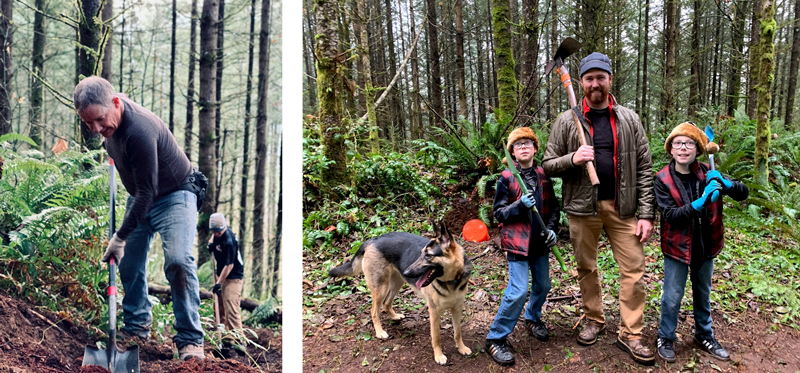 Interested In Helping?
We have a big work party planned for February 8th and several more planned for later in February and March. Check the Evergreen calendar for these work parties.
Reminder– All new trails at Tokul have to be approved by the land owner, Campbell Global; this includes all the work that's been happening this winter. Anyone interested in building or maintaining the Tokul mountain bike trails should contact Peter Sherrill.
Love Thy Neighbor
A post from a neighbor on the Tokuls Only facebook group outlined a slew of recent poor behavior at the 356th parking lot (Tokul East lot). While there's no way to say if mountain bikers are to blame, it goes without saying that we all need to treat this trail system, and its neighbors, with the utmost courtesy and respect. Remember, clean up after yourself, do not speed on local neighborhood roads, keep noise to a minimum in the parking lot, never park in the road or outside of designated spaces, do not sleep in the parking lot, and always keep your dogs on a leash!
Next time you ride at Tokul, please consider parking at the Fall City lot near the roundabout in town. You can easily pedal to either East or West via SE 39th Place from this lot and it's much larger with less close proximity to residential homes.
Riding at Tokul is a privilege! Luckily, the neighbor who brought her concerns to the Tokul group has a great sense of humor and wants nothing more than to peacefully coexist with the many mountain bikers who frequent the area. To cap things off on a positive note, local rider Ryan Klym stepped up and delivered a nice gift to the neighbor. You rock Ryan!