Bryan Connolly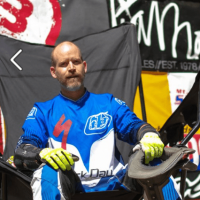 Bryan Connolly grew up in Indiana racing BMX, and doing regional freestyle shows for Hutch and GT in the '80s. A few years later he'd discoverd the growing mountain bike scene and never looked back – moving to Colorado ASAP, and later to Washington, to nourish his passion for all types of riding while spending 15 years working as a bike mechanic.
Bryan won the NW Cup Cat1 40+ in 2011 and 2012, and also is the Team Manager for Sick Day Racing. His favorite rides are King Diamond/Chunderdome at Dry Hill in Port Angeles, and anything that descends from Manastash Ridge to the Little Naches side. More than just an avid rider, Bryan also has some serious construction and trail building skills. He's owned his own construction firm, and more recently, attended the IMBA trail building school, built XC race tracks and various dirt jump trails in the mid-west, volunteered extensively on the new Tiger Summit trail, and headed the design and construction of Summit Ridge Freeride Park (SRFP) in Black Diamond.
Bryan is particularly interested in quantifying the elements that truly make a ride awesome and engineering them into fun and sustainable purpose-built trails. While he considers SRFP – and particularly the new Gannonball Run rebuild – to be his greatest accomplishment to date, he's certain even greater things are still to come (and so are we)!